earns 2.7% but with doubts about the next quarter
MADRID
Updated:
save

No trace of the economic effects of the new Sars-CoV-2 coronavirus pandemic on their accounts. Alphabet, a company that owns Google, has obtained first trimester of the year (January-March) profits of 6,836 million dollars (6,313 million euros), which translates into an increase of 2.7% compared to the same period of the previous year. Positive figures, however, shake the ghost of a slowdown. Last year it registered a growth of 11.7%.
In spite of everything, the American company has been hopeful for the next quarter, already active, considering that the effects of Covid-19 will be overcome until reaching a stable situation. its advertising businessIts main source of income (it represents 83.3% of its total income), however, has experienced a more pronounced drop in advertiser investment compared to what analysts had predicted.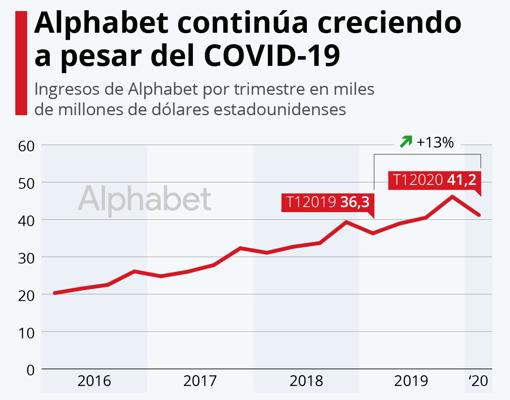 There are economic concerns in the sector due to the possible consequences of the global confinement to which many countries have been subjected and which, therefore, has taken its toll on the budgets of companies and agencies. Investments in the purchase of ads have been cut, which has slightly affected the bulk of the company. In any case, Alphabet's quarterly balance sheet has been well received by investors, whose shares rose 3.5% to $ 1,275 following the release of the financial results. Shares fell 8% this year at the close of the exchange on Tuesday. It is a sittuation
During the past three months, the US multinational entered 41,159 million dollars (37,868 million euros), a significant 13.26% higher compared to the 36,339 million dollars (33,428 million euros) invoiced at the beginning of the previous year. With them expectations were exceeded; analysts provisioned an estimate of $ 40.29 billion and an increase of 10.87%. Between January and March, in fact, Alphabet's strictly advertising revenue on its search engine was $ 24,502 million (€ 22,639 million), up from $ 22,547 million a year ago, while in the In the case of YouTube -owned by Alphabet-, advertising revenue shot up 33.5%.
His financial situation is, in any case, curious. Although advertising revenue continues to account for the bulk of the company's sales, the segments that grew the most in recent months came from the YouTube video platform and "cloud" computing services, thanks to the containment measures of numerous countries that have shot up the consumption of leisure services and telework tools. It is a booming economic model that has led Google to record significant revenue in recent years. This virus, however, has created two clear trends: downward spike advertising spending and increased reliance on internet services.
Some of Google's digital tools such as those for video conferencing (Duo) have become indispensable for many users in recent weeks, but they hardly generate economic performance. In your dive strategy