Dutch public television paid 400 euros for interviewing a y jihadist girlfriend '| TV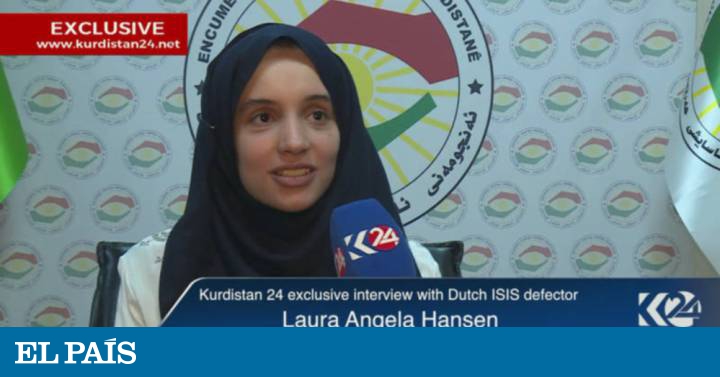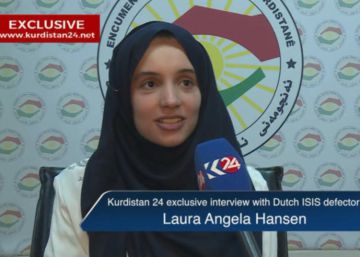 The debate has broken out this week in the Netherlands. Have you done public television wrong paying for an interview with a woman convicted of helping Islamic terrorists? How far does editorial freedom go in these cases? The Dutch Public Radio Television Corporation (NPO) has paid 400 euros to Laura Ángela Hansen, one of the so-called jihadist brides local, by an interview issued on December 25. The young woman traveled to Syria in 2015 with her husband, Islamic State fighter (ISIS), and in 2017 she was sentenced to one year in jail in the Netherlands for helping the terrorists. As the Corporation receives tax money, television payment has now forced Media Minister Arie Slob to give explanations in Congress. The politician has confirmed the sum stressing that "editorial independence is essential, and the media themselves decide the content of their programs." Those responsible for the issue questioned have indicated that their guests can receive up to 750 euros.
Deputy Zohair el Yassini, of the right-wing liberal party, majority partner of the coalition in power, asked the minister on Monday for the transaction to consider "incredible" the use of taxpayer money "for ISIS followers, and terrorists, Tell your story on television. " The young woman returned from Syria in 2016 without her husband, Ibrahim, but with their two children, Abdullah and Iman, aged one and four, respectively. He was helped by his father, Eugene, who acknowledged "having paid 10,000 euros to a particular German foundation with experience in this type of rescue" (the Dutch Government only repatriates exceptionally children of jihadists). During the time he was away, he sent messages to his daughter via Facebook asking him not to go to the border "because everything will be taken away from there." The communication was secret, so they wouldn't find out, and they had code words to know when I was alone.
The television interview was broadcast on Christmas day, during maximum audience hours, and was part of the program titled Mensen M (People with M, the presenter's initial, Margriet van der Linden). It is a production of the KRO-NCRV chain, part of NPO, and brings together two people "who have stood out during the year". Shot off the set, they gathered in a villa decorated for Christmas parties and with a striking ornate tree. Laura Hansen appeared with the singer Duncan Laurence, winner of the last Eurovision festival, and of his same age, 25 years. For about 40 minutes, and without the camera ever focusing on her head, she said: "I no longer consider myself Muslim and I want to finish high school and study Philosophy or History." "What worries me is the reaction when I try to work and know what happened. But if I don't say it, I won't seem reliable, "he admits. With her hair in a ponytail, and without the veil she was wearing when she returned, she later states that her husband "wanted to fight for the Islamic State." "But I was horrified from the beginning: I was in a dirty house, nobody spoke my language and everything consisted of surviving," he added.
The fact that the presenter portrayed her as a victim of her own ingenuity and her partner was the most repeated criticism on social networks after the program was broadcast. Laura told Dutch police that her husband forced her to travel to Syria, but in 2017 the judges ruled that, being of legal age, she would be judged as such. She was sentenced to one year in prison for collaboration with the terrorists, and as she had already spent time in custody, the prosecution did not appeal against the sentence. In addition, he had two children under six years of age in his care. "I think they cheated on her; his brain was washed, "said Jennifer, his mother. "That the prosecutor thinks that he can commit an attack seems taken from a series of actions," added the father. Since then, her daughter, who calls him "the most important person" for her, has moved on with her life.
Media
Born in 1995, Laura converted to Islam at age 17. He had previously lost his brother, 15, to cancer, and when his parents divorced, he spent time in a center for troubled children. During the television talk she recognized that she needed to feel "appreciated" for herself. "I ran out of my best friend and partner," he added. She met Ibrahim, her future husband, a Dutchman of Palestinian origin, through a dating website for Muslims. In 2015 they disappeared from home, as his mother then explained to the national press. During their escape, they lived in Raqa, which was the capital of the Islamic State in the north of the country, and in Mosul, in Iraq.
Upon his return in 2016, Laura said she had been "in a place with bearded men": "I always tried to escape from hell lived." He also recognized that Ibrahim was beating her and they had problems before the trip. "But I didn't dare to separate because I was pregnant." Arrested in his day upon arrival at the Amsterdam-Schiphol airport, it has become the most media of the young women who joined the ISIS from the Netherlands. She is also the protagonist of a book, titled Laura H.,which tells his story by the hand of Dutch journalist Thomas Rueb, and of which the rights for his film adaptation have already been sold.