Dutch police recycle and veto women with burqa in police station after the government ultimatum | Society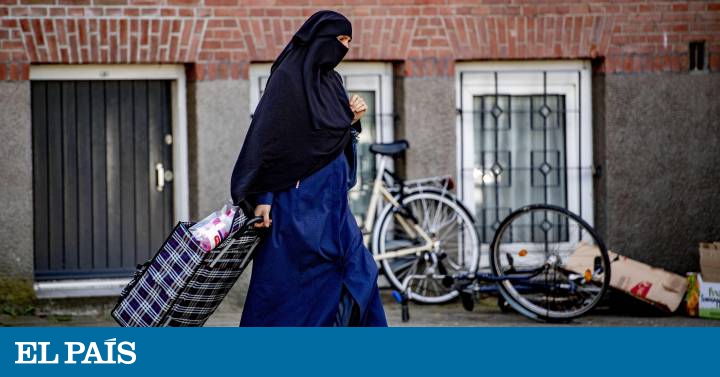 The Dutch police have had to modify at the last moment their interpretation of the new law of burqa, which allowed the entry of women with the full veil, and with niqab, at the police station, and then discovered in a separate room. The Interior Ministry has insisted that the agents lack the competence to "adapt the legislation" and the police management has modified its internal guidelines on Thursday. From now on, veiled people, and also those who wear a helmet that covers the face, balaclavas or masks – all included in the standard – should be uncovered if they want to file a complaint in person.
The law prohibits the face covered in public transport, schools and hospitals, in addition to the police stations, and the change of approach has occurred after Interior gave an ultimatum. Police officials have admitted that both parties "differ in the reading of the law, but the legislator determines their interpretation and our performance must adhere to it," their spokesmen added. The informative circular published on Wednesday on its website, which indicated the possibility that a veiled woman discovered his face in a separate space, has been modified. As of this Thursday, the one who comes to file a complaint and has a covered face "has to collaborate taking off the item in question," says the note.
The duel between the Government and the police has lasted until the last moment, with great disgust on the part of Kajsa Ollongren, Minister of Interior, in favor of an application without causing conflicts. However, there may be more problems. The law itself stipulates that public transport personnel, hospitals or schools must first inform the person who is covered that they cannot enter like this and then invite them to leave. If you do not access, you can call an agent.
It is about avoiding friction and even shocks that exceed the verbal, hence the same official note from the police address now includes a section that asks for "restraint against possible self-retention and until the police arrive appear to violate the law ". "The Dutch media have indicated this possibility, contemplated in the norm, but the prohibition of being covered must be remembered by the authority or those responsible for transport and other public bodies. A report can only be written when the police have verified that all the planned steps have been followed. Then, the prosecutor will decide on the fine, "concludes the brief.
Compliance with the new law will be evaluated within three years, when it is usual to do so after five. Geert Wilders, the Dutch anti-Muslim leader today in low hours, and that promoted in 2005 the veto to burka, has qualified the entry into force of "historic day." "Now we can work towards the next step: ban the veil in Holland," he has published on his Twitter account.
(tagsToTranslate) Dutch police (t) (t) Dutch (t) recycle (t) recycle (t) veto (t) woman (t) burka (t) police station (t) ultimatum (t) government (t) agent ( t) can (t) offer (t) evening (t) room (t) discover



Source link