Duplantis breaks the pole vault world record with a jump of 6.16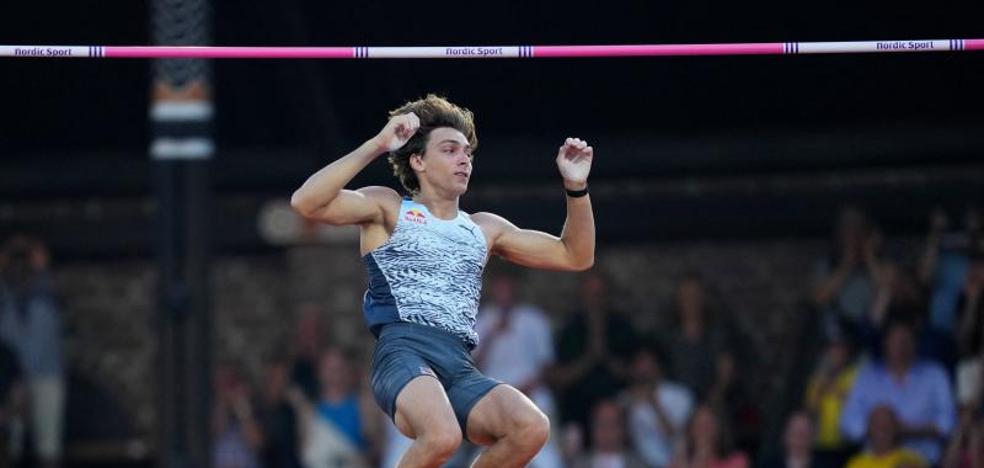 Athletics
The young Swedish athlete breaks the outdoor record he shared with Bubka at the Stockholm Diamond League
Swedish Armand Duplantis set a new outdoor pole vault world record on Thursday, with a jump of 6.16 meters, to break the universal record he shared with Ukrainian Sergei Bubka. Duplantis, who has also held the world record on the indoor track since March last year with 6.20, marked a new milestone in his brilliant career in the Diamond League event in Stockholm. The young Nordic jumper, 22, surpassed the outdoor mark with which he equaled Bubka and which he boasted of since September 2020 by one centimeter.
Duplantis only needed six jumps to add his sixth world record, second in the open air, two weeks before the start of the World Championships in Eugene (Oregon). After easily overcoming the bar at 5.83 and 5.93, he also successfully crossed 6.03. It was time for him to ask for 6.16 and although he failed on the first attempt, on the second he flew, precisely in his own house, where he signed another feat. "It is very special for me to have achieved it in my country," acknowledged 'Mondo' Duplantis.
In the eighth round of the Diamond League, however, the sprinter Marcell Jacobs could not participate, since the one who was the great star of the event along with Duplantis was injured. Jacobs felt discomfort during training in his left leg, the same one in which he has been suffering from pain since May. The winner of the 100-meter dash was the South African Akani Simbine, with a time of 10.02.