Dunas Hotels & Resorts: a classic for Canarians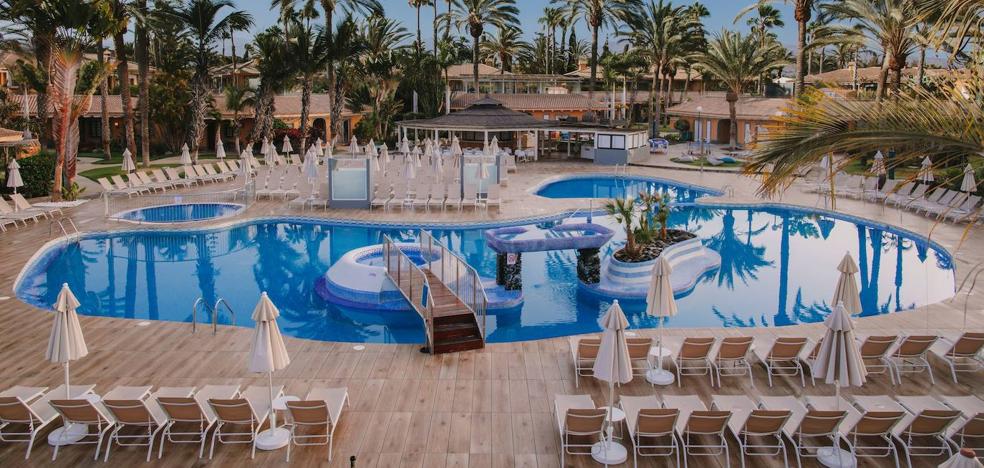 Dunas Hotels & Resorts is a hotel company that has always been ahead of its time. Its birth came about in response to a dream of Canarian businessman Ángel Luis Tadeo, who managed to take the dolphin brand (the emblem of the Dunas Group) to the top of the Canarian tourism industry.
Along its history,
Dunas Hotels & Resorts has focused its work on European vacation tourism, but has also penetrated deeply into local tourism, where the dolphin brand is a guarantee of quality and a symbol of vacations. Currently, Dunas has more than 3,000 beds and its main activity is carried out in 4 establishments:
Hotel Suites & Villas by Dunas in Maspalomas, a place where tourists can stay in beautiful suites and villas immersed in an oasis of native vegetation that provides its different pools with unusual warmth.
The bungalows form a beautiful town in which its guests enjoy differentiated environments. The hotel is located next to the Maspalomas Dunes Special Nature Reserve and the Tony Gallardo Park. They have an entertainment program specially designed for children and adults; and special facilities for the fun of the little ones: 3 areas with swimming pools, a splash zone and a mini-club with a game area and a mini-disco.
Bungalow-terrace interior.

Special mention is that this hotel is considered a reference for athletes. Cyclists from different parts of the world stay in the bungalows with their families to prepare tests or attend sports competitions such as the Gran Canaria Bike Week, and benefit from the facilities prepared especially for them, such as a Cycling Center with secure parking to store bicycles. bicycles, and space with specific tools, washing area and specialized store.
In addition, it is possible to rent bicycles and even reserve special rooms with a differentiated welcome pack. In a completely different area, it is one of the places recommended by grancanariagolf.com, among other things, for its proximity to the Maspalomas International Golf Course.
Suites & Villas by Dunas is one of the places recommended by grancanariagolf.com

Soon Suites & Villas by Dunas will continue adding quality to the offer, with 68 premium villas, recommended for adults, in which a wide range of services designed for the most demanding guests will be offered. In addition, the renewed interior decoration together with the tranquility that is experienced on its terraces with hammocks or Balinese beds, will constitute a safe bet for those who want to allow themselves the luxury of feeling completely pampered during their vacations.
A place specially designed for families.

Last, but probably one of the most important aspects to enjoy during a perfect vacation, is the gastronomy. The hotel's food and beverage team is constantly renewing its menu with exquisitely prepared dishes both in "The Village" pool bar and in its buffet restaurant (theme 3 times a week).
Hotel Don Gregory by Dunas in San Agustin, an incredible hotel overlooking the sea. It is not rash to say that they have the dream location, right on the beach and with wonderful views over the Atlantic. One of its peculiarities is that it is a hotel for adults only from 16 years.
Maspalomas Resort by Dunas in Gran Canaria, a place for the whole family where the rooms are beautiful bungalows where you can spend your dream vacation, surrounded by gardens and swimming pools, and perfectly located very close to the Maspalomas Dunes Special Nature Reserve. Its strong point lies in the numerous recreational activities for the whole family. A place that emphasizes fun.
Finally,
Maspalomas viewpoint by Dunas, a hotel tailored to your needs so that you can enjoy a holiday full of emotion, thanks to the splendid cheerful and familiar atmosphere that permeates each of its corners. Located in one of the most interesting tourist areas and surrounded by all the amenities, from shopping centers to shops, bars and supermarkets.
For the local tourist, Dunas Hotels & Resorts is a safe bet. Not only because of the strategic location of its hotels and its splendid facilities, but also because of the staff that works in them. In a time of continuous change, it is charming to see how the Dunas Hotels & Resorts team remains the same as always, with a vocation for service and total dedication to its guests.
An oasis of native vegetation.