Duel of premieres: 'Me slips' on Antena 3 against 'Come to dinner with me' on Telecinco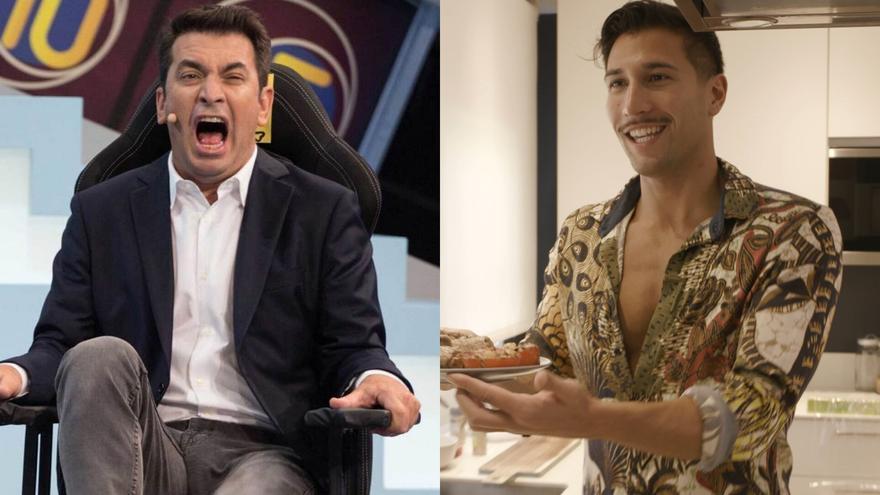 'Come to dinner with me: gourmet edition' returns tonight to Telecinco (11:00 pm) with a new edition starring Gianmarco Onestini, Terelu Campos, Sofía Suescun and Yurena. The first host will be the Italian, who will have to face the demands of his teammates and rivals during the evening.
Gianmarco will open his mouth with 'Spaghetti of the smile', a pasta carbonara like the one his grandfather made. As a main course, he will serve a veal with cheese under the title 'Involtini del buon umore', whose presentation will not reach the level of excellence despite his good intentions. For dessert he will offer a 'Cake of love', a typical tiramisu from his mother's region.
For its part, Antena 3 premieres this Wednesday the new season of 'Me slips' (10:45 p.m.). Carlos Latre, José Corbacho, JJ Vaquero, Edu Soto, David Fernández, Anabel Alonso and Laura Sánchez will be the brave ones who will dare to participate in the crazy contest presented by Arturo Valls.
The 1 broadcasts from 10:35 p.m. a new installment of 'Comando al sol'. In 'A summer of height', the reporters of the program will summit in the Sierra de Béjar and Candelario before heading to the center. Enthusiastic about the great adventure, they will discover why Puy du Fou has twice been rated the best park in the world.
Cuatro premieres the 'FBI' series
'FBI' arrives at Cuatro tonight (10:50 p.m.). The series shows the inner workings of the New York office of the FBI. Special Agent Maggie Bell (Missy Peregrym) and her partner, Special Agent Omar Adom 'OA' Zidan (Zeeko Zaki), investigate large cases, including terrorism, organized crime and counterintelligence, to keep the city and the country safe. .
laSexta bets on a movie night with 'Above the law' (10:30 p.m.). Nico Toscani, a Vietnam War veteran and FBI police officer, is ordered not to act on a mysterious shipment of explosives related to a known trafficker. However, when he decides not to follow orders and investigate the matter on his own, he stumbles upon an international drug trafficking operation in which the CIA and high-ranking government officials are involved.