"Due to the irresponsibility of some, the valuable life of others is in danger"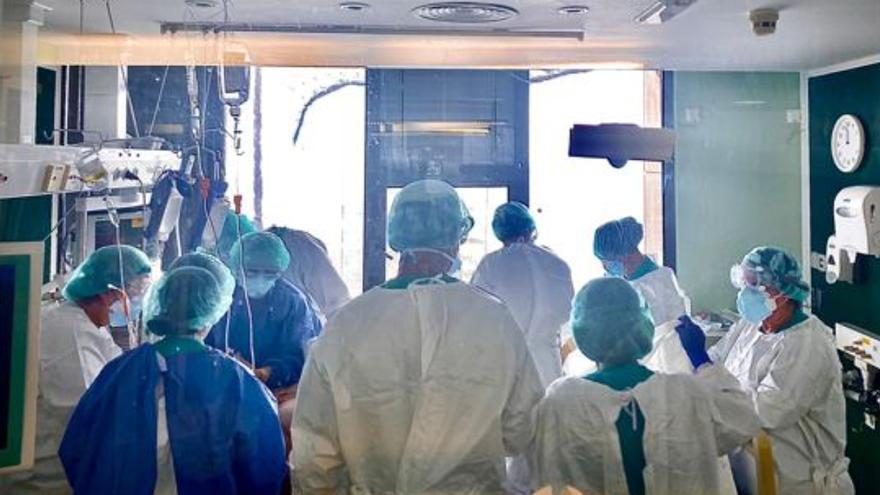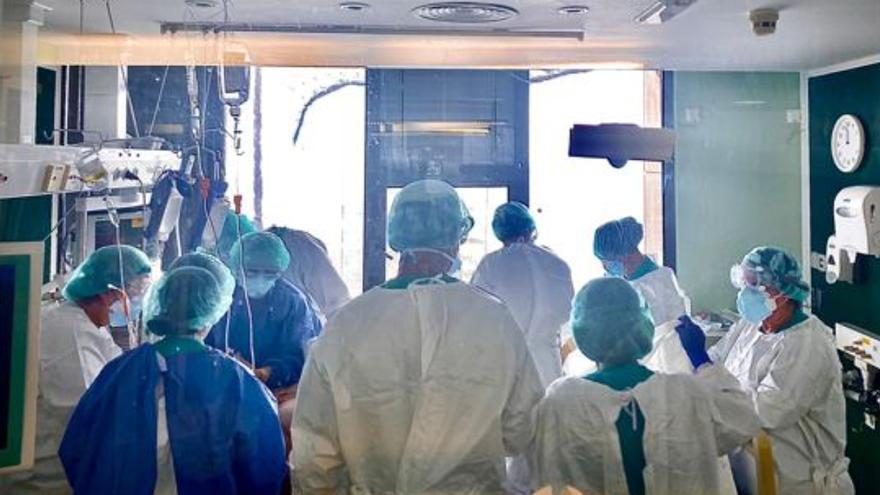 The fifth wave of Covid-19 progresses uncontrollably in the Canary Islands, despite the vaccination campaign. This Wednesday, July 28, some 1,448,898 people have received at least one dose of the coronavirus vaccine in the Islands, representing 73.89 percent of the target population, which has increased by include in National Vaccination Strategy against COVID-19 to the population over 12 years of age.
Domingo Gonzalez, intensivist physician of the Insular Maternal and Child Hospital Complex has published a photo on his social networks as a reflection in which the health personnel of the aforementioned hospital are shown fighting to save the life of a young woman, admitted by Covid-19.
Accompanying the photo has published a text that has been made viral:
«This photo was taken today in the intensive care unit where I work as an Intensive Care Physician.
Scene that I have been seeing since March of the year 20 when the first patient with bilateral pneumonia due to COVID19 was admitted. And it is not because I have seen it so many times that it stops impacting me, even after more than 30 years in the profession.
Although there have been many changes compared to the first time, as we know much more about the disease, we feel safer, we have much more means, we have a vaccine and we are already vaccinated, we have fewer risks, what impresses me the most is that Younger patients, previously healthy, are admitted to us who, because they are not immunized and as a result of the impressive increase in infections from this fifth wave, caused by the enormous irresponsibility on the part of our community, are seeing their short and valuable lives in danger.
And I still do not understand some comments and criticisms of the taking of drastic measures to stop this wave of infections. Some of these comments vehemently demand that parties, mass events, free movement and a long etcetera be held..
I post this photo of today, in which my colleagues fight, for hours, wearing EPIS, for the life of a very seriously ill young woman .
With this act I want to call to reflection those who do not respect the rules of prevention, those who do not believe or those who assume that things are not going with them so that they can help us save lives, maybe even theirs or their lives. family and friends, before we get to the uvi, in what could already be late.
Please help us save lives !! "
27 · 07 · 2021 10:20
90% of residents between 50 and 59 years of age in the Canary Islands are already immunized against covid. Read more
27 07 2021 10:19
The Canary Islands requires the use of the covid certificate in cultural events, bars, restaurants and gyms. Read more
07262021 23:00
The Canary Islands are considering forcing public employees to get the vaccine. Read more
07 26 2021 10:00
The Police filed 150 complaints over the weekend for violating anticovid regulations and holding bottles. Read more
26 07 2021 09:58
16-year-olds respond to the call for vaccination. Read more
26 07 2021 09:57
The new restrictions apply with the requirement of the indoor covid certificate. Read more
26 07 2021 09:56
Those infected from the Islands double their social contacts in the fifth wave. Read more
07 25 2021 16:15
7,500 inoculated doses in vaccination without prior appointment
Health reports that the vaccination teams of the Canary Health Service administered this Saturday some 7,500 doses of vaccines against COVID-19 at the authorized points in Fuerteventura, Gran Canaria, La Palma and Tenerife, for the first day of vaccination without an appointment aimed at those over 16 years of age residing on those islands.
East age group He has responded very well and with good reception to the appeal made, thus advancing in the planned schedule since his vaccination began this week.
The walk-in vaccination It has continued this Sunday in Tenerife and Gran Canaria, aimed at people born in 2005 or earlier. In Gran Canaria, the vaccination points enabled today for this appeal are Expomeloneras and Pedro Hidalgo's fighting ground in Gran Canaria, from 9:00 a.m. to 4:30 p.m. In Tenerife, those over 16 years of age are vaccinated without prior appointment from 09:00 to 21:00 in the Santiago Martín Pavilion and in the South Hospital of the island until 19:00.
In addition, this Sunday between 5:00 p.m. and 7:00 p.m. vaccines will be administered without an appointment at the Fairground, in the Annex to the Guajara Classroom of the ULL, in the University Hospital of the Canary Islands, in Magma), in the Candelaria Technological Center (Ctcan) and in the House of the Entrepreneur of Los Realejos.
07 25 2021 16:14
The Canary Islands closes the week with a rebound in infections and deaths from Covid-19. Read more