Dudamel seeks inspiration with Katy Perry, Natalie Portman and Carlos Vives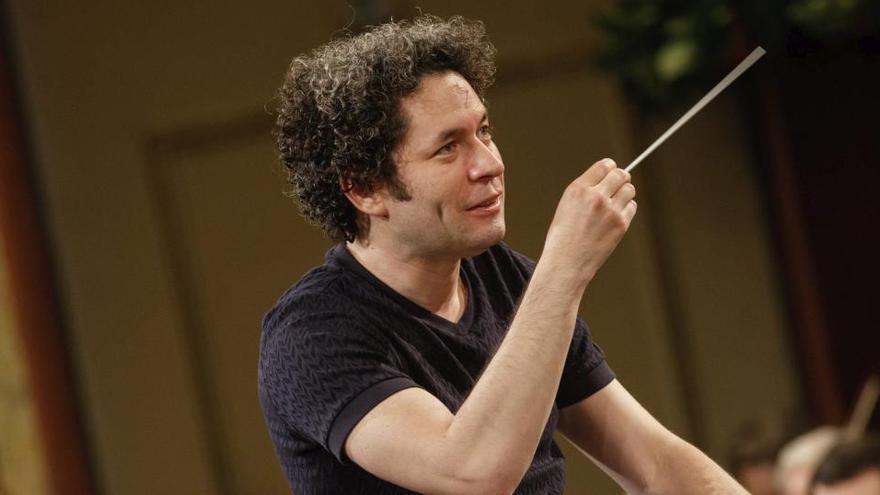 Gustavo Dudamel presents this Saturday night 'Icons on Inspiration', a virtual event of the Los Angeles Philharmonic (LA Phil) in which the Venezuelan conductor dialogue with stars like Katy Perry, Natalie Portman, Carlos Vives, Julie Andrews and Common on the issues that motivate them both in life and in art.
"Inspiration is an important part of all of our lives," says Dudamel in this special that Efe had access to before its premiere at 6:00 p.m. Los Angeles (02:00 GMT on Sunday). "It is the stimulating force that gives us our best ideas, that motivates us to act and that moves us to create something wonderful, "he adds.
'Icons on Inspiration' alternates the interpretations of several pieces by LA Phil, with Dudamel at the helm, with dialogues in which the teacher talks to different stars about the meaning of inspiration. These figures were also in charge of choosing the musical program for the online special.
So, LA Phil performs Jessie Montgomery's 'Starbust' at this event; 'Martin Luther King' ('Three Black Kings'), by Duke Ellington, and a couple of fragments from the 'Fourth Symphony', by Pyotr Ilyich Tchaikovsky, and from 'The Firebird', by Igor Stravinsky. El 'Danzón number 2', by Arturo Márquez (with the pianist Yuja Wang); the 'Fuga con pajarillo', by Aldemaro Romero (together with some members of the Los Angeles Youth Orchestra YOLA), and 'Das himmlische Leben' from the 'Fourth Symphony', by Gustav Mahler (with soprano Liv Redpath as guest) , complete the 'Icons on Inspiration' proposal.
"Our entire show today is about inspiration," says Dudamel in another 'Icons on Inspiration' moment. "I hope listening to these amazing artists talk about their musical passions inspires you to think about what music means in your lives. Over the past year, the importance of music has only grown. It has the power to heal our souls and also the soul of our community"he adds.
The musical program was filmed with detachment and masks in an empty Hollywood Bowl, the legendary Los Angeles open-air theater that is home to the LA Phil during the summer season. 'Icons on Inspiration' can be seen free from this Saturday on the LA Phil website, where it will remain available until March 6.
Dudamel, who has led the LA Phil since 2009, has tried to keep the Californian city's orchestra as active as possible despite the fact that the pandemic has forced the cancellation of all concerts. Thus, in the first weeks of the crisis coronavirus He appeared on the radio with the program 'At home with Gustavo', in which he shared with the public and commented on some of his favorite musical works.
Another example was 'Love in the Time of COVID,' another LA Phil special performance partially inspired by the poet Pablo Neruda and where Dudamel joined forces with his wife, Spanish actress María Valverde.