Dudamel: "It is always a privilege to conduct the Mahler Chamber Orchestra"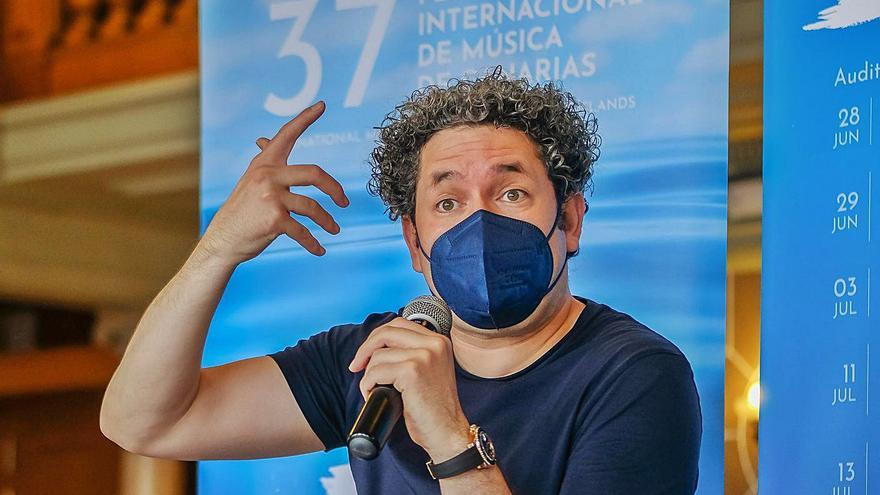 Márquez highlighted the good start of the Festival under the baton of Dudamel directing young talents, "a project that understands culture as a tool for social transformation and generation of leaders. Seeing members of the Young Canary Orchestra learning and connecting with the Latin American world is a privilege. The Mahler Chamber Orchestra is in a splendid artistic moment with a great connection with the maestro ».
For his part, Dudamel pointed out that he had already had the opportunity to be at the Festival a few years ago with the Gothenburg Symphony Orchestra in a very short period where yes «I could feel an energy, an excellence and a concept of art as an entity of union and transformation that made us not doubt what we wanted to do with the young people who came to the Encounter Orchestra. We knew we wanted to come to the Canary Islands and celebrate it here. It has been the epicenter of these first concerts by these young musicians who in a year and a half have not been able to play in an orchestra or have their regular classes. This has been a way for them to transform, to re-inspire and to be reborn ».
The director stressed that he grew up in a youth orchestra playing and dreaming. «When we can get the space and support to continue developing these types of projects, it makes them magical. Last Monday was beautiful because all the boys and girls in the orchestra reached such a special human connection that it makes art take on its true meaning ». Music is often seen as an element of entertainment, one more concert, but in this case there was no routine. «They were transformed through such complex music as Schönberg and Tchaikovsky. The trials did not last two weeks. However, what happened from the first to that concert on Monday was a wonderful journey, an experience of life. They are moments that look short, but that remain for the rest of your existence. It is what was reflected there, the love, the inspiration, the desire to be able to make music together.
Dudamel emphasized that he feels like one of these musicians he worked with on Monday. "Trust always comes from respect and I believe that at all times there was mutual respect. From the first moment they arrived, they found each other and a connection emerged, those bridges that are not seen, but that are heard and felt in the music when you are rehearsing or when you are doing a concert. That level of admiration created a space of enjoyment, because in the end, it is a pleasure to carry out the most beautiful thing, music. The fact that I feel part of them makes the connection unique.
For the teacher, it is essential to reconceptualize art education in the basic education of our boys and girls. "Art is what is always left a little aside in culture, when in those spaces there really is creativity, access to beauty, the creation of harmony, mutual balance." He considers that all the initiatives of children's and youth orchestras that exist around the world are fundamental and also those of artistic education. But an orchestra, after all, is a microcosm of a community. That makes up a citizen discipline. When you listen to the other, you may even disagree because each musician plays a different instrument, but by coming together they create something beautiful and unique united through that understanding. If children have access to it there is an infinite possibility of a new generation.
The director thinks that this complex time that we have lived has made us appreciate what is important. "An honest, deep reflection must be made of what is really fundamental for us as human beings and of how we understand the world, from the individual to the collective. That is something that reflects what this project and the meeting of these young people in the Encounter Orchestra entails because for them it has been to obtain the leadership that they will take to their countries and spread in values ​​».
According to Márquez there are still three concerts ahead with the maestro and the Mahler Chamber Orchestra. The first will be on Friday the 2nd, in co-production with the Hotel Santa Catalina, just in front of the venue, where Beethoven's Heroic Symphony No. 3 and Mendelssohn's Scottish will be played. "We want it to serve for a new model of tourism-cultural development, that we are not just about sun and beach." Then he returns to the subscription concerts of the Festival that will take place, on Saturday with the Italian and the Pastoral at the Alfredo Kraus Auditorium and on Sunday at the Tenerife one. Dudamel believes that the program includes a very regular Beethoven and a more sporadic Mendelssohn "but at all times there is talk of emblematic symphonies". In the Heroica life is celebrated, very necessary to do at this time. Inspirational music. The Pastoral is very contemplative ».
Dudamel points out that conducting is one of the least musical musical trades there is "because no sounds are produced and the orchestra is fundamental." "The transforming process of the essay, not only from the technical aspect but also from meeting and humanly provoking ourselves and creating a dialogue in which the objective is balance, the harmony of beauty is fascinating." The Mahler Chamber is an orchestra that is also full of youth.