Dudamel charms the Canary Islands – La Provincia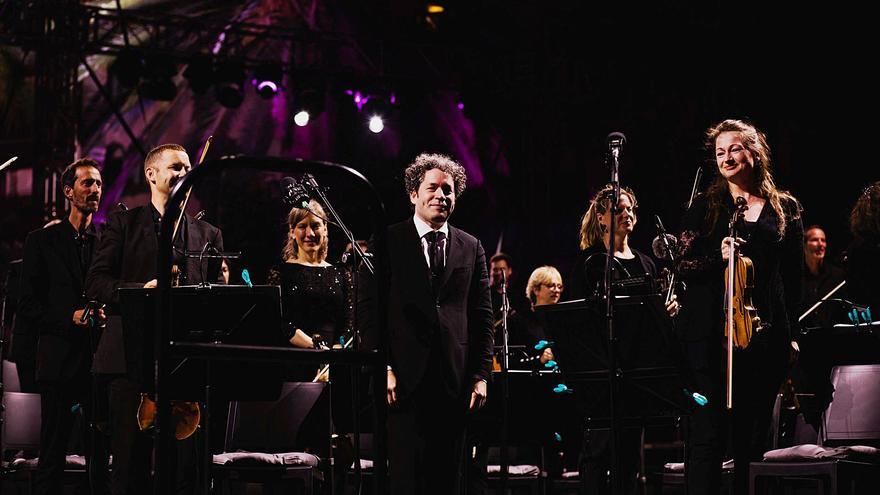 Gustavo Dudamel, currently considered one of the most influential figures in international culture and one of the most relevant directors, has chosen the Canary Islands for his first artistic residency in Spain. Last night the stage of the Alfredo Kraus Auditorium Symphony Hall received the Mahler Chamber Orchestra which, under the baton of Dudamel, performed a program composed of the Italian Symphony No. 4, by Félix Mendelsshon, and the Pastoral Symphony No. 6, by Ludwig van Beethoven. The event, included in the 37th International Music Festival of the Canary Islands (FIMC), will be repeated tonight at the Adán Martín Auditorium, in the capital of Tenerife.
On Friday night the first edition of the Santa Catalina Classics festival premiered, starring the maestro Dudamel, who on this occasion was also accompanied by the Mahler Chamber Orchestra. The concert, in co-production with the FIMC, took place in Doramas Park, in front of the emblematic Santa Catalina hotel. The organization assures that it was "an unforgettable evening for all the attendees", who were able to enjoy the genius of Gustavo Dudamel. The musicians performed two masterpieces of German Romanticism: Beethoven's Eroic Symphony No. 3 and Mendelssohn's Scottish Symphony No. 3.
Dudamel first participated in the FIMC a little over a decade ago when, at just 28 years old, he was already the director of the Los Angeles Philharmonic. On that occasion he did it in front of the Göteborg Symphony, with a dense program that included Beethoven's Pastoral Symphony No. 6. Eleven years later, on this return to the Islands, he returns carrying under his arm that work of the genius of Bonn, the greatest in the history of music, convinced that a world as chaotic as the current one «gains more strength due to its humanist message ", due to the need to make sound that symbolism of embracing all the elements of life, of society, of a continent, of the entire world, in that capital work that represents uniting humanity through music and music. art.