Dudamel and Lafourcade fill the Hollywood Bowl with Mexican music | Culture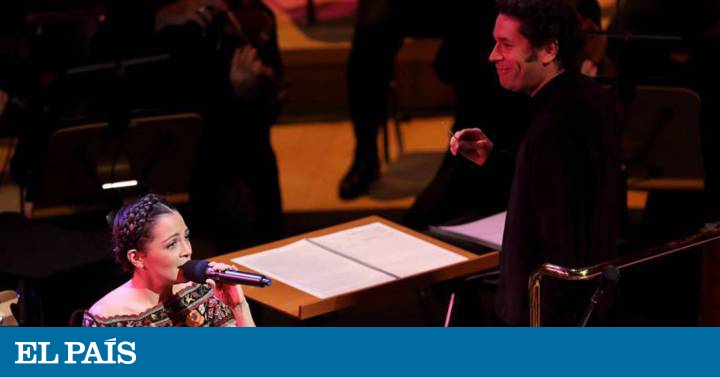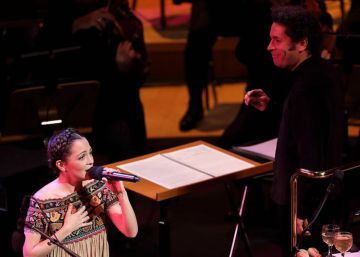 Sunday night in Los Angeles is Mexican. The Philharmonic of that city, in charge of the Venezuelan director Gustavo Dudamel, will give a concert next to the Mexican singer Natalia Lafourcade in the Hollywood Bowl. The angelina orchestra has prepared a program in which the chords of Huapango by José Pablo Moncayo and the Danzón No. 2 by Arturo Márquez will be the preamble so that later Lafourcade interprets some songs from his albums Muses Y To the root. Dudamel has added the Venezuelan touch of the night with the Fugue with a bird of the suite for strings by Aldemaro Romero. The concert is broadcast live on Sunday at EL PAÍS website at 7:00 pm (western time of the United States, 9:00 pm, Central Mexico time).
The concert, in addition, coincides with the tenth anniversary of Dudamel at the head of the Los Angeles Philharmonic. The Venezuelan director, who was trained in the System of Children and Youth Orchestras of Venezuela, has stood out in recent years for his direction of the work of the Austrian Gustav Mahler. Dudamel has never ceased to include the Latin American touch in the programs he conducts. The celebration of the musician has extended in the last days with concerts in the Hollywood Bowl next to the Chinese pianist Yuja Wang, the Youth Orchestra of Los Angeles, as well as with interpretations of the work of Dvořák and Mahler.
"Gustavo has said it many times, music is magic and yes, it is a really powerful medicine, in which we let ourselves go, we open our hearts, we sensitize ourselves and let ourselves be carried along in its current," Lafourcade added. a publication in his social networks, a few hours before the concert, in which he appears next to Dudamel who, with baton in hand, directs the rehearsals of the Philharmonic.
(tagsToTranslate) dudamel (t) lafourcade (t) fill (t) hollywood bowl (t) music (t) mexican (t) mexican (t) follow (t) live (t) live (t) concert (t) artist (t) cufflink (t) musician (t) Venezuelan (t) Los Angeles



Source link