Dudamel and his musical vaccine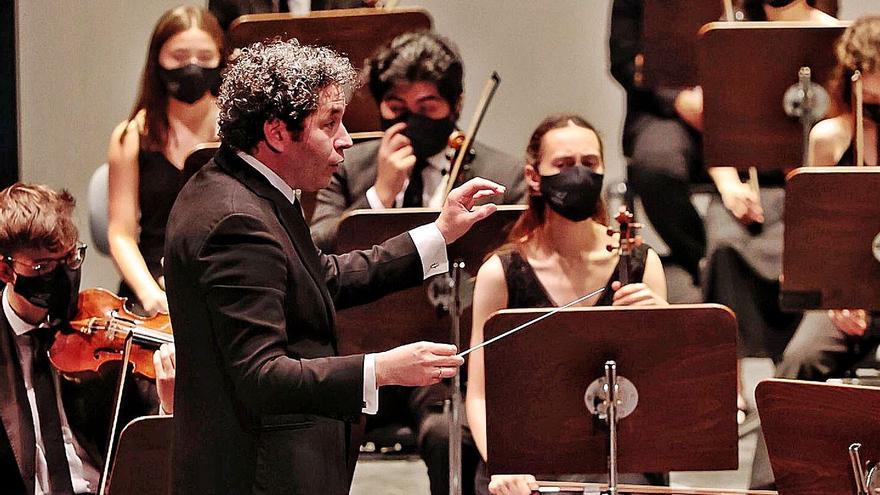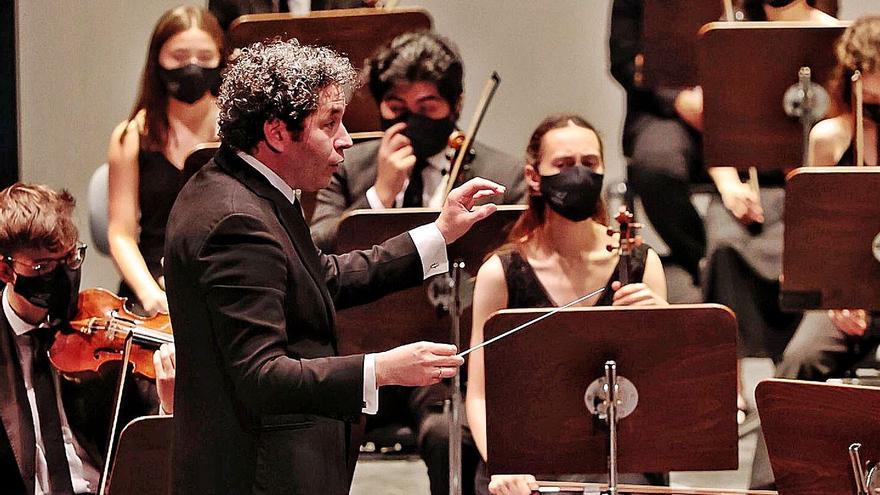 The success of this first concert held in the Tenerife Auditorium It was such that the director had to go out up to five times in a row to say hello to thank the applause. Eleven years ago, Dudamel first visited the Canarian musical gathering dean.
Yesterday he repeated at the head of a very special project: his Encounter Orchestra. Why this meeting? Here are young people from twelve different countries: Chile, Argentina, Uruguay, Bolivia, Peru, Colombia, Venezuela, Nicaragua, Mexico, the United States, Portugal and Spain ", said the director of the Los Angeles Philharmonic who, in addition and from the past month of April, he is also director of the historic Paris Opera.
«The desire to make music and to transform ourselves with it has overcome all the difficulties that there are today to travel. This meeting means that music is a fundamental entity of union. Uniting all these cultures has achieved this wonder, "he explained.
Dudamel's style and charisma is unmistakable. His energy not only conquered the audience but also guided the 49 young members of a group composed exclusively of stringed instruments with total mastery. Without a music stand, without scores, the composer also has the habit of conducting by heart. The first piece on the show was Arnold Schoenberg's Transfigured Night. "We have barely had a week of rehearsals and these boys and girls have managed to do this with such a complex piece," he said. Then it was the turn of Tchaikowsky and his String Serenade. "It is an enormous privilege to be in Tenerife playing in this emblematic theater," he concluded. Dudamel is a special director. He has won two Grammys, has his own star on the Hollywood walk of fame and is friends with Steven Spielberg. His presence in the Symphonic Hall also produced unusual images such as that of two spectators waving a Venezuelan flag between the seats as a sign of welcome.
The concert will be repeated this afternoon, starting at 8:00 p.m., at the Alfredo Kraus Auditorium from The Gran Canarian palms. Next week, the popular maestro will once again take the stage of the 37th FIMC leading the Mahler Chamber Orchestra to perform Mendelssohn's Italian Symphony and Beethoven's Pastoral. The first visit will be made to Alfredo Kraus (July 3 at 8:00 p.m.) and the second to Tenerife the following day (July 4, also at 8:00 p.m.).
Also, next Friday he will participate in a concert in the gardens of the Hotel Santa Catalina, a project in collaboration with the Barceló Group. The official ticket sales points for FIMC events in Tenerife are at the Tenerife Auditorium and at the Guimerá Theater. In both spaces they can also be purchased through their website. In Gran Canaria they can be purchased at the Alfredo Kraus box office and on the Guiniguada Theater's online channels.