Drugs in Spain: young people opt for cannabis and women for alcohol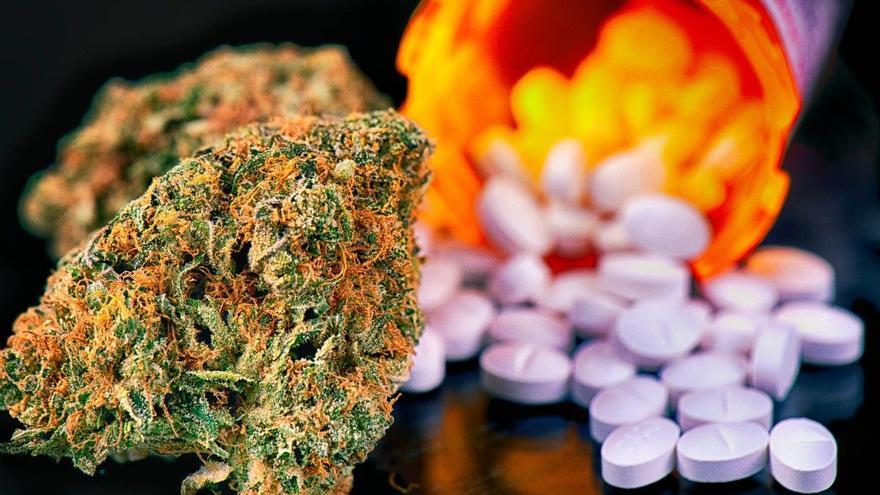 In addition to the compulsive use of the Internet, the poll Studies 2021 of the National Plan on Drugs (PNSD) reveals that the students between 14 and 18 years old consume mostly alcohol (70%), tobacco (30%) and cannabis (22%), the most common illegal drug in this population group.
Although there was a general decrease in alcohol consumption, especially among the young Victor Jose Villanueva director of the master's degree in drug addiction prevention at the International University of Valencia and coordinator of a study carried out during confinement, clarifies the data and warns that it increased 10 points in women who already had a pattern of risk.
The pandemic has increased the use of over-the-counter hypnosedatives from 1.9% to 3.1%, especially among women (4%), according to the OEDA Covid study
He did so notably in the age bracket between 35 and 55 years old, with a full-time job and dependent children and/or elderly people. "Combining eight working hours in a situation of confinement with childcare, which continues to fall on women, ends up becoming a stressor that increases consumption. There is clearly a gender factor", details the researcher.
morphine derivatives
The pandemic has also significantly increase, from 1.9% to 3.1%, the use of sedative-hypnotics –tranquilizers or sleeping pills such as Lexatín or Orfidal– without a prescription, once again especially among women (4%), according to study OEDA Covid 2020 made by him Ministry of Health and the PNSD to assess the impact of the health crisis on addictions.
As far as the opioid analgesics, that is, drugs derived from morphine to relieve pain, such as tramadol or fentanyl, no changes are perceived on the type of consumption. In addition, despite the fact that the prescription of opioids has doubled in Spain in a decade, according to the Observatory of the Use of Medicines, the experts Today they do not detect a public health problem like the one experienced in the United States.
"There is no public health problem related to the consumption of synthetic opiates, nor is there an increase in heroin consumption, that does not mean that it will not come later," says Juan Jesús Hernández, head of Health at the Red Cross.
"There were pharmaceutical industry 'marketing' practices there that unethically encouraged the prescription of opiates. We do not believe that this is happening in Spain, with a very solid control system of pharmacy as the electronic prescription. In addition, the autonomous communities monitor whether a professional prescribes more than is necessary or if a patient has several medications at the same time that are too similar", explains the Government delegate for the National Plan on Drugs, Joan Ramon Villalbi.
Juan Jesús Hernández, head of Health at Red Cross, admits that professionals feared to see an epidemic of opiate use but that the reality distances that fear. "That does not mean that it will not come later, but, as of today, there is no public health problem related to the consumption of synthetic opiates, nor is there an increase in heroin use," underlines.
What they have detected Projecte Home Catalunya is an increase in the number of calls to request help –2,300 people in 2020 compared to 1,900 in 2019– and that the drug addiction situation of those who come to the Projecte has worsened during these two years, either because they consume more, have more psychiatric pathologies associated or suffer a higher level of poverty.
"In very complicated social situations, more extreme behaviors rebound. What we perceive is the seriousness of those who were already consuming, and to whom the context leads them to increase consumption or commit crimes, because many have lost their jobs or have a more precarious job", details the Project director, Oriol Esculies.
heroin and cannabis
The Red Cross believes, in any case, that it is possible to speak of a pre-pandemic situation in terms of the number of deaths from intoxication. "Theoretically, there is a greater risk of overdose when the same amount is consumed again after an involuntary detoxification process due to less access to the substance, but we have not seen it," says Hernández.
"The overall picture in Spain is one of a certain stability. If we look back decades, we see that the heroin problem has improved a lot and there has been a slow decline in alcohol. The biggest focus of concern continues to be cannabis, because its consumption has become trivialized", summarizes Villalbí, who mentions Afghanistan as another cause for concern.
The Asian country is the world's largest producer of opium –and therefore heroin– and is beginning to cultivate ephedra, an endemic plant from which ephedrine is extracted, a powerful stimulant from which methamphetamine is obtained, a highly destructive drug due to its addictive "At the moment it seems that it is only going to the Asian market, but the same route that brings heroin could bring methamphetamine and that must be followed very carefully," says Villalbí.