Dressel gets his fifth gold and achieves a world record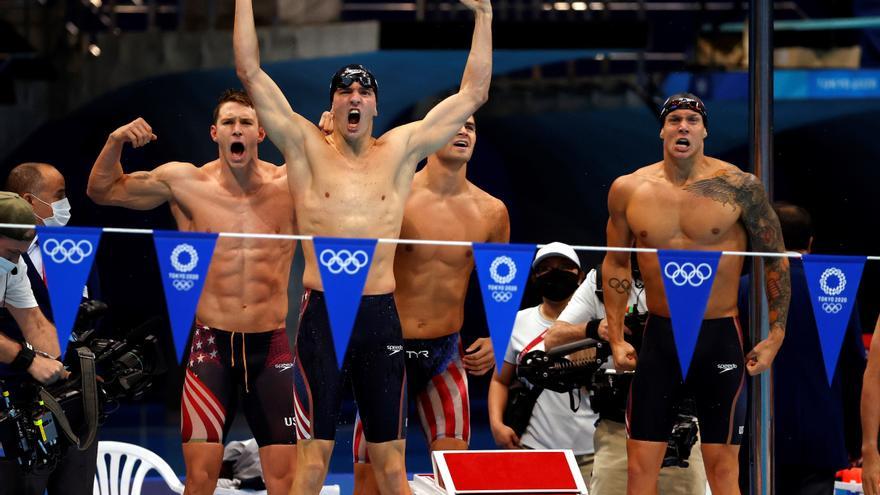 Caeleb Dressel finally closed his performance in the Tokyo Olympics with a total of five gold medals, one less than he aspired, after contributing decisively to the victory this Sunday the American team in the end of the 4×100 styles relay with a new world record included.
And it is that Dressel, that a day before he had lost the possibility of achieving the six golds with the unsuccessful behavior of the North American quartet in the final of the 4×100 mixed stylesHe was not willing to let history repeat itself.
An inner rage that allowed Dressel not only to wipe out the 64 hundredths of advantage with which the bracist Adam Peaty had placed Great Britain, but leave Americans with an income of 60 hundredths at the beginning of the last post.
Final hundred meters in which Zach Apple increased the lead of the Americans again, who finally scored the victory with a time of 3: 26.78.
A record that allowed the American quartet, composed of in addition to Dressel and Apple by Ryan Murphy and Michael Andrew, lower by half a second the previous universal record also held by the Americans with a time 3: 27.28 since 2009.
Unlike what happened in the mixed relay, Caeleb Dressel was not failed by his teammates, that they seemed as determined or more than Dressel himself that the Florida swimmer left Tokyo with five golds.
Starting with Ryan Murphy, who already put the United States in the lead, or Michael Andrew, despite not being able to defend the first place against the push of the British Adam Peaty, the best bracista in the world, and, of course, Zach Apple, who was in charge of finishing off the victory at the last post.
A very solid quartet, which he could not defeat on this occasion as happened in the 2019 World Cups, despite Peaty's outstanding post, the British team, which had to settle for the silver medal with a time of 3: 27.51, a new European record.
The Italian relay completed the podium, which endorsed the good feelings left by the transalpine swimmers, with a time of 3: 29.17 minutes that earned him the bronze.