Drawings and sculptures of violated love | Culture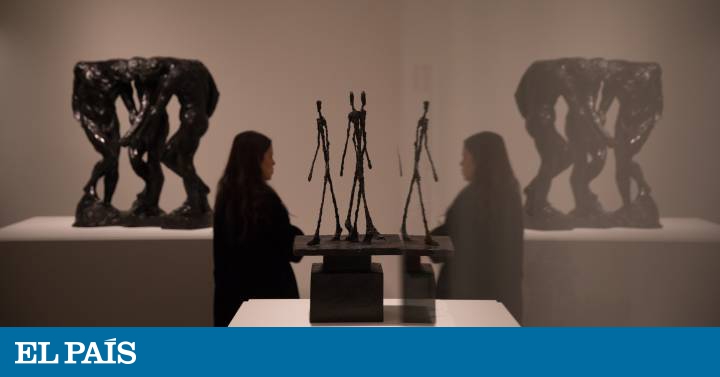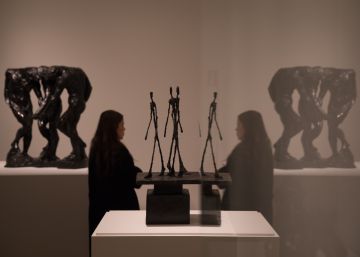 In The Canal Foundation, in Madrid, exhibits drawings, cuts and small sculptures of plaster of Augusto Rodin, a little known work and so far never exhibited in public. It is an intimate and sensitive recreation of the woman's body. After contemplating this exhibition in which Rodin turns the female nude into a delicate ballet, it is very difficult to imagine this artist sitting in a slip-up armchair with his large bare belly under the silk baton and his wife kneeling before his imposing figure giving him tablespoons of soup with the danger that if he did not like the food he would kick the plate to roll. His name was Rose Beuret. Rodin had met her when she was a 24-year-old illiterate modistilla, who sewed buttons on the cloakroom of the Gobelins theater.
If one imagines that those drawings with graphite, those cut watercolors and the small plasters modeled with the fingertips had been inspired by the nude of that lover, who in addition to serving as a model cleaned the house, prepared food, He put poultices and in bed he was satisfied with abrupt sex, one comes to think about how intricate labyrinth the convulsed soul of this minotaur was enclosed. It happens often. Here is a zafio artist, sexist, sexual predator who never allowed his wife to accompany him to any public event, not even to a party between friends and at the time of calming his jealousy he said that she would always be his favorite and, on the other hand, he was able to extract from each movement of the body of that primary woman and instills an exquisite harmony that cannot be achieved without a deep passion of love and knowledge. Rodin married her a few months before she died, after living together for half a century between successive storms. She was over 70 years old and for the ceremony she didn't even comb her hair or give her face powder.
In the exhibition of the Mapfre Foundation Rodin's stormy bronzes and marbles dialogue with the metaphysical walkers of Giacometti. In this case, contrary to what happens with the intimate drawings and watercolors, the artist's primitive passions form an inseparable part of his genius when confronting matter, bronze or marble and creating modern sculpture, but also here his work is lacerated by the dramatic presence of another woman, Camille Claudel, a young sculptor who at 19 He started working as an apprentice in the teacher's workshop. He had a delicate beauty and extraordinary talent. Rodin entangled her very soon in a wild, untidy and neurotic passion, which, despite everything, began to bear top quality fruits. Camille was his muse and model and helped him sculpt. Rodin appropriated it completely, but the talent of this artist was soon recognized outside the workshop, which uncovered in him a storm of jealousy. In the famous sculpture The kiss maybe it was Camille Claudel herself the protagonist. This incipient glory of his disciple laced Rodin's ego, who at the same time admired his personal feminine touch as part of his own soul. Camille worked on the figures of his monumental work The Gate of HellHe was inspired by other works, which she signed with the name of the teacher.
For the kitchen was the other, which fed him on his knees and in the bed the animal flesh was appeasing him. Rose Beuret stayed at home while Camille accompanied the teacher at the society parties where she was recognized in public as an official lover and although she promised to marry her and pregnant several times without a happy result, this gifted sculptor began to realize that she would never achieve retain that savage, whom his wife had on the blind and instinctive side. The rivalry between the two women came many times to the hands, to crawl through the hair in the workshop in the middle of the sculptures. Camille only had to say goodbye to his teacher by sculpting his pain in a marble, L'Age mûr, in which she appears supplicant, with her hands stretched out towards Rodin and with his back dragged by an angel characterized as a witch.
With the double failure of the heart, his first nervous breakdowns began in Camille, but his schizophrenia was growing in tandem with the success of his work, increasingly recognized by critics. The end of this sculptor is well known. Thirty years in an insane asylum with eyes fixed on the wall opposite or tied to the bed and then a death without a known grave and all the glory for Rodin with his marbles and bronzes reborn from a violated and voluptuous love of two women who helped him . When these drawings, cuts and small plasters and also those powerful sculptures of Rodin are contemplated, it is necessary to imagine in this case to what degree of sensitivity the art can sublimate the darkest passions and how many tears the beauty usually hides.