Draghi turns his farewell into a final plea to ask governments for more spending | Economy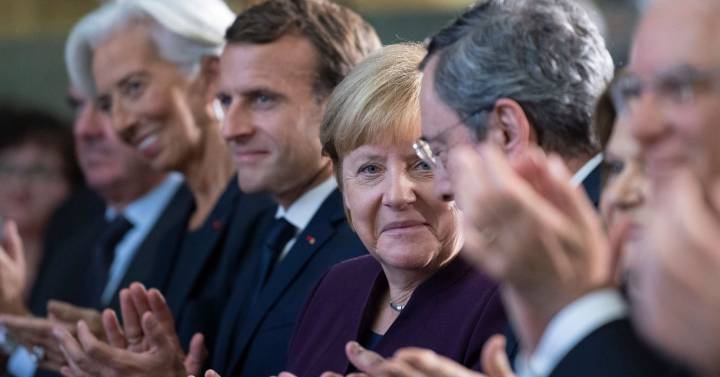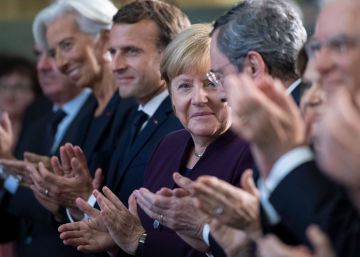 Monday's event in Frankfurt had the taste of the end of an era. The two key personalities of the euro crisis told each other goodbye after eight years of encounters and disagreements. Mario Draghi will leave on Thursday the presidency of the ECB. To the German chancellor, Angela Merkel, he still has two years of his long term, but he is already in clear withdrawal. "The euro is now stronger," said Merkel, thanking him for his contribution to the man who has raised so many blisters in his country. Draghi, on the other hand, did not miss his last occasion to reiterate his speech in recent years: the ECB's ammunition exhausted, it is the governments that now have to lean their shoulders to boost the economy.
"A more active fiscal policy in the euro zone would allow us to adjust the ECB's policies more quickly, which would lead to higher interest rates," Draghi said. It is a message clearly addressed to Germany, which despite its healthy accounts drag its feet whenever they ask it to spend more to pull the economy of the entire continent. But it was not a time for fighting. Merkel has had serious disagreements with the head of the ECB. His finance minister, Wolfgang Schäuble, came to accuse him of the rise of the extreme right in Germany for keeping interest rates too low. Far from controversy, the German leader praised Draghi yesterday for having known how to safeguard the independence of the agency that now leaves.
True to his style, Draghi did not get carried away by sentimentalities. In front of the political leaders who delivered short speeches full of praise, he preferred a longer and more technical text, in which he summarized the ideas he has been throwing for years. Not a nod to sentimentality. Draghi once again emphasized the need for the eurozone to endow itself with a common fiscal instrument "with sufficient power to stabilize the monetary union."
Not only Merkel participated in the tribute. The presidents of France, Emmanuel Macron, and Italy, Sergio Matarella, the future president of the European Commission, Ursula von der Leyen – the current one, Jean-Claude Juncker, had to suspend their assistance due to a health problem – and spoke woman who from Friday will take care of the monetary policy of the euro, Christine Lagarde. Macron praised three qualities of Draghi: his wisdom, his courage and his humility. Matarella, meanwhile, highlighted the contribution of his compatriot so that the monetary union did not break. "A risk we can say today that does not exist," he added.