Dozens of cats look for food in the La Palma volcano exclusion zone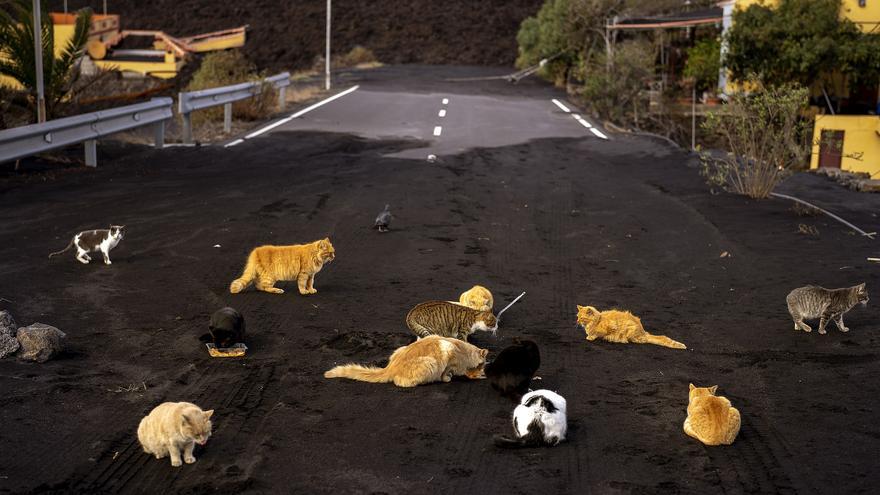 Dozens of cats roam in the exclusion zone of the La Palma volcano in search of food after the arrival of the laundry in the areas of Todoque and Las Manchas, among other places devastated by the laundry.
Some of the cats are strays and others are domestic, which their owners were unable to take with them as they had to hastily leave their homes at the time they were evacuated.
An image from the photographer Emilio Morenatti Posted on his Twitter account last Friday, December 3, shows more than a dozen cats gathered in the middle of a road that has been partially engulfed by lava and ash. The photo has gone viral in a few hours.
Members of the Emergency teams, the Army and the State Security Forces and Corps, such as the Civil Guard, or local police, have rescued since the eruption began on September 19, 77 days ago, abandoned animals or that have been trapped by the advance of the laundry.
This is the case, for example, of the thousands of bees that managed to survive after being buried for 50 days by the eruption and were rescued by troops from the El Paso Local Police, one of whose agents is a beekeeper, with the support of the Military Emergency Unit (UME) and of the Civil Guard.
On other occasions they have rescued disoriented animals among ashes and badlands, but there are still many who roam free looking for some food without the presence of humans nearby.