Donna Leon: "The abuse of the weakest infuriates me and revolts me"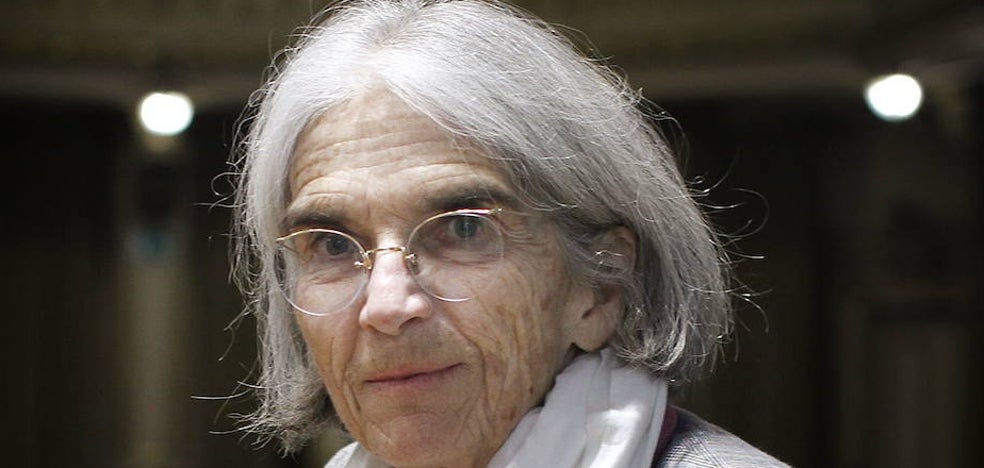 The writer reveals the dark side of some foundations and NGOs in the new novel in Commissioner Brunetti's series. "Going through Venice is like going shopping at Disneyland: pizza, ice cream or spaghetti yes, but if you need underwear, a button or a needle, you're screwed"
In 30 years Donna Leon (New Jersey, 79 years old) has published 31 novels starring her Venetian curator Guido Brunetti. The last one is 'Give and it will be given to you' (Seix-Barral), in which the North American writer, settled in Switzerland after fleeing Venice, unmasks the hidden manipulations under the humanistic and supportive facade of some foundations and NGOs. A deserted Venice in the midst of a pandemic is the unusual setting in history in which some greedy unscrupulous profit from allegedly charitable actions. "I am not talking about the pandemic, but I am talking about those who got rich with it," warns the author.
"We live in a culture that loves money. We revere it, but money doesn't necessarily make you happy." She knows that there are many people "willing to do anything for a profit", but she is careful not to lump all charities together. "I don't think there is general rot behind the gilded facades of NGOs, but we don't know how they work," she says. "They tell me that the FAO consumes 90% of its funds on salaries and bureaucracy, and only 10% on real aid and specific projects," she gives as an example.
"There is always someone evil willing to take advantage of the vulnerability of others," he says without spoiling the novel. "Here in highly civilized Switzerland, the elderly are abused and some are fleeced by people posing as members of solidarity organisations. They convince them to leave all their assets in their wills », explains Leon in a videoconference from his Swiss home.
The cost of vileness

"Seeing how the weakest are abused infuriates me. He raises me up, whether it's the bullying at school or the scams on the elderly. Inequality angers me," says Leon, who is very clear "that you don't have to kill to be a terrible person."
With 'Death at La Fenice' (1992) the Brunetti saga began. He has been breaking down and writing about human evil for three decades, but he assures that this does not make him understand it better. "I don't know if I understand vileness better today than I did then, because I don't know if you can understand evil and atrocity. In fact, I think I'm more confused », she admits. "As we get older, if we're lucky, we feel more forgiving and think we understand others better, but the evil continues to confuse me," she insists. "The cost of vileness is brutal for the evildoer and for the victim. I can understand that he steals, but not the cruelty with the other ».
He is more interested in Greek tragedies than platform series. "I am very cut off from modern life. I don't have a 'smartphone', or Tick Tock, or Facebook, or Instagram. I know what they are, but I don't use them. Without a mobile you can live in the last century and I don't know many things about contemporary life. I don't have Netflix either, but I know what it offers and I prefer Greek tragedies to series. She laughingly explains that her de facto marriage to Brunetti is a happy one. "I like him and I think he would like me," she confesses.
Leon and Brunetti's is thus a solid couple with a future. Not surprisingly, he has almost finished the 32nd novel in the series and is thinking about number 33. «I can't find any fault with Brunetti. He will remain as he is ». And that he is aware that his commissioner "had many prejudices towards southern Italians and was a bit racist." "Now they have told him and he admits it."
Leon, who did not publish in Italy to safeguard his anonymity, lived for many years in Venice. But he left the city of canals fed up with the ravages of mass tourism. "It receives three million tourists and its 50,000 inhabitants are overwhelmed; they have everything to lose. In Venice it is not easy to find a shoemaker, it is almost impossible to buy a button or a needle. The businesses that keep a city alive are dying. yes indeed. But if you need underwear you get annoyed ».He does not dare to say that tourism has killed the Serenissima,« but almost ». "Venice and Vienna have the oldest population in all of Europe with many people in their 80s and 90s. I don't know if tourism has killed Venice, but it has transformed it to the point of making it unrecognizable, as has happened in Barcelona with the Ramblas », he states.
He will be eighty years old in September and confesses that the secret to never missing his annual appointment with Brunetti and the reader is to write with enthusiasm and tenacity. "The answer is easy. If you observe that the manuscript of each of my books is close to 365 pages, it is understood that my job is to write more or less 365 pages a year. Not that it kills me either, but I'm very busy. In addition, in a week I can write 60 or 70 pages », she specifies. "This is not like deboning chickens in a factory. I'm having a great time. I enjoy it a lot, so I don't mortify myself. That is the real secret », she concludes.