Donkey therapy: dynamiting prejudice with caresses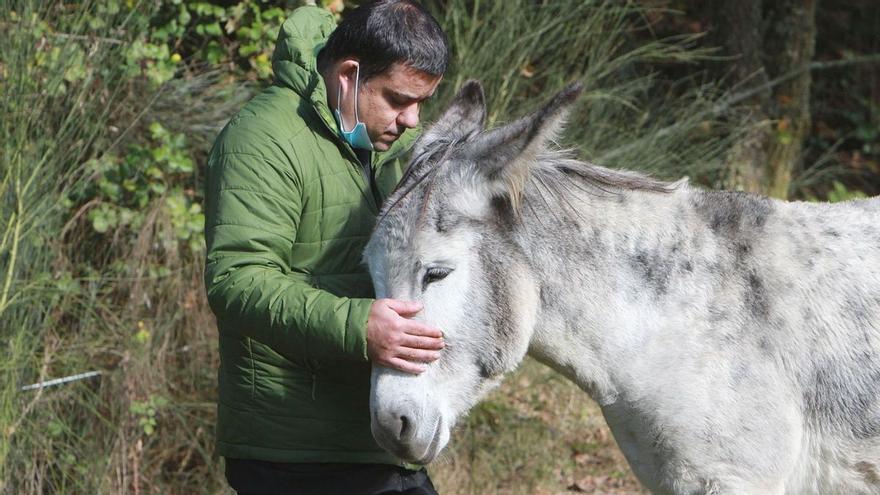 "The truth is that today I have mixed feelings, because it is the last day that we are with them but it is sunny and there are no flies bothering us," he replies Cesar Fernandez Salgado when they ask him how it is that his therapy is finished every Thursday with donkeys on the village of San Salvador dos Penedos (Allariz).
His only memory with a donkey dates back to when he was five years old and took a trip with his parents. Until it became part of the multifunctional stimulation program organized by the National Association for the Defense, Recovery and Therapeutic Study of the Asnal Species (ANDREA).
Bill Elsa perez, a psychologist of the entity in Ourense, who converges and combats a double stigma in this activity: that suffered by donkeys –traditionally related to low intelligence and only useful for loading work– and that suffered by people with special needs –because of the great ignorance that exists about certain diseases. "Neither one of them is burdened with prejudices that are widely spread in society. So the union that takes place here is free of stigmas ", assesses the professional.
"These groups of people suffer greatly from their mental or physical problems and the inability that they suffer, at times, to express feelings or sensations. What we try with this is that they improve their quality of life and their capacities to face social or work situations that may arise ", he explains about the intervention that is carried out in a playful way.
It's about a program that has been in practice for many years in countries such as the United States, Germany or France and that in Spain is beginning to gain momentum –Despite the dichotomy that registered donkey breeds are in danger of extinction–. "They become therapeutic mediators that promote an interaction, on the part of the participants, that is not achieved in other circumstances. They are also very intuitive and approach on their own initiative ", highlights the professional about animals with a much more docile character than other species such as, for example, horses.
"The first time I came I was amazed. This is the second and I already managed to tame a donkey that refused to walk. I calmed him down by talking to him and caressing him, "says Daniel González Fernández, another of the beneficiaries of the therapy in San Salvador dos Penedos.
It causes him some anguish, he confesses, not knowing if he will be able to walk with those he now considers almost friends. But he assures that he is going to behave as well as is in his power so that they let him repeat the experience a third time.
"I already managed to tame a donkey that refused to walk. I calmed him down by talking to him and stroking him."
For three months –between September and November– some thirty users from different associations in the province shared their Thursday mornings with these docile animals. "For these people, intervention programs should be long-term. As many family members perceive improvement, when the term ends they continue to come on an individual level. But not everyone has the same resources, unfortunately, "he says.
Asses allow therapists to work both on the physical level –The psychomotricity with different routes that the user and the donkey must carry out together– as well as on an emotional level –they brush their hair and play games of finding hidden objects in nature with them. "These animals They are also part of a grazing program for fire prevention, so they spend a lot of time outdoors, eating what they need and in semi-freedom all day. That means that they have their needs covered and that when they interact with people they are not stressed, "he says.
The philosophy they follow in the association –in which David Lema, a psychomotor specialist, and Elsa Pérez work full time– is simple: take advantage of the resources we already have, benefiting all parties.
The program – sponsored by the Diputación de Ourense – is part of a broader collaboration project between the association and the Allariz Council, which was launched in 2008, as a novel experience to recover and revitalize a rural area that Furthermore, it is part of the Biosphere Reserve.
"The program has much more demand than supply"
Helda Lopes –professional of the Troncoso Residential Unit– had been trying for several years to access some of these programs so that the people she works with could benefit. "It has much more demand than supply," he laments with the hope that his group will be selected again in future editions.
"We already did animal therapy in our center. Specifically with dogs. And it gives us very good results. That is why we wanted to test on a large scale and leaving our facilities so that they can also learn to move and interact in other spaces ", he summarizes about the experience lived with animals and monitors.
Regarding the perceptible improvements in the short term, Lopes highlights the ability to give and receive affection. "They are all somewhat sad because it is often difficult for them to establish contact and relate to those who do not know. But here that barrier did not exist at any time. Not even the first day, "she ends gratefully to the therapists and the donkeys.