Don Chezina presents his new musical theme entitled 'La Santy'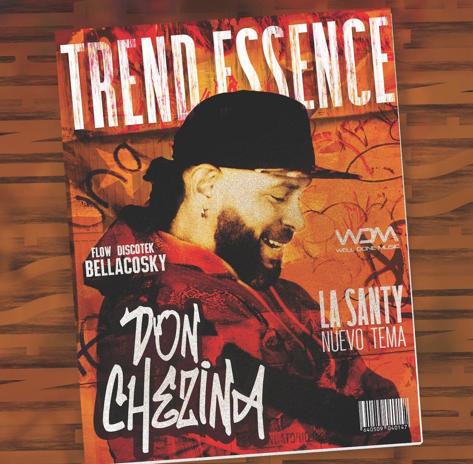 It will be part of his next EP called 'Trend Essence'
Return the
living legend of urban music, Don Chezina and brings with him his most recent musical material.
'The Saint' It is the new single that the American presents to his entire Dominican public, which he says has not been forgotten despite the passing of the years.
This new song is authored by the rapper and has the arrangements of the also Puerto Rican
DJ Nelson.
Don Chezina announced that 'La Santy' will be part of his next EP (extended play) for which he already has eight songs ready, all unreleased, under the label
Well Done Music.
«The concept of this project is essence and trend, that is why we have baptized it as:
'Trend Essence'; the songs have been produced based on what is in trend today musically and maintaining the essence of my music», the urban veteran recently explained during a meeting with the press.
In this album they will accompany Don Chezina the artist
Jowell, from the duo Jowell & Randy; Maicol Superstar and Alberto Styleeamong others under the production of DJ Nelson, Soprano and DJ Tiki.
Recognition of Don Chezina

Don Chezina was born in Georgia, United States, but grew up all his life in Puerto Rico. In the Latin country he began to record for
DJ Gilbert a practice song, later recorded for
dj dynamite the song 'Bien Guillao de Ganster', he recorded it for
DJ Chiclin in its Volume 1 and for
The Noise (Black DJ) in his Volume 1. In this latest production, his theme was one of the most listened to, which contributed to the future success of the artist.
After recording with 'The Noise', Chezina did not get the idea of ​​recording for a single producer or DJ and looked for the opportunity to record, by then with one of DJ Negro's rivals, as it was
Beach DJ.
At that time and concomitantly with Playero, he had the opportunity to record with
DJ Eric and the Industry (where he established a friendship with MC Ceja).
In 1999, he recorded again with La Industria the songs
'Good Good', and 'Envy in the Heart of Man' (with Wise) in Industry volume 6 (Part I).
Throughout his career, Don Chezina has been worthy of
multiple international awards and has toured the world with his music.
I listened
Here's the new theme of Don Chezina.