Don Benito: Farmers protest in Extremadura ends with police charges | Economy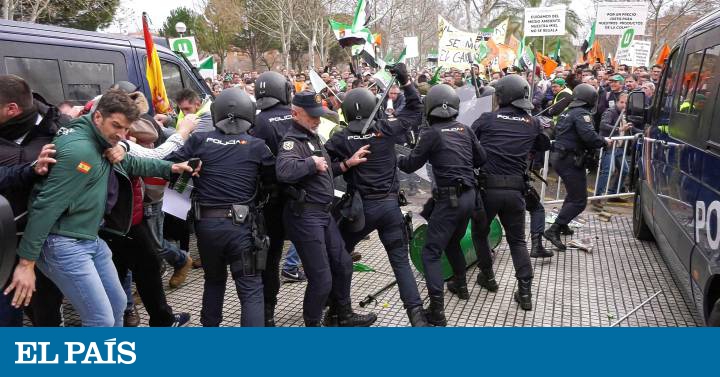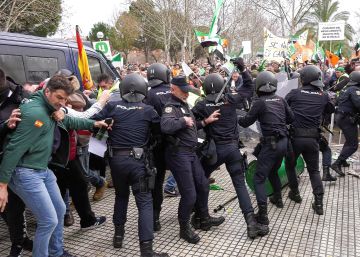 A farmer protest in Don Benito (Badajoz) has ended on Wednesday with several police charges at the gates of the Extremadura Fair Institution (Feval), where Agriculture Minister Luis Planas has gone to visit the Agroexpo fair. Several thousand people, according to estimates by the Europa Press agency, have demonstrated in the town of La Paz called by the agricultural organizations UPA-UCE, Asaja and COAG.
The protesters, who demand fair prices in the countryside, have directed the protest towards the doors of Agroexpo before Planas arrived and the president of the Junta de Extremadura, also the socialist Guillermo Fernández Vara. During the wait, some participants in the protest have tried to jump the police cordon to access the fairgrounds, which has caused scenes of tension and struggles with the agents. The police have carried out some police charges and on the side of the protesters there has been the launch of some objects and eggs.
Inside the Fair, Planas has assured that it understands "perfectly" the concern of farmers and ranchers, whom he has reminded that "neither the autonomous nor the national administration can set any price". However, the minister has indicated that the different administrations "can jointly make a series of measures" to reduce the "volatility" that affects the sector.
The PP asks for the cessation of the Government delegate
The head of Agriculture has also referred to the scenes of tension between protesters and police. "Everyone has the right to express themselves freely, and we respect that right to expression," said Planas, although he added that this right "should not entail any violent or coercive attitude towards anyone."
For his part, José Antonio Monago, president of the PP of Extremadura (one of the parties that had sent representatives to the protest, along with Citizens and United for Extremadura) has requested the cessation of the delegate of the Government in the community, Yolanda García Seco, for "ordering" the police charges. The head of the opposition in the regional parliament has described what happened as "embarrassing" and "unfortunate."
The demonstration on Wednesday is part of the protests that the primary sector is taking place throughout Spain this week. Farmers and ranchers complain about the low prices of products at origin, so they demand that minimum prices be set, and demand greater forcefulness in the tariff policy, in view of the penalties that the US has imposed on the European field by the commercial tensions between both blocks. Some organizations, such as COAG and Asaja, also oppose the increase in the Minimum Interprofessional Salary agreed by the Government to understand that it will strangle many farms because they cannot pay higher Social Security fees.