Don and Mera Rubell: "We want art to be as relevant to people as it has been to us" | Culture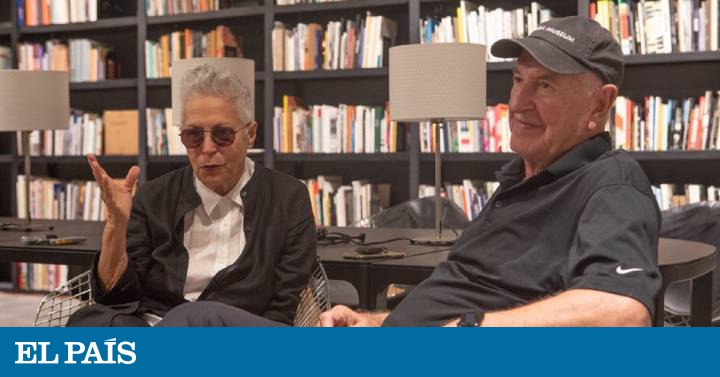 In a city as artistically thriving as Miami Don and Mera Rubell They are the couple that nobody should skip. The two head the Rubell Museum, a splendid building, with a shed structure, which brings together works by artists such as Damien Hirst, Maurizio Cattelan, Anselm Kiefer, Lyn Foulkes, Kara Walker, c and James Marshall. Located in the Allapattah neighborhood, not too far from the center, the museum - which occupies six old industrial buildings and that the Selldorf architecture studio managed in two years- it houses no less than 7,200 works from 1,000 creators and is in itself an unbeatable reason to see why Miami, also as a market, is increasingly attractive.
In that context, this couple feels like a fish in the water, aware that much of their prestige lies in a risky, sharp and sensitive eye, characterized by a unique sense of opportunity, which has allowed them to detect talent very early from artists like Richard Prince and Jeff Koons, today consecrated figures of contemporary art.
Dressed in black and with inherent sophistication, Mera begins the conversation as a guide. And we follow it where it indicates, walking through the museum, touring and understanding some of its rooms. But also its exceptional library, used by so many Miami students and art scholars, and the pieces that, as surprises of an endless maze, fill the eyes with illusion. It is as if the restlessness that the couple felt towards the world was reflected in the art they collect and, immediately, that trick would be transferred to the spectator as an unstoppable torrent.
Precursor Couple
Nothing surprising: Don and Mera have been responsible for the mythical show 30 Americans, who traveled around the globe and was headed by African-American artists at a time when you had to dare. But to its quality of precursors joins a constant concern: to be interested in the work of contemporary visual artists, all the better if they are young.
Don and Mera have been married for 54 years, they started collecting together when they lived in New York, they became famous in Winwood, and perhaps the only thing that essentially differentiates them is speech, which in it manifests effusively and in it - an eternal passionate of the history of collecting, since the Middle Ages to this day - it flows with parsimony, as if I had thought each syllable before verbalizing it. But this contrast only gives wealth to a couple that has not lost freshness.
Don, put things in perspective: "Somehow, the rooms of this museum not only show art, but tell our story as collectors. The paths we take naturally have been modified, but we never sold a work, and we have had clear influences that we also want to realize. " And he adds: "If people try to guess what our taste is, they will surely be wrong in the lane, because to a large extent we have tried to stay open to the changing world facing contemporary artists. What we want is to collect works that adequately reflect our time, rather than adapting our palate to what we buy, as who collects pictures of objects that he likes, such as flowers. Our goal is to engage the viewer with the artists, because we want art to be as relevant to the audience as it has been for us. "
This will be the whole journey with Mera: loaded with the images that his mind throws, and also enjoyed when, for example, the visitor bumps into one of the first key works of Koons. "I really believe that each private collection is a unique fingerprint that reflects the talent, ambitions and history of those who created it. If you add to the equation the influence of our son Jason and, of course, of a daughter like Jennifer, who is professionally dedicated to art, in addition to the concerns of a couple who has been together for 55 years, then that unique character, which may or may not be like it is accentuated ".
Her husband adds, with irony: "Every bad marriage is the same, and every good marriage is different. The same applies to collections: they perfectly reflect collectors as individuals. It is much more interesting to collect than to earn money in the activity you originally dedicated to. "" We collect young artists who recently began to show their work, and we are pleased to meet them personally and establish a relationship that continues over time. Therefore, the way we began to collect is related to our lives, with the economic limitations we had at the beginning and with a path that was gradually being made, because we did not own a large house whose walls we should fill. Here there was no premeditation or philanthropic search, but a genuine interest in original works of art, something that for us has been and is still magical, "Mera completes.
Before finishing, it will detail with surgical precision the variety of ways in which the museum - whose responsible people try, through a subsidized ticket policy, that nobody who really wants to know about it loses it - works in conjunction with public education institutions, and he will say that it is very difficult for them to think of art as a decorative element.
What pieces will stand the test of time? "There is a fantastic book of three volumes that tracks art from the fourteenth century to the eighteenth century, and one of the conclusions that can be drawn is that no piece maintains its value or interest over time, which includes teachers like Rafael. The interest in these works for me is more important than the fact that they pass the test of time. For example, why do people now respond enthusiastically to Modigliani in a way that he did not when he was alive? We don't know, "explains Don. "I like to make historical and contemporary artists dialogue. Egon Schiele is a consecrated which I have considered again because a young artist that interests me rescued him. The history of art has continuity, and it is impossible to think that what an artist does today is not influenced by what a teacher did hundreds of years ago. Picasso said that the good borrowed, and that the great stole. Well, it is not for anyone to steal and ensure that, however, their art is unique, "Mera clarifies.
"The artists are very intelligent. And it is natural that they are the ones who rescue their colleagues, spreading their interest in people like Marcel Duchamp towards us ", concludes Don, who has accumulated with his wife more miles than an astronaut and every day an old vice emerges: playing tennis.