Domingo Valderrama, forgotten bullfighter, small in stature and gigantic heart | Blog The bull, by the horns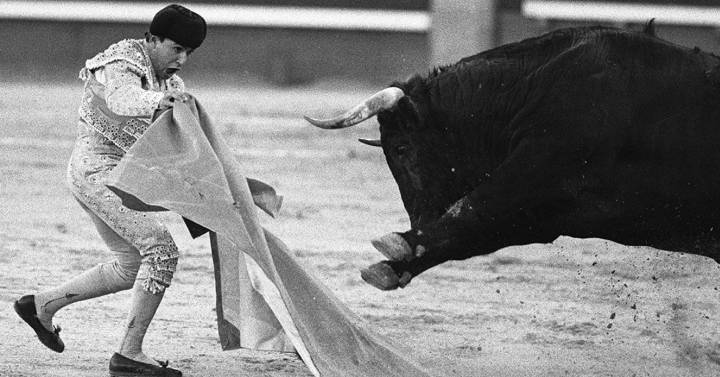 Although it seems that he is not aware of it, he was a creator of intense emotions in a bullring. His presence in the arena caused concern and unease, first, and confidence and strong feelings, later. Not in vain, his small body in itself appeared diminutive before the torazos of miura that it faced and with which it earned its deserved fame.
"Torero tiny of stature and gigantic heart", defined Joaquín Vidal July 10, 1993 when it was presented at the San Fermín Fair and caught the attention of the bullfighting world.
In May 1988, when he was just 17 years old, he performed with horses at La Maestranza. That was a successful season; up to eight afternoons he did the paseo as a bullfighter in the Seville albero, another at a festival, and a mixed bullfight.
But the good omens were soon twisted; the meteoric career of the boy painter and artist edging had to be transformed into a gladiator of heterodox measures (1.62 meters from the sole from head to toe) in front of bulls of spectacular trapío and hardness in the entrails. And after a few years of scares and great triumphs, the bullfighter went into oblivion.
Domingo Valderrama (Utrera, Seville, 1971) is now a 49-year-old man, he makes a living as the head of two brave cattle ranches and reviews his bullfighting career with a grimace of bitterness on his face. He confesses that his greatest pride is the respect and memory of the fans; and his pain, the mistreatment he received from the companies.
His childish face dressed in lights has become that of a seasoned country character, tanned skin, a broken smile, and an apparent distrust that denotes an intimate disappointment with the world.
"I think I am remembered for being a small bullfighter in front of a large bull, and for the question that everyone asked: how will he kill them? Well, it killed them well, and proof of this is that I have prizes from Madrid and other important fairs for the best thrust ".
Domingo confesses that he is very bad for dates. It is true. He does not remember the outstanding days of his bullfighting life, although he does remember the companions, the bulls and, above all, the mark he has left on the fans.
"That is the greatest pride I have. I feel absolutely recognized by the fans ".
The bullfighter does not even remember the afternoon in which he decided to say goodbye to the profession.
"I know that I was fighting in a portable plaza in a town in Jaén, and that I fought a bullfight that came from Bilbao. It was one in the morning and we had not charged. And here you are to make money or you are not. You cannot risk your life and make others rich at your expense. In the end, we charge, but not what is stipulated. And that night I decided: it's over ".
- That was the reason for his withdrawal ...
- "If you do not earn money it is better to dedicate yourself to something else."
That happened in 2007, more or less, and by then I was already working in Aquilino Fraile's cattle ranch, and for eight years in Las Monjas. In both, he is responsible for the genetics, the tentaderos, the lots and sale of the cattle. "I am happy, yes, and I feel fulfilled. The livestock world always fascinated me ".
Domingo Valderrama was born in El Torbiscal, a farm near Utrera, and from a very young age he went to El Toruño, where the Guardiola family bulls grazed and his father worked as a photographer.
He says that there he gave his first caps to a calf and was trained until his debut as a bullfighter with horses at La Maestranza in May 1988.
"Nobody tried to take away the idea of ​​being a bullfighter because of my height," says Valderrama. The truth is that Domingo Valderrama became that year a well-founded promise of Sevillian bullfighting and he ended up doing the walk together with Curro Romero and Rafael de Paula in a mixed celebration that qualifies as "a peak afternoon" in his career.
But that meteoric race didn't last long.
"Curiously, and there are the chronicles, I was considered a bullfighter, artist and painter, but the following year I had no luck in Seville, and I did not find a receptive attitude in the businessman, Diodoro Canorea; I didn't have money to mount heifers either and I had to emigrate to France, where I fought hard and hard cattle ".
Abandoned by the Seville company, Valderrama was forced to take the alternative in the French city of Floirac, on October 4, 1992.
"The following year I triumphed with Miura's bullfight at the Pentecost fair in Nimes, which served to get me hired at the Sanfermines. Notice that they rejected me in Pamplona as a bullfighter because they believed that I would not be able to kill a bull with my height, and that shocked me. I am going to show them, I told myself, that I am capable of killing the biggest bulls ".
"The great Valderrama" titled Joaquín Vidal, who wrote that "the Miura appeared in the arena… But not just anyone was going to fight it. The great Valderrama was going to fight it, a tiny bullfighter of stature and gigantic heart. Domingo Valderrama looked up, not with a cocky predisposition or haughty attitude, but out of necessity, to see Miura's face, which was three quarters above his bangs ".
That bullfight was the beginning of Valderrama's best years in the ring. Later, in 94, the great door of Bilbao would arrive, and in 95 that of Las Ventas ...
And Valderrama emerged as a specialist in Miura's iron.
"I don't know if I came to understand these bulls… I have always been an artist bullfighter, and I applied my concept to that particular attack; I followed his behavior, and that's where my bullfighting came from… ".
Roses did not last long in the life of the bullfighter. He himself speaks of a period of decline.
"Yes, something went wrong in my career; there was no continuity nor did I find the right man to lead my career after the good management carried out by Andrés Luque Gago and Roberto Espinosa ".
And the impositions of the businessmen appeared.
"If I win with the miuras, that should be noticed in the money, I say. In Seville, I cut off their ear and won eight million pesetas (48,000 euros); the following year, again miura and 10 million pesetas (60,000 euros), and on the third occasion, the same iron, but only two million pesetas (12,000 euros). Why?".
- Why?
- "They told me: if you don't come, someone else will come. But I do not accept that my money is kept by the employer. I never understood that the reward of a win was to fight bulls the following year from the same herd and less money. I refuse to charge an amount lower than the established minimums for others to eat ham and prawns at my expense. It was always very clear to me ".
- Did you earn money?
- "Yes, but not everything I deserved. In fact, I need to work to live ".
An unknown person interrupts the interview. He identifies himself as an amateur who has recognized the bullfighter and wants to show him his respect and admiration.
- "I told you just now," says Valderrama blushing. "This is my capital and my pride: the recognition of the fans."