Doerte Lebender's Sweet Last Voyage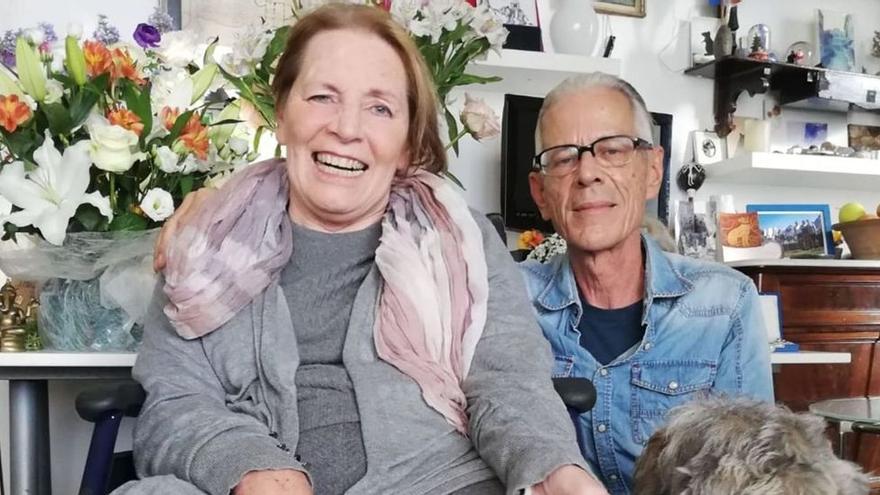 On the makeshift altar on the table in the living room they have added a box with gems that Walter Lebender gave to his daughter, Doerte, when she was a child, as well as a photo of Elke, her friend, with her daughters on top of a mountain alpine. They have finished the bottle of Baileys and are about to do the same with a box of Daskalides chocolates that Jorge, a friend who has come to say goodbye, has brought. Because "goodbyes and tears happen, but no big drama"says Artur Rettenberger, his caretaker. This morning he arrived at 6 am:" I slept about Maximilian theodore, her teddy bear. He had a sweet awakening. He had a 'croissant' for breakfast. "
The preparations are finalized. They were visited by the coordinator of the City Council, who will inform the assistant that she will no longer go to that house to shower Lebender. The hospital bed will be removed the day after. And they met to the medical team, two nurses and a doctor. Each one introduced herself personally. Each one explained their role. With delicacy and tenderness. They detailed the procedure. They will put two ways. It cannot be in the arms, as it is difficult to find their veins. They will do it in each hand, on the obverse. Lebender will put his fingers on the key that opens the way for the first coma-inducing dose. They will have to help her, as she doesn't even have enough strength to turn her. They looked at the living room and kitchen, where they will prepare the medicines. They will place the chair with their back to the small round table where they will place the syringes in order, so that Lebender does not see that medical paraphernalia. The goal is to create a cozy atmosphere. They checked how far the chair can be tilted, so that, if necessary, they could quickly access the English. The fundamental purpose is to be effective, above all not to cause harm or pain ('Primum non nocere'). Traffic should be smooth. Death must be dignified.
These last hours begin to take a toll on Rettenberger. Mentally review each act that will take place the next day: "Doerte will tell me 'now' to indicate the moment when he opens the tap. It may happen that in any of the steps his heart stops, because very high doses are applied. the first, when she is induced into a coma. But I doubt it: what she has well is, precisely, the heart. " Everything will take just a few minutes. "I want to be with her later, but I don't want to see how her body is taken away. Rafa Alcántara [su amigo] yes it will stay. I'll take Jacky out for a walk. When I come back this will be empty. "
Lebender has already chosen the flowers (in addition to a dried hydrangea and some dried roses for her birthdays) and a series of objects that will accompany her in the wake. A friend will transfer Rettenberg to the Santa Eulària crematorium on Friday: "I don't want to drive." Today he will go to the funeral home with Lebender's documentation: "Which is not normal. The usual thing is that you go after death. Everything is new." And weird.
Yesterday the family doctor visited them. He asked Lebender to give one final testimony that his mental capacity is still intact and that he wants to continue the process. She did not prescribe any additional pain reliever: "I feel very good, very calm and convinced. Glad that everyone understands me. I am not nervous. I sleep very well. No dreams. I don't think about anything." Rettenberger shows a poster he designed for her nearly two decades ago for her birthday. He lived in Santa Agnès. I was happy. Lebender came to take care of 16 cats and four dogs, the ones that appear on that poster.
October 27: the sweet journey.
"My wish is to be ash. To rest," he said a month and a half ago. The day I have been waiting for has arrived. At 11 o'clock, nothing in that house suggests what will happen there shortly. Doerte Lebender is the one who appears to be calmer. She is still smiling and warm, insisting that I must emphasize that what will soon happen there is not suicide. Rettenberger is broken, but he tries to hide it. It was she who, at dawn, had to console him: "You see, the world is turned upside down," he exclaims. She has already showered, made up and painted the emerald nails. "I have become beautiful," he says. She wears the gray sweater, jacket and pants that she bought with Elke, although without her friend knowing that she would only wear them once, today. She wears a silk scarf around her neck and wears huge high-heeled boots studded with silver studs.
Last night he did dream, for the first time in a long time: of his childhood. The house smells of perfume, flowers, the two branches of freshly cut rosemary and the candle burning on the chandelier at Lebender's christening: it was bought by her mother in Notre Damme three decades ago. He wants to touch Jacky during the process, but it won't be possible. She gets excited when she sees her pet, when she listens to the audio that Pilar has just sent her ("You are brave to make this decision," she tells him sadly) and when the heartbreaking 'Feuerlicht' sounds from her beloved Grönemeyer, hugging her devoted caretaker.
Rafa Alcántara is already there to say goodbye to his friend and to help with whatever is needed. Lebender jokes with him: «You do not have cold?», He says when he sees that he is wearing flip flops. She does. Rettenberger the lid with two blankets.
At 11:49 a.m. the medical team arrives. Lebender is still calm. He will not lose his composure at any time, he will even joke with the middle name that, what a misfortune, they gave him: Margarette, like his aunt, who did not like him either. The doctor and the two nurses approach her, bend down to catch up with her, treat her with extreme affection: how are you? How did you spend the night? Do you want to ask any questions? Do you have everything clear?, we are going to prepare you, if something hurts you tell us … They are also serene, which is not easy. They start preparing the medicines in the kitchen.
With the team have also arrived their family doctor and her regular nurse, who says goodbye to her excited: "Thank you, Doerte, meeting you has helped me a lot as a nurse and as a person." "We have succeeded," exclaims her doctor, who wanted to be present to "accompany her." "I am very happy to have met you. And to all the people who are supporting me," says Lebender, who does not stop thanking everyone and, at the same time, smiling.
At 12:15 p.m. they begin to lay the tracks. First in the right hand, where the drugs will be injected. They do it with a lot delicacy. Lebender looks at his hand without anguish. "What's up, have I hurt you?" Asks a nurse. His smile serves as an answer. With the left (alternative route, in case the right fails) it costs more, but they soon solve it. 12:39 pm: everything is ready. The time has come for the last goodbye: from Rettenberger, Rafa, his doctor, his nurse … "Come on, I want to give you a kiss," he asks me. Say something in everyone's ear.
"We are going to travel where you will find peace. You are going to have a very beautiful, very sweet dream"
"Thank you for trusting us," says goodbye to the medical team. First they administer the sedative (in order to reduce the level of consciousness before inducing her into a coma): "We are going to travel where you will find peace. You are going to have a very nice, very sweet dream," the nurse in charge of supplying her gently whispers. The substances. Rettenberger is sitting to her left, on the back of the chair, very close to her, head to head, touching her left arm. The doctor, standing, places their hands on each nurse's shoulder, who are crouched: one injects, the other passes and collects each syringe. They form a circle. They are a team, they support each other, they do this in communion, they carry that heavy load together. In the room you only hear the gasp of Jacky. After administering the anesthetic, they place Lebender's left hand on the line regulator key when they open it to insert the coma inducer, as she had requested. Finally, after verifying that she is already immersed in a deep coma, they proceed with the neuromuscular blocker. Everything ends at 12:54 p.m. Nine minutes have passed since she was sedated. Everything has passed in peace. Rettenberger places the chair in a horizontal position and throws a blue blanket with stars ("it was his favorite") over his body, but without covering his face. Asks somebody open the window from the kitchen, just as Lebender asked for his soul to fly away. I was convinced that this would be the case.
Rettenberger passes a cell phone to the head doctor to call Ilse, the mother of Doerte Lebender, who awaits this moment in Germany accompanied by her son, Andreas. Pick up right away. The speaker is connected. The doctor speaks in English:
-Hi, I'm Doerte's doctor. It is done.
-Thanks [responde Ilse en un dulce castellano], thanks thanks. Bye.