Do you want to dedicate yourself to the 'eSports'? These are the careers you can study | Economy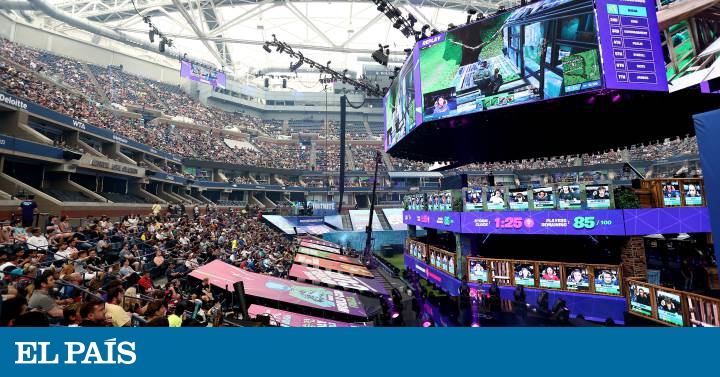 It's hard to think of sporting events that provoke more passion than the NBA, the Champions League football or the American football Superbowl finals. Every year, hundreds of millions of people gather in front of the TV to follow their sports heroes. And yet, he begins to see them, perhaps in the most unexpected places like in the world of video games. Electronic sports, known as eSports, they already accumulate a global audience of 453.8 million people (5.5 in Spain), according to data from Newzoo consultant, and the broadcast of the World Cup final League of Legends, The video game with more followers worldwide, attracted 75 million viewers, more than the NBA final of the same year.
And is that the video game industry lives, in the hands of eSports, a real revolution that, globally, accumulated revenues of 986 million euros in 2019, 26.7% more than the previous year, and only in our country is expected to attract an advertising investment of 175 million in 2020 Numbers that impress and demand a growing professionalization of the sector, from marketing professionals, data analysts, business managers, physiotherapists or sports psychologists, who have to adapt to the demands of this new ecosystem, to newly created professions as performance directors or coaches. In Spain alone, it is expected that between this year and next year 1,000 jobs related to electronic sports will be created.
Among all of them, it may be the marketing sector that acquires greater relevance, by needing qualified professionals capable of combining data on audience, targets, profitable teams and return on investment. "The brands [tecnológicas como Orange, Vodafone o Movistar, pero también otras como Domino's Pizza, Carrefour, Mapfre, Philips, Mahou San Miguel, etcétera] they want to be in eSports, But they don't know how. They want to reach that type of young audience (the most important part of that target is between the ages of 14 and 30, being generally very unknown to those over this age) that is difficult to reach, because its relationship with advertising is different from that of the older generations. They are not against it, but they need to see that it gives them something, and therefore a strategy is necessary, "explains Reyes Justribó, general director of IAB Spain.
That demand has led them to present, last week, their own ESports Higher Course in collaboration with Movistar Riders, professional team of eSports; a course in which students will learn about strategy and business models, to handle the tools that have placed them as a main actor in the entertainment industry and understand the codes of this territory.
And what can these brands contribute? "There are many ways to contribute. Power, thanks to them, to follow the broadcast of an international final on the Internet in Spanish; sponsor a competition or support amateur competitions, since their financial support can end up becoming a eSport with a powerful competitive ", says Carlos García Acevedo, CEO of Movistar Riders.
To understand the characteristics of this ecosystem, you just have to look at the relationship that professional players of eSports they develop with their followers: not only are they able to drag hundreds of thousands of people, but they also interact and interact with those audiences on their two main platforms, Twitter and Twitch, a if you of online broadcasting whose traffic, in more than 80%, is related to electronic sports. "You have to understand that ecosystem: players, leagues, teams, influencers … to, from there, create strategies and actions, "argues Justribó.
Beyond marketing, more and more public and private institutions offer training related to eSports. Among them, the master in eSports Management of the International University of Valencia, that of eSports Manager & Marketing Management from IEBS Business School or the Master in eSports and Videogames Communication of the Editorial Unit and the Carlos III University. And if before committing you want to make sure that it is your thing, there is the possibility of making a MOOC (free course) like those of Coursera or IEBS.
What other professional profiles are needed?
Let's start from a base: to become a professional player, rather than study for it, you will have to play a lot to be able to stand out in a certain game. It should be remembered, at this point, that the so-called eSports they are not necessarily sports, but a minority of video games that have managed to meet a series of requirements: having a very powerful community of followers, allowing direct confrontation between the participants, competing on equal terms, and the existence of leagues and Regulated competitions with teams and professional players: currently, only a dozen of them, among which games such as League of Legends, Counter Strike, Fortnite, FIFA 20 or Rainbow Six: Siege.
Getting to get professional has its prize, since (depending on how good it is) A player's salary can range between 40,000 and 100,000 euros. "And if you go to top European teams, it will be between 70,000 and 200,000 or 300,000 euros, not only in salaries but through prizes for reaching the finals and winning competitions," says García Acevedo. But behind almost all these professional teams there is a large quarry, "academies on-line where they gather and are part of the club's ecosystem. They are given guidelines and advice to then put them into practice in their day to day, and that makes them stand out (or not) in the tests or competitions that we are organizing ". In the case of Movistar Riders, they have about 10,000 registered players. Another possibility is to create your own team and participate in amateur competitions.
Link to eSports from the point of view of the sports area, it opens, in turn, another series of specialization opportunities for professionals such as data analysts (for graduates in Mathematics or Statistics, for example), coaches or performance directors (among which are usually former professional players), broadcasters, sports psychologists or physiotherapists, among many others. Although talking about one of these professions in relation to video games can be surprising, everything has its explanation: in relation to physiotherapists, for example, it should be remembered that These players are subjected to wear similar to that of traditional athletes. A study of the German Sports UniversityIn Cologne, it has already shown that, in intense professional games, eSports players develop stress levels similar to those of motor pilots.
And sports psychologists? "Normally the competitions are on-line, and many of these young players are used to playing in isolated places, "says García Acevedo. "But when there are big events, in which maybe 10,000 or 12,000 people come together screaming … their pulse shakes. Managing that pressure is not easy, and it is also about learning to manage failures well. "
How much does a professional team cost?
Obviously, the cost will depend on the level of the club level and its players. But create and maintain a first level organization that has four or five teams in different eSports and good facilities do not usually fall between one and four million euros, "although there are also more modest clubs with a good team in one game (FIFA, League of Legends or another) and that have a cost between 500,000 euros and one million, "says García Acevedo.

You will learn about the current eSports ecosystem, the management of eSports clubs, business models and marketing strategies to promote events related to this sector.

It includes general knowledge about the programming language and the basic tools to build video games, as well as the components, 2D and 3D graphics to work on a complete project.

The content is made up of seven modules where you will learn about the videogames industry, narrative, modeling and the design of levels, characters and textures, among other aspects.