Djokovic's father assures that his son is "the Spartacus of the new world"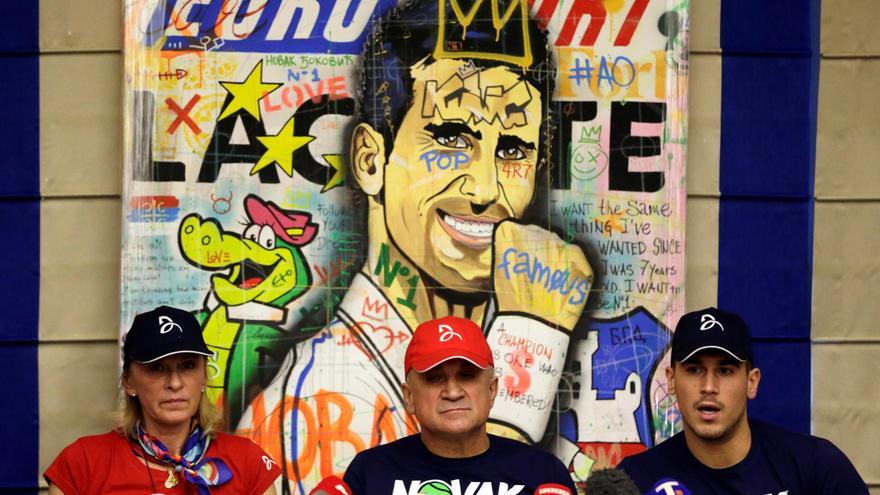 The father of Serbian tennis player Novak Djokovic, Srdjan Djokovic, has assured that his son He is a "prisoner" of the Australian authorities, who are not allowed to enter the country for not being vaccinated against the coronavirus, and has stated that "the whole free world should stand up" against this injustice and support "to the Spartacus of the new world".
"Novak and his team presented the same documents as 25 other tennis players (who received exemptions) and they had no problem, just Novak, "he told Sky News." They wanted to humiliate him. They could have said 'don't come Novak', and that would have been fine. But no, they wanted to humiliate him and they still keep him in prison, "he added about his son's confinement in a hotel.
In this sense, he reiterated that the tennis player "is not detained, he is in prison." "They took all his things, even his wallet, they left him alone with his phone and without changing his clothes, with nowhere to wash his face," Indian.
A few hours ago, the government of Australia prevented Djokovic from entering the country, Nine-time winner of the Australian Open, not having a valid visa and "not complying" with the medical exemption for which he had been authorized the day before to play the Aussie Open, the first Grand Slam of the season.
"Our pride is a prisoner of these idiots, what a shame, the whole free world together with Serbia should stand up. This is not a battle of Serbia and Novak, it is a battle for billions of people, for the freedom of expression and behavior", he claimed.
Held in a hotel
Furthermore, he did not hesitate to rate his son as "" The Spartacus of the new world ". "Novak did not break any laws, just as seven billion people did not break any laws, they want to subdue us and bring us all to our knees," continued Srdjan Djokovic.
Djokovic is being held at the Park Hotel, a state quarantine center in Melbourne that has also housed asylum seekers, while waiting for the result of an appeal against the decision of the Australian Border Force (ABF) to cancel his entry visa and deport him.
The number one in the world, who on several occasions showed his opposition to vaccination, published on social networks that had received an "exemption permit" to enter the country, but the ABF refused to let him in, saying it had not provided adequate evidence to justify the exemption.
For his part, Serbian President Aleksandar Vucic said that Djokovic you are being the victim of "political persecution" by Australian Prime Minister Scott Morrison and other members of the Australian government, and asked them to transfer him from the "horrible hotel" where he is being held to a private home.