Djokovic certifies his number 1 and surpasses Nadal in Masters 1000 titles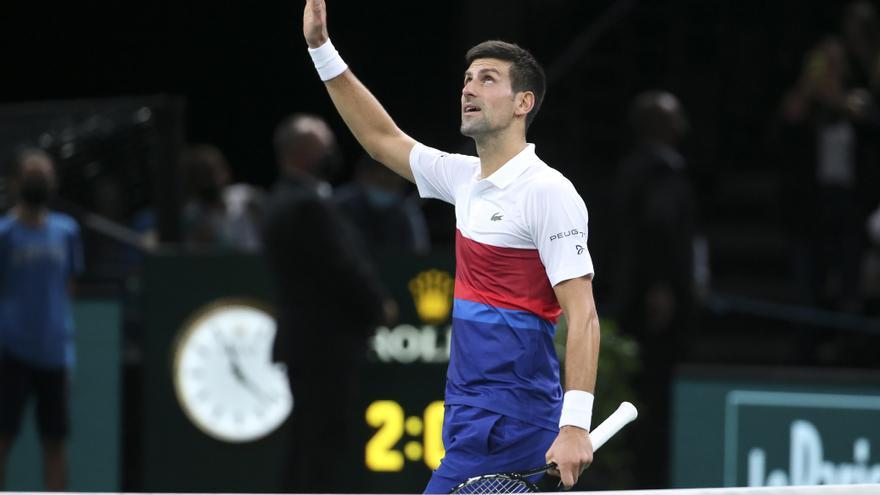 A right crossed to the phone of the final track. Arms in the air, happy and proud. Novak Djokovic Thus, he celebrated his sixth title in Paris and certified the world number 1 which had been secured the day before for the seventh year. The Serbian tennis player did it against Russian Daniil Medvedev and after coming back a game that had been complicated by 3-6, 6-4 and 6-3.
After 51 days after losing the US Open final to Medvedev, Djokovic reappeared to take revenge of a defeat that last September made him lose the option of winning the Grand Slam he was pursuing after having won in Australia, Roland Garros and Wimbledon.
Djokovic has returned to the circuit in the best way and determined to continue breaking records such as that of the seven times world number 1 beating Pete Sampras, the Masters 1,000 record with 37 titles, one more than Rafael Nadal, and adding 345 weeks at the head of the world rankings since he made his professional debut.
Maximum equality
The battle has started from the first point in play. Medvedev has taken the advantage with a 'break' to lead 2-0, but Djokovic has reacted to turn the score around and sign up for three games in a row. It has not been taken advantage of by the Serbian tennis player who has given up his serve again (4-3), an advantage that Medvedev has not wasted to score the first set in 42 minutes.
Medvedev seemed to have the control of the pace of the game and from the bottom of the track it was a wall. Djokovic was more irregular. The number 1 has managed to be more solid and break the service of the Russian tennis player in the second set (3-1) to take a 5-2 lead but has had to suffer for 11 minutes and 43 seconds to win the game that him gave the second set (6-3), in the third set point and after saving three 'break points'.
Djokovic felt strong with his forehand (27 winners) and managed to take command of the match in the third set in which Medvedev was less confident and more tired. The Serbian tennis player made the 'break' again (3-2) to take the road to victory with a second break (5-2) and with the service in his power to finish off the victory.
Final tension
But the tension of the moment made him give up the serve to Djokovic in the next game. The memory of his defeat in New York fluttered in his head but Medvedev did not take advantage of it that in the next game he handed over the Paris crown (he was the 2019 champion), after 2 hours and 16 minutes.