Djokovic and Kyrgios, a final to rub your eyes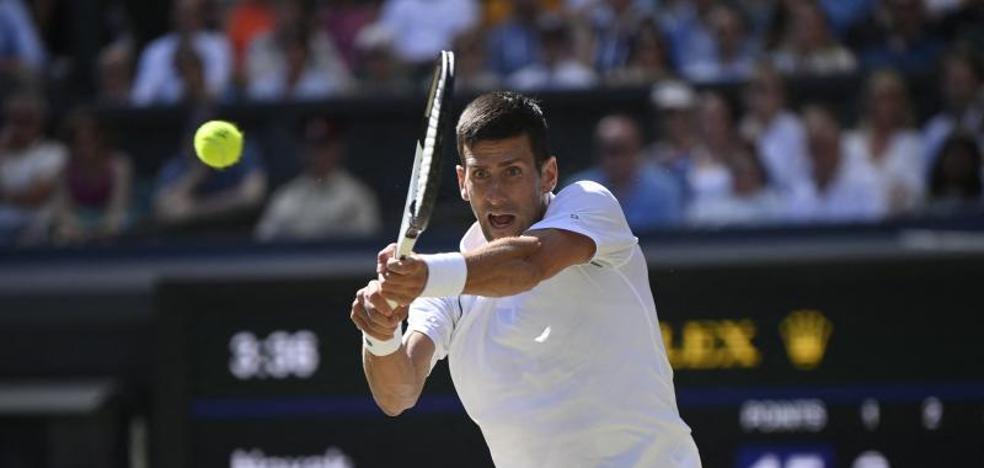 Final
The Serbian intends to reach his seventh Wimbledon title and the Australian to finally conquer an unexpected Grand Slam
No one expected that Novak Djokovic's opponent in the Wimbledon final would be Nick Kyrgios. His name sounded strong in the pools to be one of the most dangerous tennis players in the first rounds, but little else. His history did not invite us to think that he would advance too much in the tournament, much less this year, the worst of his professional career. In March, before playing Indian Wells, his ranking had made him fall out of the top 130 in the world. The last time he was this low was before Wimbledon 2014, the tournament in which he made his name by beating Rafa Nadal.
Since that edition, Kyrgios had only reached the quarterfinals once more, in Australia 2015. And with that pyrrhic resume and the help of Nadal, who had to drop out of the semifinal due to an abdominal injury, he will play today the first Grand Slam final of his sporting career.
The controversial Australian has left his ghosts behind and has put all his tennis on the grill to achieve a perfect tournament. He already pointed out ways during the grass tour, after skipping all the clay, a classic already in him. He racked up semi-finals in Stuttgart and Halle, but at the All England Club he confirmed that if he is focused he can achieve great things.
At 27 years old, Kyrgios parked the troubles, or most of them, and for the first time in his career he will fight for what he aspired to when he was number one junior and won Grand Slams in that category.
"Honestly, I never would have thought of this. I never would have thought that I would get here, "said the Canberra man, who not long ago considered leaving tennis, pondered retirement and gradually took off from this sport. "There are times that I hate this sport, but there are also times that I think I am one of the most competitive people I have ever met. Whether it's with the console, in basketball or in tennis », he explained.
"I love tennis, but I love competing, going out there and playing against someone. I love winning or losing in sports. Win or lose, I will be happy. This to me is an incredible achievement that I never thought I would achieve. Especially with my age, "added the 'aussie', who, yes, will not have it easy, because he will be measured against the man who has achieved the most success here in recent years.
Kyrgios will face Novak Djokovic, holder of six Wimbledon crowns, including the last three editions. The Serbian is aiming for a fourth consecutive title at the All England Club, as Bjorn Borg, Pete Sampras and Roger Federer did in the Open Era. He also aspires to a seventh Wimbledon, like William Renshaw and Sampras, and to a twenty-first Grand Slam, to tie the tie with Federer and place himself one behind Nadal.
A race against time

Djokovic is also living a race against time, because if he doesn't win here, he would have to wait until Melbourne to reduce the deficit with Nadal. The United States, not being vaccinated, does not allow him to enter the country.
His favoritism is logical, but during the tournament he has left doubts. A lost set against Soonwoo Kwon, one against Tim Van Rijthoven, another against Cameron Norrie and two against Jannik Sinner, in the biggest sign of danger that the one from Belgrade has avoided until the final.
The feeling with him is the same as in other tournaments: he will not level up until he sees it necessary. That is why it is difficult not to think that all the odds are in his favor, even though Kyrgios is one of the two active tennis players who have faced Djokovic more than once and remain invincible against him. The Australian has not lost a set against the Serbian, but his duels date back to the first months of 2017, when Djokovic hit a slump in the game.
The final (15:00 Spanish time) will be preceded by a tribute to Manolo Santana, who died last December and Wimbledon champion in 1966.