Divorces and separations plummet during the year of the pandemic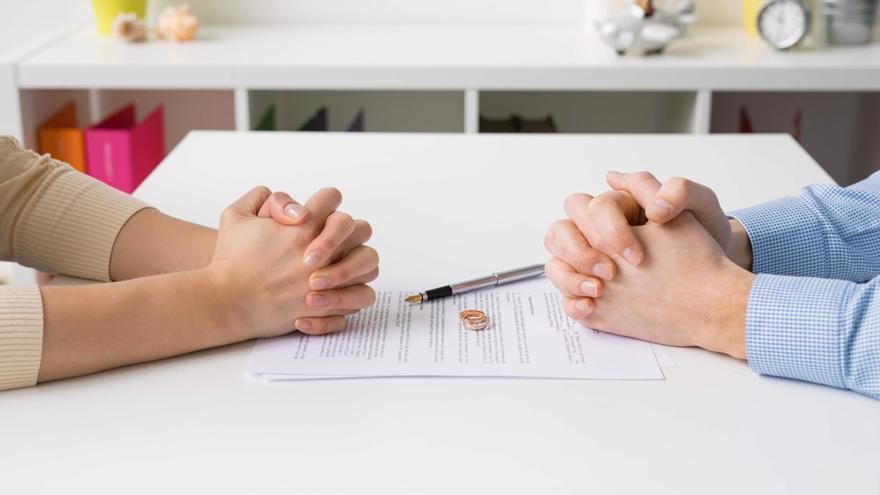 The marriage dissolutions fell in 2020 for the sixth consecutive year, although in the year of pandemic of coronavirus The decrease in the demands for separations and divorces was much more pronounced than in previous years: they fell with respect to 2019 by 13.3%, to 95,060.
Decreases were recorded in both divorces by mutual agreement (54,960, 11.4% less than in 2019) as in the not consensual (36.0909 an annual fall of 15.7%), as reported this Monday by the General Council of the Judiciary (CGPJ).
And even more contentious separations, 18.3% (1,235), and the consensual ones, 16% (2,697). Likewise, in 2020, 78 nullity claims were filed compared to the 100 filed in 2019.
The national average of demands for marital dissolution per 10,000 inhabitants was 20, an average that exceeds Canary Islands (23.6), Valencian Community (23.5), Balearic Islands (22.4), Murcia (22.4), Andalusia (21.4), Catalonia (20.6), Cantabria (20.4) and Asturias (20.2).
The regions where the fewest couples dissolve are Castilla y León (16.4 per 10,000 inhabitants), the Basque Country (16.8) and Extremadura (16.9).
Also decreased procedures for modifying measures in separation and divorce proceedings: 6.9% the demands in cases of consensus until 11,329 and the non-consensual ones, 14% until 30,070.
The measurements of guardianship, custody and maintenance of non-marital children Consensual agreements rose 7.7% to 21,236, while those not agreed fell 11.2%, to 25,184.
Fourth trimester
The CGPJ has also detailed the data relating to the marriage dissolutions that occurred in the last quarter of 2020, which fell 2.7% compared to the same quarter of 2019.
Between September and December of last year the lawsuits presented fell in all their forms, except for divorce by mutual agreement, which rose 1.8% to 16,883. No-deal divorces fell 8.8% to 10,727 lawsuits.
The consensual separation demands they fell 1.9% until 808 and those that occurred without agreement, 9.1% until 361.
The nullity claims They were 22 in total, a figure 26.7% lower than that of the last quarter of 2019.
What did increase in the last four months of last year were the Consensual procedures for modifying measures in separation and divorce processes: 8.7% until 3,612. Non-consensual demands fell 3.6% to 8,960.
The Consensual measures of guardianship, custody and maintenance of non-marital children They also grew 32% to 6,995, while those not agreed fell 3%, to 7,530.