Disneyland Paris reopens after seven and a half months of closure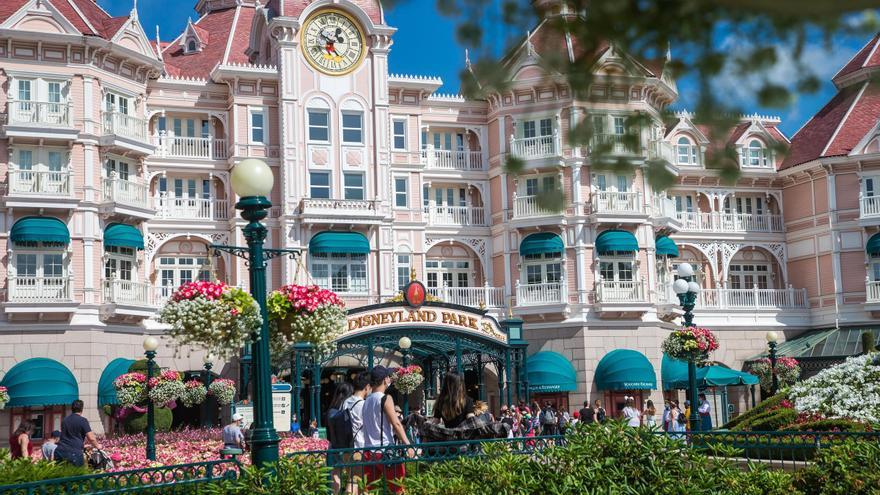 Disney Land Paris, the largest amusement park in France, reopened its doors this Thursday after seven and a half months of closure, the longest in its history, between parades of its characters, security measures, two new attractions and visitors from all over the world.
At eight thirty in the morning, as the loudspeakers played Disney soundtracks and about 100 workers made a hallway on Main Street dancing and clapping hands, a group of about fifteen disabled children guided by a monitor entered the park inaugurating the reopening ceremony.
Behind them, hundreds of people also began to arrive at the famous Sleeping Beauty castle, where they were received by some emblematic characters such as Mickey, Minnie, Pluto, Goofy or Chip and Chop chipmunks.
Lena, a 25-year-old financial auditor, and her friend Festine, 23, who is studying to be a librarian, were among the first to enter: "We have missed the park a lot because before closing we would come once a week. The wait has been very long, but today we are excited", said the first.
This has been the longest closure in the history of the park (it was born in 1992), after the three previous closures: on December 27, 1999 by a strong storm, the three days that followed the attacks on the Bataclan room in November from 2015 and from March to July 2020 by the first wave of the pandemic.
For now, the mask is mandatory and you have to keep a distance of one meter with people from other coexistence bubbles.
Most of the people came from Paris or its surroundings, but there were also from other parts of France, such as Aurelienne (29 years old) and Arthur (23), brothers, who are from Nantes and tonight they slept in an Airbnb in the French capital to be able to be at the door first thing in the morning.
There were also those who made their debut, such as Paola, a 28-year-old Ecuadorian who came with her two daughters, Daisy and Dennise, who carried in their pocket the letter with which their mother revealed that they would come to Disney Land Paris vacation.
"We really want to see all the characters, especially Minnie"Dennise said. Her mother added that even though they were skipping school," it's worth it.
There were also no shortage of Erasmus students such as Ester and Adriana, from Bilbao, who took the opportunity to come because the course is over and they will soon return to Spain.
The park, which has not revealed its capacity limitation, It will close for the moment at 8:00 p.m. (6:00 p.m. GMT), although as of this Sunday there will no longer be a curfew in France and Disneyland Paris points out that from July 3 it will close at 9:00 p.m. (7:00 p.m. GMT).