Discreet performance of Rubio and Hernangómez in the victory of the Timberwolves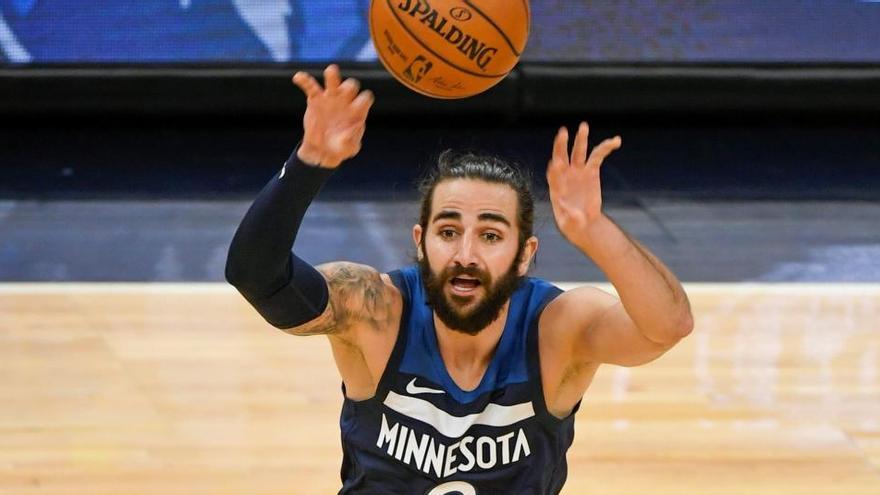 At debut this season of Ricky Rubio and Juancho Hernangómez with the Timberwolves, Minnesota's defeated the Detroit Pistons 111-101 in a game won in the last minutes and in which the two Spanish players had a discreet performance.
Rubio, who played 25 minutes, only scored three points, three assists, a rebound and two steals. For its part, Hernángomez had to settle for 11.46 minutes of play, no points, three rebounds and one steal.
The leading scorer for the Timberwolves was Malik Beasley, with 22 points, followed by the American Karl Anthony-Towns, with 22. The Dominican center also had 11 rebounds, seven assists, one steal and two blocks.
After the meeting, an excited Towns declared before the television cameras that he would place the game ball "next to my mother."
The Dominican player's mother, Jacqueline Cruz-Towns, died in April after contracting the covid-19 at 59 years of age. The player's father, Karl Towns, also contracted the disease but recovered after being hospitalized. In all, six relatives of Town have died as a result of the pandemic.
"It has been difficult. I am happy that I have this (the ball of the game) for her. I told her that I wanted to give her this victory and this ball so I am happy that I have achieved it," explained the pivot.
The Timberwolves suffered throughout the night due to their lack of success in front of the opposite basket and their zero defensive capacity, which caused them to be behind on the scoreboard for 45 of the 48 minutes of play.
Only when the Minnesotans got into a zone defense, the Pistons had trouble scoring points which allowed Rubio's team to get closer to the scoreboard.
With 3.30 minutes to go, a Towns 3-pointer put the Timberwolves ahead on the scoreboard for the first time at 98-97.
After the game, Rubio acknowledged that the Timberwolves defense had not worked. which forced the team to be in the zone. "When you play in the zone, that means that your defense is not working," said the Spanish guard.
Towns also acknowledged that the problem the Timberwolves had today was defense. "If you don't play defense you're not going to get anything. We have done a great job at the end. We have grown," the player concluded.