DISA Foundation and Radio ECCA firm in their commitment to the training of adults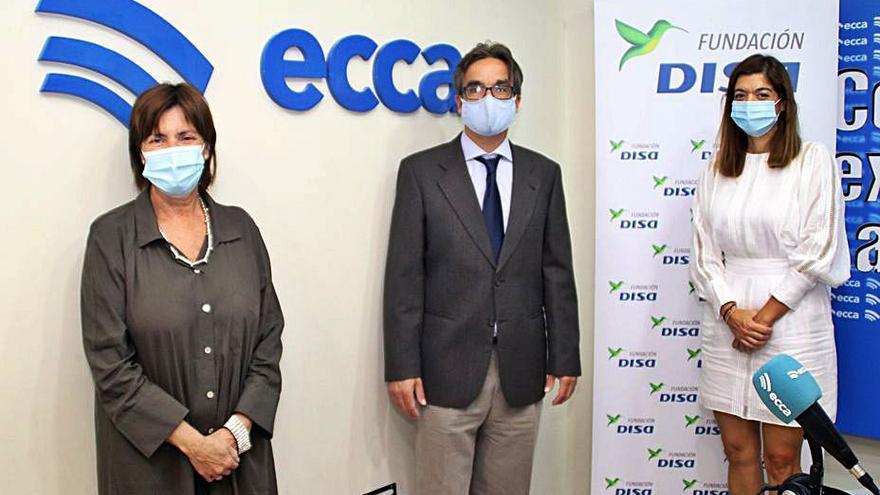 Sara Mateos, director of the DISA Foundation and Amparo Osorio, managing director of Radio ECCA, have renewed for the seventh consecutive year the annual agreement that provides scholarships to adults to access Secondary Education and Baccalaureate studies.
With a contribution of 15,000 euros, this collaboration will allow some 200 people from the Canary Islands to receive a scholarship during the 2020-2021 academic year, who will be selected by professionals from Radio ECCA through their study program after a prior analysis of the applications submitted and the socioeconomic condition of each person.
The situation caused by Covid-19 has put educational institutions to the test. In the case of Radio ECCA, with more than fifty-five years of experience in distance education, the new context has caused an increase of 20% of its students for this course, but a significant percentage do not have sufficient resources for their training . Hence the importance of the joint collaboration between the DISA Foundation and Radio ECCA, to grant scholarships to students who need it.
Mateos has assured that "since the beginning of this union, more than 1,600 people have been beneficiaries of these study grants, providing them, in addition to training and academic qualifications, enthusiasm for carrying out new challenges and new employability opportunities". He added that "for the DISA Foundation education and equal access to it is a priority, in which we work every day, our objective is to create and support new opportunities for all the people of the islands and more in these times of uncertainty that we are currently facing ".
Official qualification
For his part, Osorio explained "Today, in the Canary Islands, 42% of the population between 25 and 60 years old does not have an official degree. This means that these people do not have the basic tools to exercise many of their rights. Education is the basis for the exercise of Human Rights. The DISA Foundation has accompanied us in the training of many people, becoming an ally for the present and the future, as is also shown by its support in our ECCA online project ".
For this reason, this agreement has been renewed and has been signed for seven years.