Direct | Vaccination begins in the Canary Islands against covid-19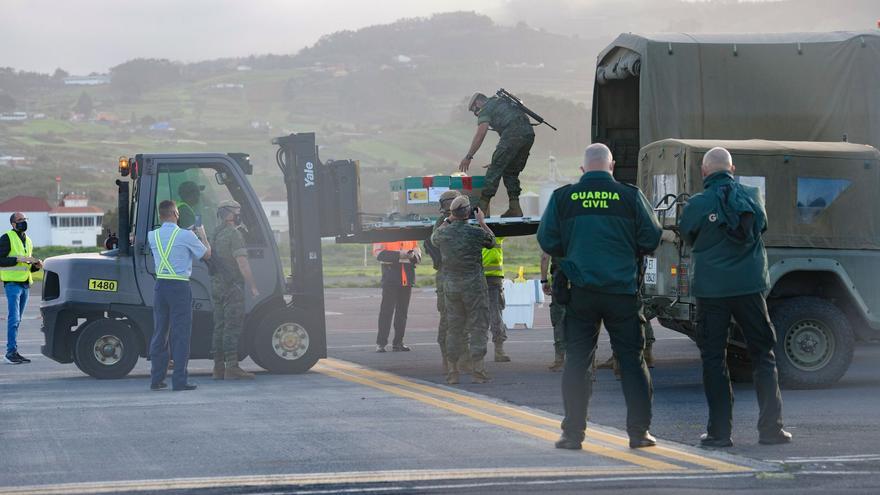 The Ministry of Health of the Government of the Canary Islands begins this Sunday the dispensation of the vaccine against Covid-19, which will start in seven nursing homes on each of the islands. It is planned that the first vaccination is carried out in Tenerife at 2:00 p.m. and, later, in the rest of the islands, according to a note from the regional department.
Vaccines they arrived this saturday and they have been in the custody of the Ministry of Defense at the Tenerife North Airport, until early this Sunday when it was expected that they would be handed over to the health authorities.
Three GES helicopters made the distribution to the rest of the six islands. Later, at 2:00 p.m. The vaccination campaign is scheduled to begin in the Canary Islands, with the first dose administered in Tenerife.
Then, simultaneously, it will begin in the rest of the islands, according to the Ministry of Health in the following centers:
· Tenerife: Hospital Ntra. Sra. De Los Dolores. Urbanization el Gramal, 1, 38108-La Laguna.
· Gran Canaria: El Pino Social Health Center. Avenida Juan XXIII, 13, 35004-Las Palmas de Gran Canaria.
· Fuerteventura: Casillas de Ángel Residence for the Elderly. Casillas del Ángel, 59 35611- Puerto del Rosario.
· Lanzarote: Senior Residence Amavir Haría and Las Cabreras Dr. Domingo Guzmán. C / Cesar Manrique s / n 35520- Haría.
· La Palma: Nina Jaubert Centers for the elderly and disabled. Camino El Brezal de Arriba 7, 38710- Breña Alta.
· La Gomera: Immaculate Conception Center for the Elderly. C / Professor Armas Fernández number 4, 38800-San Sebastián de La Gomera.
· El Hierro: El Pinar Senior Center. Patricio Cabrera 7, 38914- Taibique El Pinar.
At 14:20 hours It is expected that the President of the Government of the Canary Islands, Angel Víctor Torres, make an institutional statement from the headquarters of the Presidency of the Government of the Canary Islands in Las Palmas de Gran Canaria evaluating this first day of the vaccination campaign.