Direct | La Palma dawns with one of the most felt earthquakes of the eruption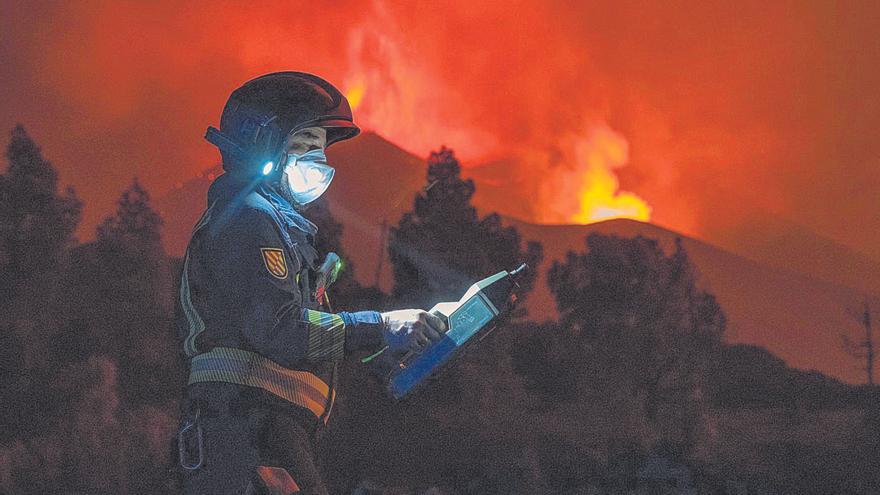 The considerable emission of ash from the volcano of La Palma air quality has deteriorated over the past four days in the west and northwest of the island, which, together with the unfavorable weather, complicates the operation of the airport and the air connection with the rest of the archipelago.
The latest report from the Department of Homeland Security (DSN) of eight o'clock this Wednesday, peninsular time, indicates that the abundant volume of ash emitted by the Cumbre Vieja volcano, "accompanied by audible explosions", has been "the most remarkable eruptive phenomenon in the last 4 days".
In addition, the accumulation of ash in the area of ​​influence of the eruption has meant that the classroom activity continues to be suspended this Wednesday in the educational centers of El Paso, Los Llanos de Aridane, Tazacorte, Puntagorda and Tijarafe.
The presence "of a High thermal inversion and light winds with a predominance of breezes on the west slope "are also detrimental to the quality of the quality., as reported by the DSN.
This fact, together with the "unfavorable" weather forecast for today, is greatly complicating the operation of La Palma airport and could also affect the airspace between this island, La Gomera and the west of Tenerife.
As reported by the DSN, the lava that flows from the volcano continues to feed the existing lava flows, without any of them having undergone significant advances in the last hours.
Earthquakes
From the National Geographic Institute they point out that this Wednesday An earthquake of magnitude 4.9 has been registered at a depth of 36 kilometers, located southwest of the municipality of Mazo, in La Palma and felt throughout the island and in Tenerife and La Gomera.
This seismic movement occurred at 7:27 a.m. local time and its intensity was between IV and V, and although in a first record it gave it a magnitude of 5.1, it has been lowered first to 5 and finally to 4, 9.
According to information from the IGN, it has been felt throughout La Palma, in various municipalities of Tenerife and on La Gomera.
Throughout the night, 41 movements have been registered and, although this has been the largest, others have also been felt by the population.