Direct | A new wash reaches the sea in the surroundings of Los Guirres beach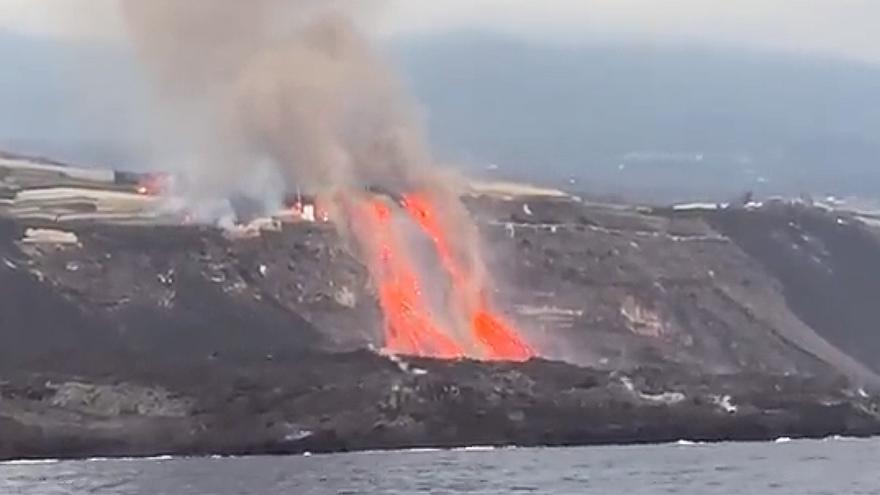 The lava emitted by the volcano of La Palma has once again reached the waters of the Atlantic in the vicinity of the Los Guirres beach this morning, says the Ministry of Transport and Mobility on its Twitter account.
Faced with this situation, sources from the aforementioned ministry emphasize that all rescue means coordinated by the General Directorate of the Merchant Marine remain vigilant.
Thermal shock between lava at 800-900 degreeand the sea causes water vapor columns with hydrochloric acid particles, which can be dangerous to health in the environments closest to the point of emission; In this case, all the neighborhoods and homes around Los Guirres beach have been evacuated for weeks due to the threat posed by the slow advance of the lava flows.
51 earthquakes
The National Geographic Institute (IGN) has located during the first hours of this Wednesday 51 seismic movements on the island of La Palma, whose magnitudes have ranged between 2.2 and 3.7, and the depths at which have been produced are between 5 and 15 kilometers.
The first of the earthquakes found tonight occurred at the 36 minutes into the day in Fuencaliente and with a magnitude of 2.5, and 3 minutes later another was located in the same municipality, of magnitude 2.8, and this was followed 1 minute later by another earthquake in the same municipality and of magnitude 3.
Various broadcast centers
Of the 51 seismic movements located until 8.19 am this Wednesday, 40 have been produced in Fuencaliente and 11 in Mazo. The highest magnitude, 3.7, was located at 4.24 hours in Fuencaliente, 14 kilometers deep, and with intensity III-IV on a scale of XII.
At this time, lava flow has exceeded the pre-existing front, reaching the coast at Los Guirres beach on two occasions, the second at approximately 1:45 this morning, as reported by the Ministry of Transport, Mobility and Urban Agenda.
Likewise, several emission centers with variable activity are still active, without ruling out the appearance of new emission centers around the main cone, within the exclusion zone. The affected surface currently reaches about 988.27 hectares, being the maximum width between external flows of 3,100 meters.
Regarding air quality due to PM10 suspended particles, they indicate that there has been an improvement in the values ​​when going from an extremely unfavorable to a favorable situation in Los Llanos de Aridane, El Paso, Tazacorte, Puntagorda and Tijarafe.
The emision of sulfur dioxide (SO2) associated with the volcanic plume continues to be high, with values ​​between 9,000 and 13,000 tons per day, but its temporal evolution reflects a downward trend. The ship 'Castilla' of the Navy It is expected to arrive on the island of La Palma this Wednesday to help farmers affected by the eruption tend to their crops.