Dignity for future actors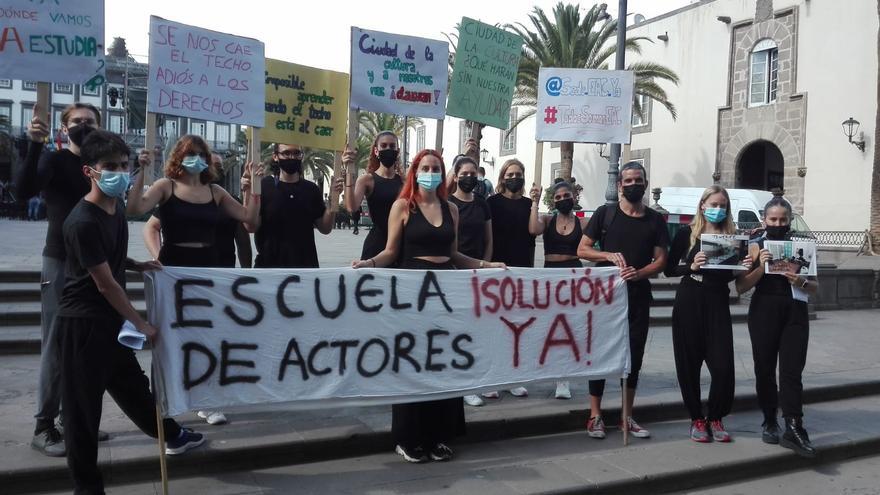 The students of the School of Actors of Gran Canaria ask for a place in conditions after being more than a month located in a corridor in a building with serious maintenance problems.
Dramatic art students can't take it anymore. The Gran Canaria headquarters of the School of Actors, located on Calle Sor Brígida Castelló 1, in the Vegueta neighborhood, it has become something worse than a hovel where they cannot learn their profession with dignity. It all started with some works in this old colonial architecture building where the island service for immediate intervention for women victims of gender violence is also located.
The renovations that were made inside caused the fall of rubble from the roof of the third floor, which is where the two classrooms of the school were located, and in the middle of the school day, which did not cause any miracle misfortune. As a consequence of all this, the students have had to continue their training in an "L" shaped corridor located on the first floor where they develop their academic learning in a really regrettable way.
Students have been confined for more than thirty days in a fenced hallway because stones fell from the ceiling
A place that has even been fenced for a while because stones fell from the roof and that for the moment prevents them from being able to access a patio where they can do practical subjects. But to all this we must add the comparative offense that the School of Tenerife has a center in optimal conditions created exclusively for drama students. For this reason, the third-year students demonstrated yesterday in the Plaza de Santa Ana and offered an open-air singing class in the Plaza de Colón and another in Las Ranas as a protest.
"In that space we cannot give classes," says Berta Molo, one of the students who serves as a spokesperson. "And if we do things in which we have to sing, shout or raise our voices, we can annoy the administration staff and many times we have to censor that work. We can continue to give the theory but the interpretive and gestural classes cost us much more », he adds.
They cannot give interpretive or gestural classes because they disturb the rest of the building staff
The students have difficulties to receive interpretation, movement, voice or music classes, while they cannot learn characterization because you do not have the workshop where they made their masks. And that's in a four-year degree that equates to a normal bachelor's degree. The School is divided between the two Canarian capitals. And if in Gran Canaria they are studying first and third, in Tenerife they study second and fifth. "We don't have a food court to sit on. We spend many hours in this school working and for a month and a half we have been sharing a bathroom and changing room for more than 40 people including teachers and administration people. The management team takes turns at a table and doesn't even have an office, "he adds.
The student puts the accent on how Gran Canaria is if we compare it with Tenerife. «The infrastructures that they have compared to ours are immensely better, with the Cabildo also being the one who takes them the center. They have many facilities, spaces, food areas, patio or changing rooms. We have the changing room in our own bathroom that we have to share with all those people. And our classes right now are not conditioned, there is no good resonance to do the singing classes, we do not have a parquet for movement and dance things, we do not have a stage to interpret works, so we cannot work with plaster or other material. And much less if we talk about taking care of anti-Covid measures ».
The Tenerife headquarters, on the other hand, has its own center where classes are taught perfectly
In Berta Molo's opinion "we want them to find a definitive place for us because the school has been on a pilgrimage from center to center for many years. We have people who are in the first year and we do not want them to suffer this in the next three years, "he adds. The School of Dramatic Art is a private institution with an agreement with the Ministry of Education and to which the Cabildo cedes space. "But in Tenerife they have given them a good place, which was built specifically for them and here it is an uncertainty. I do not feel that I am training 100 x 100 like other schools of higher studies of dramatic art. From the counseling, the answer is usually that they are doing nothing or relocating them in places that are always in poor condition. "But there are many classrooms that have been closed in the city that could serve us," he adds.