Digital mortgages: how to save up to 40,000 euros in interest | Economy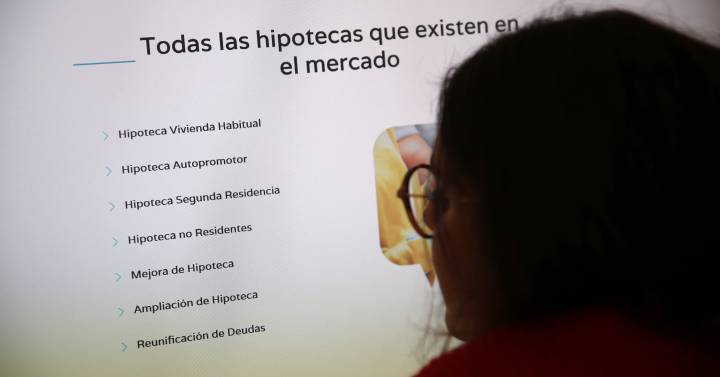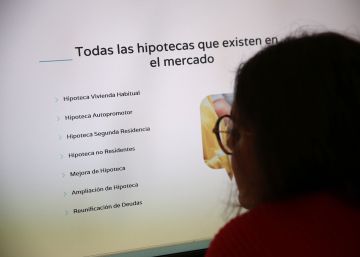 In what anyone takes to make the purchase in a supermarket through the Internet, you can take out a mortgage on-line. Spanish consumers, more than accustomed to distance management, begin to lose their fear of this new way of choosing and signing a mortgage. They save time, effort and money. This confidence is a good push for the mortgage market or mortgage technology, in full growth in Spain.
Only one or two years ago the idea of ​​hiring on-line a product as complex as a mortgage was simply Martian. Nothing could be better than the bank of a lifetime and the manager of flesh and blood. But, something has changed. About 45% of consumers say they are willing to take out their mortgage entirely through the Internet, a percentage that rises by more than 10 points compared to last year, according to a study by the financial comparator HelpMyCash. "Distance management seems to have gained a good number of adherents in the last 12 months," they point out. In addition, customization would convince a third of the reluctant.
The helm has helped the emergence of new fintech, focused on the business of remote mortgages. "We count 10 companies that offer mortgage technology and the majority, more than 70%, have been founded in 2018 or 2019. They are only in Madrid and Barcelona, ​​the average size is 10 employees and they are concentrated in the residential field," according to Proptech Map data from Savills Aguirre Newman. All companies are in the growth phase and closing rounds of financing.
These signatures are brokers mortgage on-line that mediate between the financial institutions and the client, which they accompany at a distance throughout the process of comparison, election, negotiation and contracting, simplifying and centralizing all the procedures. They are much more than mortgage comparators. "Our job is to find the best deals on the market, since the interest savings between the best and the worst mortgage (from 200,000 euros to 30 years) is 30,000 to 40,000 euros," says Juan Ferrer, co-founder of Hipoo. They guarantee less paperwork, no displacement — except to go to the notary to sign the deed of the loan — a personal manager, and personalized offers immediately on the computer, tablet or mobile. The process is free for the client, since the banks are the ones that pay a commission that is usually between 0.5% and 1%.
Some names are Hipoo, Helloteca, Trioteca, Finteca or Prohipotecas. These companies sign trade agreements with the main financial entities, which is making them great allies. The last movement was carried out by iAhorro and Bankia, for which the platform offers the bank's mortgages. "In recent months we have noticed an increase in the number of people who are interested in contracting mortgages online," says Simone Colombell, Mortgage Director at iAhorro.com. 40% of citizens approach these platforms, he adds.
Technology is its best asset. "A bot equipped with artificial intelligence scans multiple bank lenders, verifies user data and analyzes its particularities to determine if it can acquire the home and under what conditions," they comment in Hipoo, which has been operating since 2018. "More than 2,800 people have tested this new way of contracting a mortgage, "says Ferrer. His client is usually 38 years old, asks for mortgages of about 250,000 euros in Madrid, Barcelona and Valencia and has a monthly net salary of more than 2,500 euros.
This fintech has just taken another step, creating the first marketplace mortgage that allows to adapt the offers so that the clients can play with the links – life insurance, home insurance, payment protection plan … – and check live the impact on the TIN, the fee, the interests and the APR . "Users can build a mortgage fully adapted to their needs and preferences," says Ferrer.
New technologies and changes in consumer habits are influencing the digital transformation of the financial sector, as has already happened in other businesses (real estate, last-mile courier, taxi, VTC licenses …). "It will offer many more opportunities when the formalization of mortgages is completely digital," says Juan Pablo Caturini, co-founder and CEO of Helloteca. This firm was released in 2018. "We improve the productivity and efficiency of the processes, we perform a generic prescoring that allows us to give several banks options in a single operation and manage all the documentation on our platform," he says. 45% of its users end up hiring some of their proposals. The type client enters 1,750 euros per month and asks for an average mortgage of 149,289 euros. "The residents of Madrid and Catalonia are the ones that bet more on online mortgages, and the use of mobile phones exceeds that of the desktop computer to carry out the procedures," adds Caturini.
The bank also wins
Apart from these intermediaries, virtual banks also gain market share, which allow hiring a remote mortgage with better conditions and with better conditions than those offered by traditional banking. They are MyInvestor, ING, EVO, Coinc, Hipotecas.com, Openbank, ActivoBank and Pibank. Coinc launched mortgages at the end of 2017 and Openbank (at a fixed and mixed rate) in mid-2018. The new virtual entities, such as Pibank and MyInvestor, appeared at the end of 2018 and also opted to offer mortgage loans. Others like ING or EVO have been marketing these products online for years.
These loans have fewer commissions and most do not require hiring – or only one – combined products to access the interest of the offer, while the conventional ones ask for three to four extras. In addition, they have lowered the interest on their mortgages – between 0.20 and 0.80 percentage points – throughout this year, especially at the fixed rate. "All this means that, on average, online mortgages are 24% cheaper than those sold by conventional banks," says HelpMyCash.
By age, and although it seems contradictory, respondents aged 56 or older are the ones who see with better eyes to contract their mortgage loan at a distance (55.5%). In contrast, this percentage falls among Spaniards who are 36 to 55 years old (44.4%) and is reduced even more among those who are 35 years old or younger (40%), according to HelpMyCash. In the breakdown by autonomous communities, the most open to the possibility of applying for a mortgage online would be Riojans (75%), Extremadura (58%) and Catalans (53%). And on the other side of the balance would be the inhabitants of Cantabria (7%), Asturias (23%) and Castilla y León (36%).
(tagsToTranslate) mortgages (t) digital (t) save (t) 40,000 euros (t) interest (t) customer (t) go (t) financial (t) financial (t) entity (t) time (t) management (t) power (t) to reach (t) significant (t) reduction (t) cost (t) total (t) loan (t) use (t) new (t) new (t) mortgage technology (t) (t) ) mortgage



Source link