Diego Maradona is discharged from hospital and will continue to be supervised at home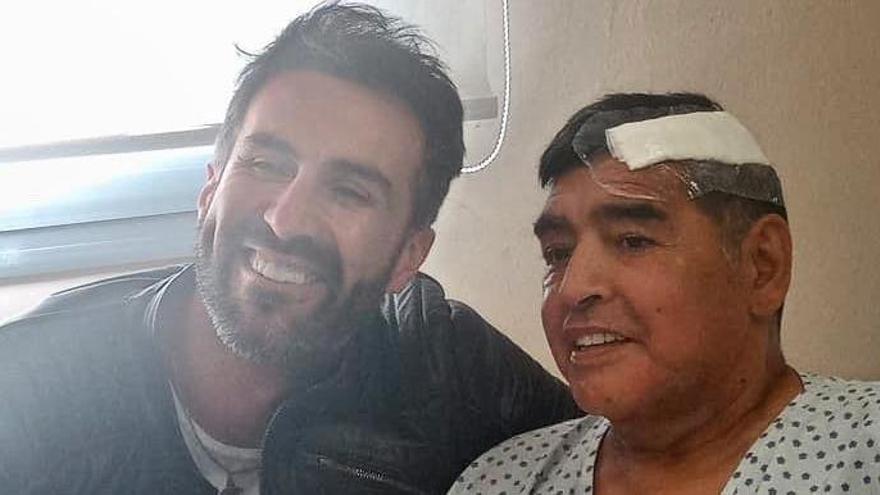 The soccer star Diego Maradona, hospitalized since Monday of last week, received this Wednesday the hospital discharge and left the clinic of the Buenos Aires city of Olivos in which he was operated on for a subdural hematoma and a picture of "abstinence" related to alcohol
Maradona left the clinic in the afternoon in a ambulance that was escorted by police officers.
The former Argentine coach was transferred to a house located in the province of Buenos Aires where he will be supervised by professionals from the Health and relatives.
Neurosurgeon Leopoldo Luque, his family doctor and who operated on him, said this afternoon minutes before he left the clinic that the 60-year-old coach "has signed a discharge."
"The most important thing right now, beyond medical supervision, is have the family present permanently, with the children, who are in complete agreement with what we are proposing, permanently accompanying their father and eager to get ahead, "Luque said this Tuesday.
Maradona's lawyer and agent, Matías Morla, assured this morning that his client and friend "had perhaps the hardest moment of his life" and that "it was a miracle that that spill on his head that could have been removed was detected life".
"The good thing is that Diego is whole, he is firm, there is Maradona for a while. What is needed now is a family union and being surrounded by health professionals. And with the doctors and the family Diego will be as he should be, that Diego has to be happy and we have to return together the love and happiness that he gave us, "he said.
As he added, in the house where the current Gimnasia y Esgrima La Plata coach is going to be transferred, a list will be placed on the door with all the people and relatives authorized to visit him.
Maradona was admitted on Monday of last week for anemia, dehydration and with a "low mood", but when performing checkups he was diagnosed with a subdural hematoma and the next day he underwent surgery.
Then, the coach of Gymnastics and Fencing La Plata had "some bouts of confusion" that doctors "associated" with "a withdrawal condition."