Díaz advocates limiting the prices of basic foods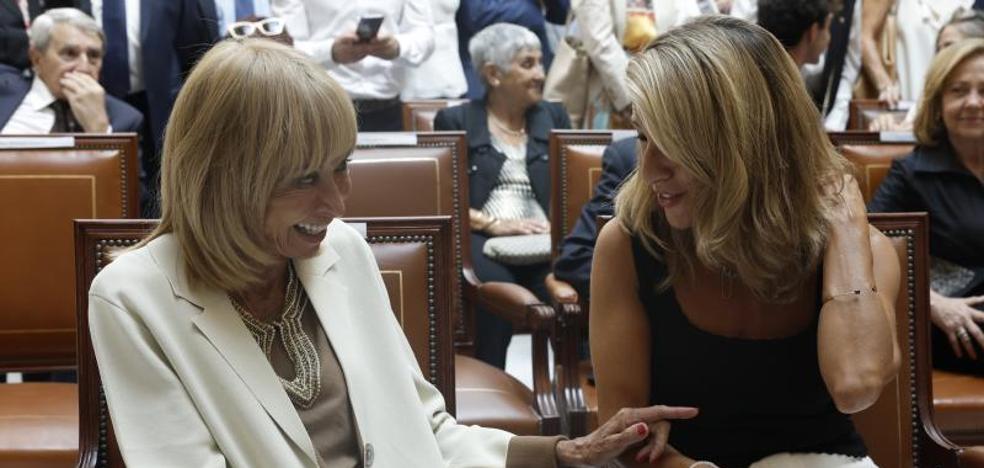 The vice president intends to reach an agreement with the large distributors to set the cost of some 20 or 30 products in the shopping basket
Limit the prices of basic foods in order to face high inflation and that it does not harm families, as has been done with the butane cylinder, gas and masks. This is the new proposal defended by the second vice president, Yolanda Díaz, who intends to reach an agreement with the large food distributors.
"Food is being a huge problem for our country today. Not only for citizens but also for small and medium-sized producers in our country », the Minister of Labor also stated to the media upon her arrival at an event.
Díaz advocates "setting" a basic shopping basket, which includes about 20 or 30 products, the most basic, such as milk, bread, eggs, fruit... in order to set a limit and that they cannot be triggered their prices, according to what he announced in an interview with El Diario.
The minister denounced that in Spain an orange producer is selling his oranges to distributors for 15 cents, but consumers buy them for 1.40 euros, so the increase is more than 800%, specifically 880%. And the same thing happens with potatoes, which in the supermarket are sold for 1.35 euros but the producer receives 20 cents, which represents an increase of 575%. And the list could go on...
"This is being a problem for many citizens of our country. Not only because they lose purchasing power, but because we need a healthy diet, "argued the Galician.
The vice president advanced that she is going to meet, together with the minister of consumption, with the associations and food distributors -among which Mercadona, Carrefour, El Corte Inglés, Dia... should be included- to try to reach an agreement , since his idea is to do it through an agreement and not through a bill, something that the Minister of Agriculture, Luis Planas, considers is not legal.
«We have proposed, and I am going to meet with the minister of consumption with the associations and distributors, we propose that they reach an agreement between them and set a basic shopping basket, absolutely legal, without violating the right of competition, and set a series of products, between 20 and 30, that we guarantee to families", Díaz insisted.