Diakhaby: "I apologize to my colleagues" | sports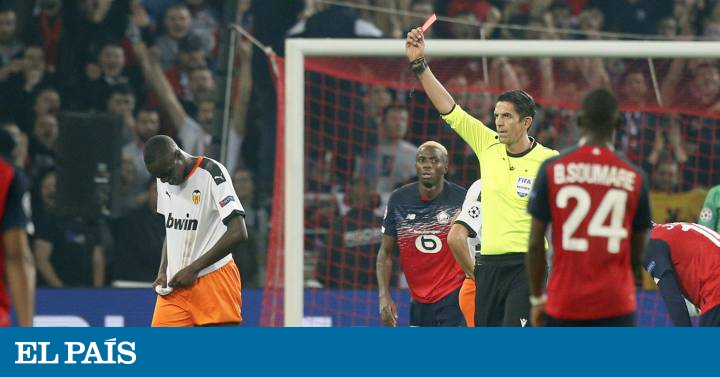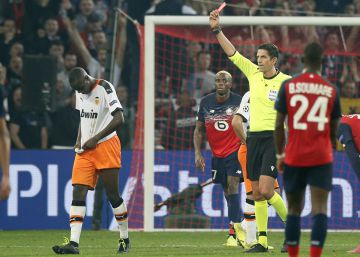 "I apologize to my colleagues," said Mouctar Diakhaby, with a voice and a calm look. The imposing central Valencia, 22, was saddened at the changing room door calling microphones to confess his guilt. Diakhaby admitted that he made a mistake by missing Osimhen in the 84th minute, when Valencia defended his minimum advantage. The expulsion of the French for double yellow allowed Lille to tackle the Cillessen area and, ultimately, tie.
The self-incrimination of Diakhaby diverted attention to his person and eased the weight of the entire staff, technicians and managers, regarding the bad game of a team that is lost for many reasons. The origin of the bad night of Lille is not a circumstantial event, such as Diakhaby's kick, but the product of a twisted drift since the owner, Peter Lim, felt like stirring the club to the root in full ferragosto.
The lucrative character of Diakhaby's appearance harmonized with the thick climate that accompanied the departure of the Valencian expedition from the stadium. The coach, Celades, sat down at the conference room table with a frown. Willing like their players to recognize that everything had gone wrong after a night in which they reaped a point (add four) and fell to third place in Group H being able to put first. "El Lille has been superior to us," Celades said.
"We have not done our best game," said the coach, who lives embarked on the search for a scheme and some performers to consolidate the transition after Marcelino's dismissal. "They've put us back," he lamented. "I blame it on the merit of the opponent, not a concentration problem. It was not what we wanted, but we have been pushed back. Lille is a great team and they have put us in too much trouble. We have not been comfortable with the ball. We couldn't go out with the controlled ball as usual. "
"The expulsion of Diakha it was very important for the future of the result ", acknowledged Celades, who also stressed that the plant, in general, is doing a good job. The presence of Diakhaby in the alignment paired with Paulista was one of the most important decisions of Celades in Lille because he left Garay on the bench, a reference of the wardrobe and top manager of the rear.
Garay left the stadium with a poker face, pulling a cart with his luggage. Cheryshev also followed very upset. "In the first part we suffered a lot," he said; "We have not been at the level that this template is supposed to be. They have squeezed us and created us too many occasions. We must improve. Mr. is right. "
You can follow EL PAÍS Sports in Facebook, Twitter or subscribe here to the Newsletter.