"Diagnosis: high-risk homosexual behavior": roller hockey player Teresa Bernadas wins the match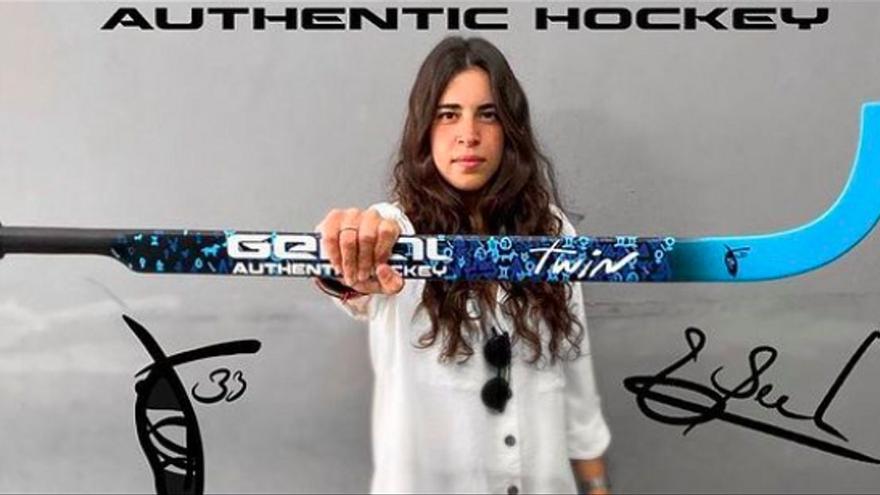 It all started a month ago with a routine gynecological visit. Since he had not been there for a long time, they told him that they would do some analytics to review and update data. "Hey, by the way, can you give me all the STDs too?" He asked. "Oh yeah, that's how we take advantage and look at everything." No problem. His surprise was when, when he did not receive the call about the analytics, he decided to enter the Health Portal of the Generalitat of Catalonia. "If I had received the call earlier in which they told me that all the values ​​are ok, I probably would not have entered the portal and would not have seen even that diagnosis. But When I download it and look to see if I see any altered value, I find myself 'diagnosis: high-risk homosexual behavior'".
He was stunned, hallucinating. "Oysters, how can this happen today?" He commented on it with his close circle and they were also surprised although he did not make it public, "a little out of shame and because you know that if you do it, you expose your private life a little to everyone." But he decided to take the step to see how on October 4 a 19-year-old girl from Murcia shared in networks that a gynecologist diagnosed her: "illness: homosexual". "If this girl has had the courage to go out and make it public it is clear that these things continue to happen. This happens to me but I am lucky to have a totally tolerant environment, that at no time mismanage my homosexuality, quite the opposite. If this happens to someone who does not have that environment, who has a complex situation, obviously this can generate many things, we have to report him so that this does not happen again. If I had not been the age that I am, 27, and had not had the support that my club (Voltregà) would have given me quickly, it would have been a completely different situation. "He shared the news from Murcia accompanying it with the text:" Similar situation, in a similar query, in a different community. Diagnosis: High Risk Homosexual Behavior. The sexual condition of any individual should not be a diagnosis".
Two weeks ago, before tweeting it, he contacted the Valencia law firm that has many LGTBI issues. "I understand that this is a reportable issue but I think that it is not a relatively normal practice, before doing anything public and saying anything in networks. I get advice and they tell me that this is intolerable, that it violates law 11/2014 in principle and that violates LGTBI rights ". He then contacted the Public Network of the Comprehensive LGBTI Attention Service of Catalonia and they decided process an administrative complaint; not against the person who attended her (who emphasizes that she was completely professional at all times), but to see that she is something more than internal code, of what they have to report for certain tests.
Out of date code
After he shared the diagnosis over the weekend, this Monday he had a meeting at the CAP in Osona. The answer was that when they ask for certain tests they have to put certain knowledge of the patient and whate use international coding to dictate diagnoses across diseases. "What is curious is that today we are still working here with the ICD-10 when there is already an ICD-11, which is from 2018, where obviously all these codifications of sexual practices have been annulled, there are only risky sex to use in some cases. And all the issues of sexual behavior disappear. Today This is all very outdated, it's out of date", Explain.
Does anyone care that you put this in the system and do not alarm yourself?
"What surprises me is that today no one would have shouted at the sky because there were still these options in the system. They see it within a procedure that is never a diagnosis but information that they have to send to make a But the information I receive is a diagnosis of high-risk homosexual behavior. In the diagnostic dictionary, it is through a symptomatology to dictate a disease and a behavior is an attitude, a behavior at a given moment. Obviously, although the options also appear heterosexual or bisexual equally homosexuality is not a behavior. 'Does anyone care that you put this in the system and do not alarm yourselves?', I asked them".
Teresa highlights that as a result of this meeting changes have already started and not only in his case so that this diagnosis was removed from the history. "Obviously, mistakes have been made, they recognize them and now we must find solutions so that it cannot happen to anyone else. They have already mobilized, from Salut this weekend it has already been said that these codes are removed. From the CAP of Osona has already asked that all these options be covered internally. At Salut, changes are slower, staff training is vital. "
Do not give ball to hate messages
The former international, best goalkeeper of the 2016 World Cup, acknowledges being "surprised and a little overwhelmed" by the repercussion of her case, appreciates the support received and try not to lose energy with the 'trolls'. "To be grateful for the support received and to try that this visibility generated by this case serves so that it does not happen again. Social media has all the good and all the bad. There are people who will give you support, which has obviously been the vast majority. To the people who have derogatory comments that value my sexuality, who value my privacy, who presuppose situations that they have no idea, because there is information that is completely private, you do not have to give them a voice or vote. "Although he is concerned about the growth of hate speech, he believes that the best way to combat them is not give them strength. "Hate speeches are growing today every time. And you don't have to give them a mic or point them out for people to see. Directly pure ignorance, no case, any comment that has come to me blocking and out. To pay attention to them is to end up falling into their own trap. "