Di María gets tired of waiting for Barça and goes to Juventus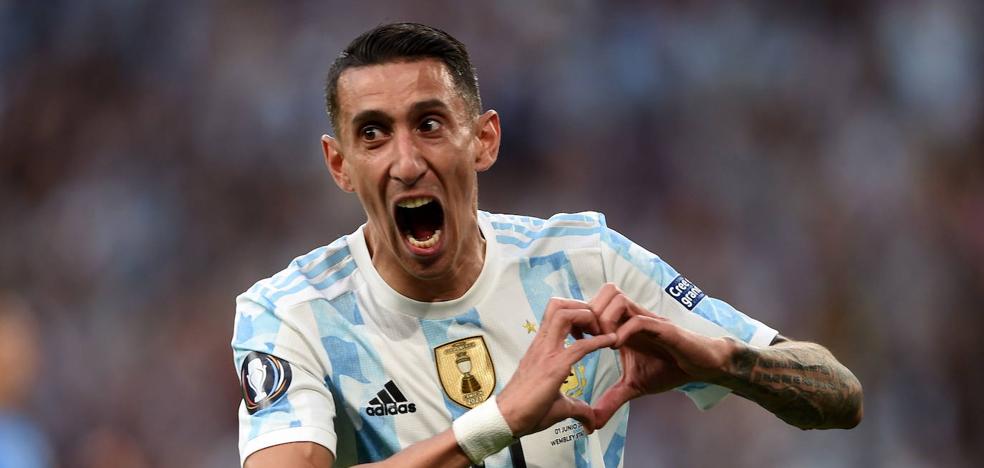 Market
The Argentine soccer player will sign with the transalpines until June 2023
Ángel Di María will be a Juventus Turin player. El Fideo has grown tired of waiting for Barça to make a move around signing him and has finally opted for the Vecchia Signora. He comes to Italian football free after finishing his contract with Paris Saint-Germain and will sign for one year, until June 2023, with his sights set on the World Cup to be played in Qatar between November 21 and December 18 .
Since Tuesday, Barça has one less alternative to replace Ousmane Dembélé in case the winger finally decides to leave the club. Ángel Di María, that economic option that came with the freedom letter, is no longer on the market and will force the Catalans to make an extra effort if they want to continue counting on an extreme of guarantees. The Argentine soccer player had blocked any option while waiting for the Catalans to activate the famous levers and have a final decision on the 'Dembélé case', something that has not yet occurred and that has ended the player's patience.
Juventus has achieved the 'yes' of the footballer after several weeks in which it has been the club that has shown the most interest. The Turinese offer Di María a one-year contract in which he will receive seven million euros. According to 'La Gazzeta dello Sport', the agreement between both parties is total and only a few small fringes and the signature would be missing for him to become a new player for the Transalpines.
Di María arrives in Italian football at the age of 34 but is still an important footballer. His numbers at Paris Saint-Germain prove it. In the shadow of Messi, Neymar and Mbappé, the former Real Madrid, Manchester United or Benfica player has signed a total of five goals and nine assists in 31 games. Some figures that have convinced Juventus to be the player to accompany Dusan Vlahovic, star signing last season, in attack next year.
Raphinha, the alternative

Raphinha is currently in a similar situation to the one Di María was in. The Leeds footballer remains firm in his desire to dress like a Blaugrana, but he continues to wait for a sign from Barça that will allow him to renew that faith. There is an open negotiation path between both clubs in which the English team demanded 50 million euros for the transfer, a higher figure than Mateu Alemany would be willing to put on the table.