Delgado wants a "radical, urgent and profound" change in the capital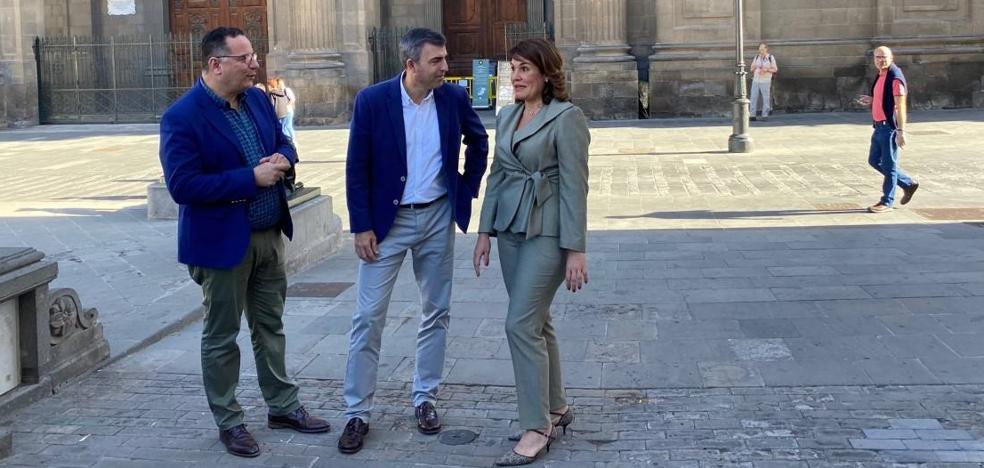 The PP candidate for Mayor has not yet defined the team, but she hinted that the current municipal spokespersons will not be there
The candidate of the Popular Party (PP) to the City Council of Las Palmas de Gran Canaria, Jimenza Delgadowants a
"radical, profound and urgent" change of the city since, according to his words,
It is "dirty, disorganized, far from citizens and lacks the most basic" after eight years of progressive government. In this task,
has "experience and equipment" to "manage, manage and effectively manage the public".
Delgado, who was presented yesterday in the Plaza de Santa Ana by the main leaders of the party at the regional and insular level, set himself three objectives if he reaches the capital's mayor's office.
He stressed that the first
"clean and plant",
"order" the city -essentially organizing municipal services- and helping citizens, both the most vulnerable and
offering facilities to those who generate employment because "wealth cannot be generated by pulling only from the public," he said.
The president of the PP of the Canary Islands, Manuel Domínguezunderscored Delgado's value as a manager who knows all levels of the administration and stressed that she has
"absolute freedom" to form your team "Considering who are the best to govern Las Palmas de Gran Canaria".
In any case, he indicated that not all the members of the current municipal team will be in the candidacy, although
"no one will be left in the ditch".
In this regard, he added that the PP has not come to have the same results as in the past, but has come to govern and from there,
"You can't do it with the same strategies."
Jimena Delgado
ruled out that after the elections have to agree with other political forces and she was convinced that her formation will be the majority.
In this way,
the insular president of the popular, Miguel Jorgeremembered that
the PP has won five elections out of seven and four of them by absolute majority. He assured that they will put "all the meat on the grill" to return to lead the municipal government and pointed out that Manuel Domínguez to the Presidency, himself to the Cabildo de Gran Canaria and Jimena Delgado to the City Council of Las Palmas de Gran Canaria are
"a winning ticket".