Declared a forest fire in Malaga, near Sierra Bermeja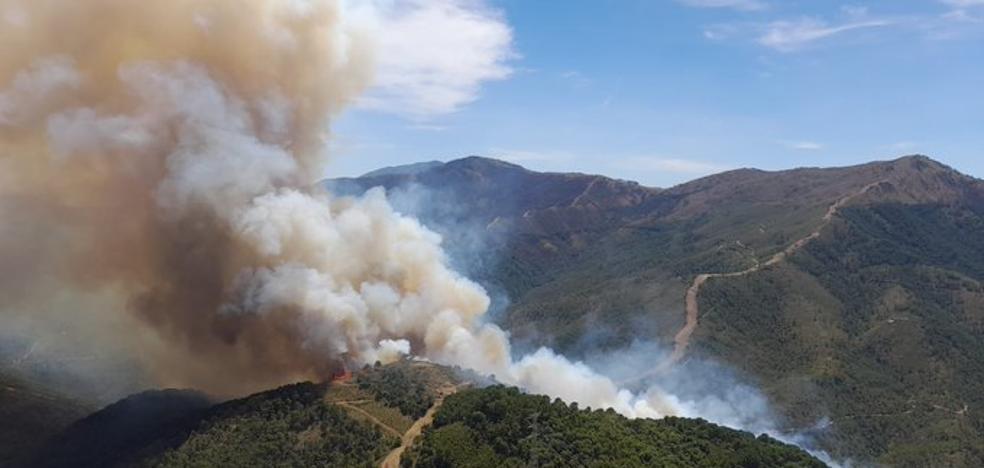 Last year, one of the great fires of the summer was registered in this area, where 13 aerial means and more than 125 ground troops work.
On a day of high temperatures and wind in the province of Malaga, a forest fire has already been declared this Wednesday, in this case in the La Resinera area, in the municipality of Pujerra, in the Genal Valley. The Fire Prevention and Extinction Plan of Andalusia (Infoca) has reported this fire at 3:30 p.m., which can be seen from various points on the Costa del Sol such as Marbella, Estepona or Benahavís.
A fire that will not be easy to control, according to information from Infoca. The land is inaccessible by land, which is why 13 aerial means are working in the area. It also blows a lot of wind, with land gusts of between 25 and 40 kilometers per hour. Infoca has also requested the arrival of two FOCA amphibious planes.
Two helicopters began working in the area, in addition to two fire engines, two BRICA (fire reinforcement brigades), two operations technicians, three groups of forest firefighters and two environmental agents. Shortly after, the Infoca had to increase resources; The current unit is made up of six transport and extinction helicopters, two Super Puma helicopters, two KAMOV helicopters, two cargo planes on the ground, an observation and image transmission plane, five firefighting reinforcement brigades (BRICA), seven operations, ten groups of forest firefighters, six fire engines and three environmental agents. Extinction conditions are complex, due to high temperatures and wind in the area.
In total, in the area, with a dense grove of chestnut trees, eleven aerial means and a total of 125 ground troops are working, to which a Mobile Meteorology and Transmission Unit (UMMT) and a medical unit (UMIF) have been added. as detailed from Infoca to Europa Press. The Provincial Firefighters Consortium has also joined the work.
Pujerra was one of the municipalities affected in 2021 by the great Sierra Bermeja fire, which reached seven municipalities (Genalguacil, Jubrique, Faraján, Júzcar, Pujerra, Benahavís and Casares). Precisely today the deadline to apply for aid for last year's fire, which took 46 days to extinguish, was opened.
View of the smoke column from Benahavís /

SALVADOR LOPEZ MILLAN

It must be remembered that on June 1 Andalusia entered a high fire danger level due to high temperatures. This implies a series of restrictions in the autonomous community, such as the prohibition of fire (bonfires, barbecues, burning...) or of vehicles or motorcycles in forest spaces.
Topics
Benahavis, Casares, Farajan, Sources of Andalusia, Genalguacil, Jubrique, Juzcar, the labors, marbella, pujarra, Firemen, Forest fires