De la Morena: "I'm an impostor, I'm leaving before they discover me"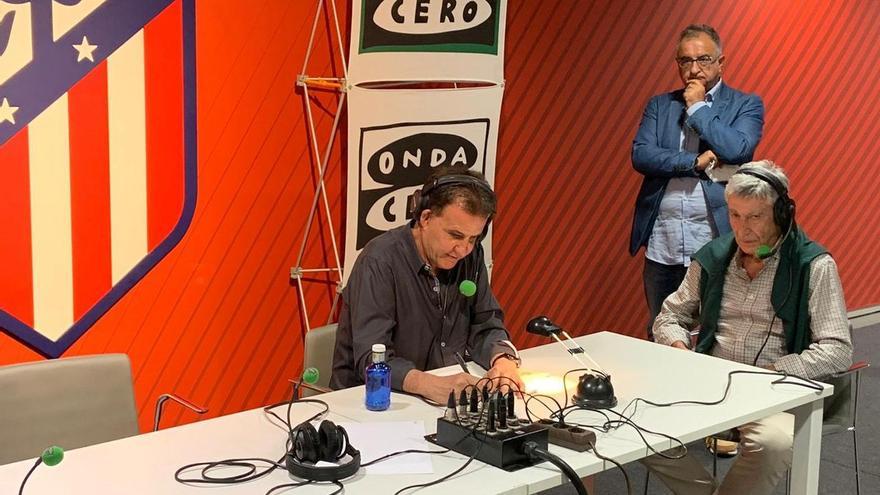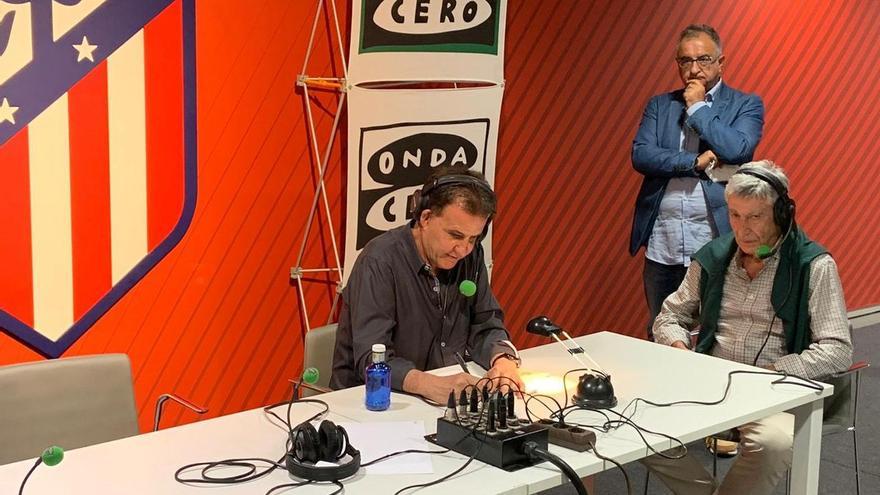 Wow, his last night, after 40 years, and her voice was taken, not hoarse, but almost. Hoarse, which gave him an even more air of farewell. José Ramón de la Morena (Brunete, 1956) that, wherever they hear him, excuse me, they heard him, he was a child of the Real Madrid but that, very soon, because of the Tia Andrea, who was like her grandmother, converted to the mattress faith to the extent that the Wanda was opened for her, at night, at dawn (it started at 11:30 p.m., as always, and finished at 02:23), to do her round farewell program, he acknowledged last night, between complicit laughter, when his idol José Eulogio Gárate ("I only wanted to interview Gárate as a child") praised (like everyone who appeared on the program) his professionalism, his personality and his career, that he "Deep down, I'm just an impostor and before they discover me I'm out".
The truth is that the program was wonderful. Ok, yeah, sure, of course, it had a bit of nerd, but all listeners agreed with the tone (and the praise). It was a way of reviewing the album of memories of one of the greats of Spanish radio, rather, of the early mornings. "Today we bid farewell to the last radiophonist in Spain, the last one capable of doing an author's program ", said Roberto Gómez, his best friend, who thanked him for his friendship and loyalty over 42 years" and also the trust you placed in me, but I want to remind you that before I was who gave you my trust, because you were my fellow ".
The great Bustillo
The great scorer Gárate, the immense header ("I, in the schoolyard, was unable to hit the ball with my head, unable!"), Was De la Morena's guide on his last night, the man with the one who developed his last performance. Well, everyone knows that the true guardian angel of 'Josera', his soul mate, his assistant, the achiever, is the great Carlos Bustillo. "Look, Bustillo, for you I have my last words, or almost: you, because of your religious beliefs, it's been a long time since you earned heaven, but the Earth, what is called the Earth, you have earned it more than enough with what you have put up with me and at the most, everything, that you have helped me in these years ".
The first connection of the program was with Joan Laporta. "Here we are, you and I, living a second youth, rejuvenated, I still do not know why you are leaving, but I wish you the best because you like the human being, I will miss you a lot," said the Barça president. "I know that you would like me, in this your last program, to tell you that we have renewed Leo Messibut I can't tell you because we are on the right track, we are calm, but it has not yet been signed, no. I'm really sorry, "Laporta commented with a wonderful tone after Josera's suggestion to" give me a scoop, come on. "
While in the background 'Goodbye Boys', by Carlos Gardel, appeared Rafael Nadal, fresh off his yacht after a little vacation. The tennis player claimed to have had a bad time to overcome his last elimination in Roland Garros ("long ago i assumed you don't always win") And thanked the journalist" for having told, during all these years, so many and so many successes of Spanish athletes, I think that without you we would not have been the same. "
Later, De la Morena jumped onto the Wanda lawn, "which is new and beautiful," to make a wonderful talk with two goalkeepers like Abel and Esteban, who remembered, just as Gárate had done ("the markings that the centrals gave us they did to us if they were markings, they even accompanied you to the bathroom and went for you: either they hit the ball or they took you ahead ") football has changed a lot. "I remember once, in old Atocha," explained Abel, "that a spectator grabbed me by the hair, just as I was about to kick the goal. If the goal net almost entered the stands!" "What I remember was everything they yelled at us. One day, in Seville, I was warming up the 'Mono' Burgos and an uncle from the gallery yelled at me 'But you, Esteban, who are a goalkeeper or a thermos, who only serve to warm up! " .
Everything had, yes, an intimate air as it should be in someone who, at times, has tried to make poetry on the radio, although he did not always succeed (I insist on the toncito, sometimes, ñoña). But it was all very real and authentic. Of course, the 'Cholo' Simeone appeared, from his house in Ibiza. "How do I explain to people that we are from Athletic? Well, in the only way, Josera, that can be explained, telling them that we are from Atlético because it is a feeling ".
And, suddenly, shortly after the almost anthem of Atlético was sounded, at full volume, Joaquín Sabina's 'Motivos de unsentiment', emerged, "from purgatory", as is, as is, Jesús Gil and Gil, in a spectacular montage in which, using cuts from past times, the monarch of Marbella showed his pride in how his son Miguel Ángel and Enrique Cerezo ended up resurrecting and making his Atlético champion.
Still, your majesty
And it was then, at least I, when we found out that the son of Gil and Gil, not only does not watch the matches of his Atlético, but also spends the 90 minutes that the match lasts, or more, going to churches and hermitages to help you win. And when we learned that, in the 89th minute, of the Lisbon Champions League final (4-1 for Real Madrid), King Emeritus stood up in the box, when the colchoneros won 0-1, with a goal from Godín, and he said to Cerezo "Come on, president, we have to go downstairs to hand him the cup". And Cerezo, with his characteristic serenity, told him: "Don't run, Your Majesty, don't run, this is football and this is very long, it is not over yet." And Sergio Ramos (90-3) finished off and, later, Bale, and Marcelo, and Cristiano Ronaldo. Cerezo, who joined Atlético, because, in the first video club he set up, he had half of the red-and-white squad as clients.
They ended up, of course, giving him a "silk shirt, it's silk!" del Atletico, with his name engraved, "engraved so that you don't take it off and bandage it", added Cerezo and, of course, wishing him the best of luck in his new life "because, even if you don't believe it, there is life after from the radio, "Miguel Ángel told him. "Don't worry, Miguel Ángel, I will continue here, I will not turn off the transistor, this is a vice that I neither want nor will I ever get rid of."
For the couple
They said goodbye and wished him the best of luck and lives, colleagues like Jorge Valdano, Perico Delgado, Manu Carreño and Juanma Castaño. "First," Castaño commented, "I was a big fan of yours. Later, I had the privilege of being your partner and working with you. Later, we went to rivals, which I would never have imagined! and always, always, I have felt very comfortable by your side. And, from now on, I hope to be your friend for whatever you want and need ".
And 40 passionate years of experiences and early morning radio were fading. It was, then, when De la Morena recognized that the most brutal and vibrant moment occurred, in December 2007, when, together with Fernando Alonso and Víctor Manuel, they went down, 600 meters underground, to the Nicolasa well, in the Mieres mines, to make and sing a program with the miners "that they are worthy of admiration" and to take, probably, each and every one of the compliments that, last night, the last author of the dawn took .
Ah! I forgot, Josera, that you are retiring because wants to love Laura Vázquez and her little José Ramón even more, He announced that, as soon as he can, that is, today, he is looking for the couple. He already has a job. Also at dawn. Or not.