David Yang: "Technology behind the wheel helps us, but does not replace us" | Economy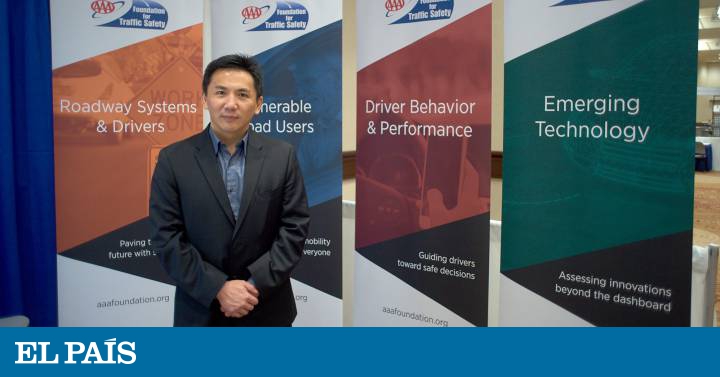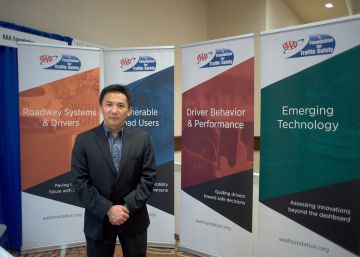 David Yang (Taiwan, 1969) it is a world reference in road safety. After a Ph.D. in engineering from Purdue University (Indiana), he worked for the United States Department of Transportation and the Federal Highway Administration of that country. He also worked as a consultant in different private firms. Since October 2016, he has been the General Director of the Foundation for Road Safety of the American Automobile Association (AAA). Created in 1947, this foundation investigates and contributes, in terms of prevention, to a problem that causes 100 deaths per day in the United States.
Question. Its foundation emphasizes the danger derived from fatigue, although people have rested several hours before driving. Where does this interest come from?
Answer. One of our objectives is to alert about the lack of sleep as a very important risk factor. According to our research, fatigue produces 10% of road accidents, while the US federal authorities say that causes between 1% and 2%. As drivers, we think more about other types of hazards, such as alcohol and speed, or we believe that the risk is when we do not sleep at all. But the possibilities increase considerably with every hour less of sleep. Brian Tefft, one of our researchers, has shown that: sleeping one or two hours less than recommended increases twice the risk of accidents and the hazards multiply as you sleep less. Blinking can be fatal.
P. There is a consensus on the risks related to mobile phones at the wheel. However, you have warned that vocal assistance systems are not such a safe solution. Can you explain why?
R. When you drive, you need to be focused. Hence the danger, well established, of the mobiles. Technology, like vocal assistance, can help you, but it also has risks. We analyze three types of distractions: visual, manual and cognitive, when your mind is elsewhere, even though you look at the road and have your hands on the wheel. That's why vocal assistance is not the magic solution. It can contribute to causing this distraction.
P. Its foundation points out that it is necessary to better inform about the advanced systems of assistance to driving (ADAS). Why?
R. It is a situation that worries us. We have already investigated this and are currently conducting another study on the consequences of using these systems. Last year we presented a report on the subject, after consulting people who have cars with this technology. We found that many people are no longer performing the tasks with the same care as before, since they have in mind that the car will do it. There's the problem: the technologies already available in some cars are there to help us, not to replace us. The risk is to trust us too much. These technologies still have limits. At this time there is not a car in the market completely safe.
P. There are hopes and also fears related to the autonomous driving vehicle. What predictions do you make about this technology?
R. This technology advances, but it will still take time to reach the standards of efficiency and safety that we desire. Also for its implementation. I give a fact: the life cycle of a car in the US is between 10 and 12 years. We must be patient and insist on this: people must understand well how these systems work. For example, in the Tesla car accident that happened in Florida. According to the investigations, the driver received a warning that he had to regain control of the vehicle. I think a fundamental issue is the development of vehicles with high connectivity. I mean for example to connect with other units and infrastructures. With very high levels of information we will take a significant step in terms of security. That would help anticipate problems.
P. What is your foundation's relationship with automotive manufacturers and authorities?
R. Our foundation is independent. We receive funding from the AAA and we focus on consumer safety. However, there are collaborative relationships with manufacturers and we want them to increase. We have already shared data with them before launching a technology to the market, for example, on entertainment interfaces. It is important that the information circulate and be of benefit. We work with a lot of data, but we must not forget that each victim represents a family tragedy. Regarding the relationship with governments, I must point out that the AAA uses our information to request changes to the different authorities. The AAA has more experience in looking for ways to have an impact on regulation. The AAA and other agencies also rely on our research to develop prevention and awareness campaigns. I can give an example: our studies serve in campaigns aimed at young people. It is a group that interests us a lot. A very big safety problem of youth behind the wheel, among several others, is the lack of experience. That is why these campaigns are fundamental. There is the idea that, once you get your driver's license, it's all over.
P. His foundation is interested in the drivers of the third age. There are proposals that range from renewing the card every year and not allowing them to drive at night until the total ban. What do you think?
R. Indeed, we focus on the driving of the elderly. The answer, however, depends a lot on individual conditions: the reaction time, the vision, among other points. What we do point out is that other people can have a significant role in detecting risks: friends, relatives, doctors. We must also think about mobility alternatives. You have to consider, and I stress the case of many American areas, that forcing an older person not to use the car has a very big impact on their life. He sees it as a way to lose his freedom.
(tagsToTranslate) david yang the (t) technology (t) flyer (t) help (t) replace (t) center (t) direct (t) safety val (t) ee uu (t) treat (t) reduce ( t) 100 (t) death (t) daily (t) daily (t) produce (t) highway (t) American



Source link