David Goldblatt: portraits of ex-convicts at the scene of their crimes | Babelia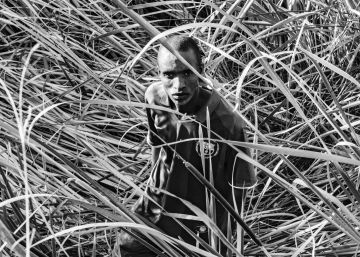 They say that criminals always return to the crime scene. Although some prefer not to, and return only mentally, often in the form of dreams and nightmares, to that scenario where, in some way, probably, they changed their lives and certainly the lives of their victims. "Who are they? Are they monsters? Are they ordinary people, if there were any? How did they get to this? What is your life like? David Goldblatt, this South African photographer used to questioning the world. Recognized as one of the great chroniclers of apartheid, Goldblatt (Randfontein, 1930 – Johannesburg, 2018) was never interested in the facts. Yes what produces them. "I am a coward," he told the online publication ASX. "I am not interested in events as a photographer. As a citizen of a country, yes, of course. But as a photographer, I am interested in the cause of the events ". In the same way, his sensitivity towards social injustice was always supported by something very rare: "curiosity about attitudes that I do not share, which is linked to the desire to understand them instead of rejecting them", as he himself expressed .
In early 2000, the photographer and his wife Brenda were victims of criminal acts. One morning he was held at gunpoint by a stranger who entered his studio, located on the outskirts of Johannesburg. A month later, his wife would be the victim of the same experience. The fact is not exceptional in South Africa, where crime reaches high figures. However, after the initial anger, and once the trauma had been overcome and serenity recovered, the artist decided to go further. "Could [los delincuentes] be my children? Could I be one of them? He wondered. "I decided to explore these issues through photography and words."
Through various organizations, responsible for the rehabilitation of prisoners, he was able to contact people who had served sentences as criminals – some innocent – or were on parole. His purpose was to meet the criminal as someone he could bump into on the street or in a supermarket. I wanted to photograph them at the crime scene. So, in 2008, he started doing it in South Africa, for later, invited by the charity Multistory, continue the series in different parts of England. The result of the eight years that the project lasted has been gathered in Ex Offenders at the Scene of Crime and published by Steidl editorial.
Avoiding any pretense of reconstructing the crime scene, the protagonists pose static at the site where the events occurred or were arrested. The author wanted to record everything they wanted to tell him about their lives. "Not as a journalist or activist, but simply as part of my need to know," he writes in a text that is included in the book. Thus, the 55 black and white portraits that make up the monograph are accompanied by the first-person account written by Brenda Goldblatt, whose harshness contributes to reinforcing the gaze – mostly direct, others more elusive – with which the protagonists respond to the camera . "When the police opened the door, I fired six shots at him," says Paul Tuge, a South African who, after spending 12 years in prison, convicted of attempted murder, opened his own business, Dream Finders (Dream Seekers), dedicated to road repair. He would pose for Goldblatt in the undergrowth where he hid before being arrested. They called him Blitz (attack), because he was fast with a knife. Posed in The Terrace, where she had murdered a man she had been gambling with in the game. He would never see this photograph, he was shot dead by gangsters. His girlfriend would be in charge of telling his story: "He believed that a woman had to be beaten to listen. He hit me often, "he recalled. "In part I was glad of his death, he can't hurt me anymore, but another part of me is very hurt because I loved him."
The first time Ellen Parkkies was raped, she was just six years old. Then came others. She was photographed by Goldblatt in a bed, in which she strangled her son, a drug addict who continuously stole her to feed his addiction. "My tears continued for a year," he writes. Currently she helps mothers with children with drug addiction problems. Xolani Seko covers her face, cries outside the house where her employer died during a fight and by accident. He was pretending to have sex. Seko refused. In a fraction of a second his life changed.
The images speak of the perplexity of the portrait artist, as well as the moment of catharsis that it meant for the protagonists. In them the dialogue that the artist establishes naturally with the subject is perceived. "For most of them it was the first time they could tell the story without being judged," recalled the author. "They trusted me and I hope they feel that I have been able to justify this trust." He paid each of them to be photographed. 800 rand in South Africa, and £ 80 in England, dedicating any proceeds from the project to the rehabilitation of prisoners. "My interest is in what the subject has to say about his life, crime, his hopes and fears, elisions and falsehoods are part of it", highlights the artist.
"Understanding is not approving or forgiving," writes Erwin Ames, a journalist for The Guardian, who spent 20 years in prison on murder charges, in a text asking how exactly someone becomes a criminal. "Until we try to understand more deeply, the cycle of crime and incarceration will remain," he concludes.
Could I be one of them? Goldblatt wondered. "I could be if I had to endlessly stand on a street corner, waiting for someone to offer me a job day after day without the hope of permanent, paid employment. I would be surprised not to be. Which doesn't mean I become the knife man the next time they come after me. I just wish we could have done better in what seemed possible in 1994 [fecha histórica en la que Mandela ganó las elecciones]", writes. After all, Goldblatt's work is an extended series. As the critic Sean O'Hagan wrote: "In which each new piece built leans on the last one, until giving shape to the portrait of a whole society, with all its contradictions".
Ex Offenders at the Scene of Crime. David Goldblatt. Steidl-Multistory. 56 pages. 280 euros.