Darwin Núñez, in the footsteps of Luis Suárez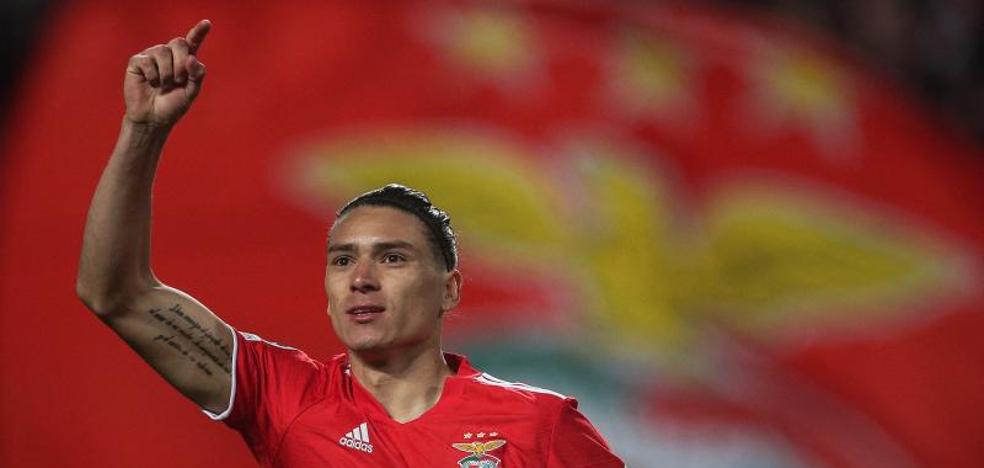 premier league
The former Benfica player will be the new Uruguayan idol at Anfield and a key player in the market's tetris
Uruguay has always been characterized as one of the most outstanding exporters of soccer talent. Perhaps it is the country where the largest number of players per inhabitant have made the leap to the other side of the pond. Historians such as Diego Forlán, Luis Suárez, Edinson Cavani, Diego Godín, Josema Giménez, Álvaro Recoba or Cristhian Stuani, among many others, attest to this. But if there is a charrúa that is playing hard this summer it is Darwin Núñez.
To the north of this small country, with just over three million inhabitants, one of the strikers who is now breaking the most in Europe emerged. In Artigas, 600 kilometers from Montevideo and bordering Brazil, the youngest of the Núñez Ribeiros came into the world. On June 24, 1999, the same day that Leo Messi celebrated his twelfth birthday, Darwin Gabriel Núñez Ribeiro was born into a family that had just enough to live on.
Son of Bibiano Núñez, a construction worker, and Silvia Ribeiro, who collected bottle caps and sold them to be able to buy the boy's boots, Darwin grew up with his brother Junior, just a few years older than him. His path to stardom has not been easy, with multiple obstacles overcome. To begin with, the Charrúa broke the cruciate ligaments in his knee when he was still a youth in Peñarol, but this stone was not going to stop, far from it, the dreams of the Artiguense.
Dreams among which was to be able to give a house to his parents, who did not hesitate to sacrifice themselves for their little ones. Sacrifices like those of her mother, who on numerous occasions went without dinner so that her children did not go to bed with an empty stomach, which over time turned into income. If his brother, now a police officer in Uruguay, was going to stay on the road so that the youngest of the Núñezes could continue on his own, Darwin was not going to fail. It was at his feet to lift his family out of poverty.
From Peñarol he made the leap to Europe in the summer of 2019. Led by Edgardo Lasalvia, his representative until a few months ago, he set foot in Almería. With only 20 years on his passport, Darwin became one of the most notorious signings of the new property of the rojiblanco club, recently landed. If the children come with bread under their arms, the Uruguayan would not be less. As he landed on the old continent, the first calls from Celeste arrived.
It was his first stage away from his country, but it was not going to be a barrier to leave his mark. In just a few months, Darwin was already the benchmark for his new team. His adaptation was not easy, although the help of teammates like René or Balliu was key in the process. Nor was the little Núñez Ribeiro going to forget the promise he made to his parents, buying them the house he had talked about so much.
record operation

His stay in Almeria lasted barely a year, traveling to Lisbon to enroll in a whole Benfica, after paying 24 million euros. The one from Artigas started with the slab of becoming the most expensive sale of the rojiblanca entity, and at the same time of the Spanish silver football, and the most onerous purchase of 'Os Encarnados'. Major challenge, without the slightest hint of a doubt.
He left Almería, but his heart remained there. A city that has not only marked him footballingly but also personally. Already in the Portuguese capital, the more than 800 kilometers on the road were not going to be an impediment for her first child to be born in the city where the sun spends the winter.
If already in Second he began to leave his signature, his two courses in Portugal have led him to consolidate himself in elite football. Two years that have led him to be one of the fashion names in the market. Now, in Liverpool, where he arrives after captivating Jürgen Klopp in the Champions League quarter-final tie that paired him with Benfica, he will seek to remember the best years of Luis Suárez at Anfield.
All this in a historical operation. And it is not for less after the 'reds' have disbursed 75 million plus 25 in variables for the Uruguayan. This well-known movement allows the pieces of the puzzle to fit together, for Sadio Mané to change Anfield for Munich and perhaps for Lewandowski to leave Bayern and sign for Barça. And it has a direct impact on Spain, since Almería takes 20% of the capital gain from the transfer and enters the not insignificant figure of 10.2 million. It is clear that Darwin is motivated by challenges.