Dapena: "For Maradona there is silence but not for the victims of violence"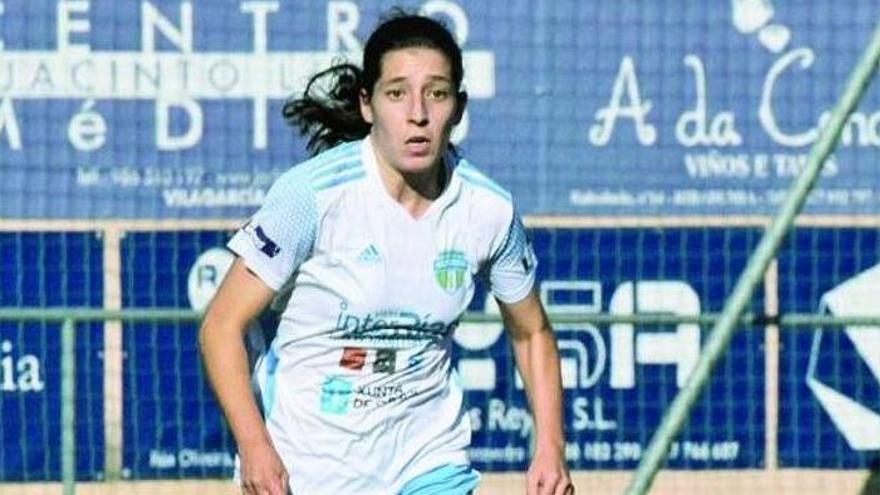 Paula Dapena She is 24 years old and defines herself as a radical feminist. Her commitment to equality led this Pontevedra, a player for Viajes InterRías FF, to turn her back on Maradona on the soccer field while the sports community mourned his death. Instead of keeping a minute's silence before taking on Deportivo in Abegondo, Dapena decided to sit on her back, as a sign of support for the victims of sexist violence.
– Your image breaking the minute of silence surprised the whole society, also your team?
-Since the news of Maradona was known last Wednesday I positioned myself. I said his death was poetic justice because it matched a 25N. My team was aware of what I think about him but, although they knew that I did not want to participate in the tribute, they were not expecting it. They thought I would back down from doing it.
-When did you decide to stand?
– I found out three hours before the game that the Spanish Federation had issued a statement saying that it was necessary to observe a minute of silence for Maradona and I said to myself "I'm not doing it." At the time of taking to the field, the teammates and the coaching staff were commenting on it and I told them that I was not going to put it away, as if I had to turn around and lay on the floor. So it was.
-Why was it important for you to turn your back on Maradona in the field?
– A few days ago it was November 25, International Day for the Elimination of Gender Violence, and he is dying. For the victims, not a minute of silence is observed, but yes for Maradona, someone who is recognized both for what he did on and off the field and who, precisely, is not to be proud of. That is why I did not pay homage to him.
– National and international public opinion echoed your gesture, was this reaction expected?
– Not at all. I thought he was going to stay among my social media followers and that he wasn't going to get out of there, as much as they would know him in Pontevedra. But the news went around the world and I was quite freaked out.
– Would you do it again?
– Yes, especially because of the amount of offended people there are. That there are so many people offended means that it is being done well. And also for all the messages of support and endorsement that I have from the colleagues, fighting and answering the threats and insults on social networks.
– The gesture has been highly criticized on social networks, raising hatred on platforms such as Twitter.
– Yes, the truth is that it did not seem disrespectful to me. I could have cut the minute of silence by screaming, but I just turned and sat up to show that I disagree, but allowed tribute to be paid. That I be criticized for not agreeing with the gesture is worth, but not that they do it to colleagues for giving me support in networks. They have received death threats, it is not silly.
– You define yourself as a radical feminist but as a player, do you think that football has a long way to go in terms of equality?
– Obviously steps have been taken and women's football is increasingly being recognized, but there is still much to be achieved. It has been seen that a person like Maradona is defended just for being a good footballer and it is something that cannot be allowed. I hope that my gesture serves as an example for other people.
Death threats from the most viral sit-in
When Paula Dapena decided to turn around, sit down and break the lineup so as not to keep a minute's silence for Maradona's death He did not think that his gesture would have such an impact. His spontaneous sit-in, which sought to raise awareness of the renowned footballer's dark past regarding gender violence, achieved its purpose: to open debate. Since the image went viral, interviews in national and international media have not given him a break, but although the support, as he admits, has been immense, so have the critics. Teasing, insults and even death threats have filled their profiles on social networks such as Instagram or Twitter, so the player has been forced to close her accounts to the public.