Dani Sarmiento: "At my age and seeing that this is over, it is a luxury to be here"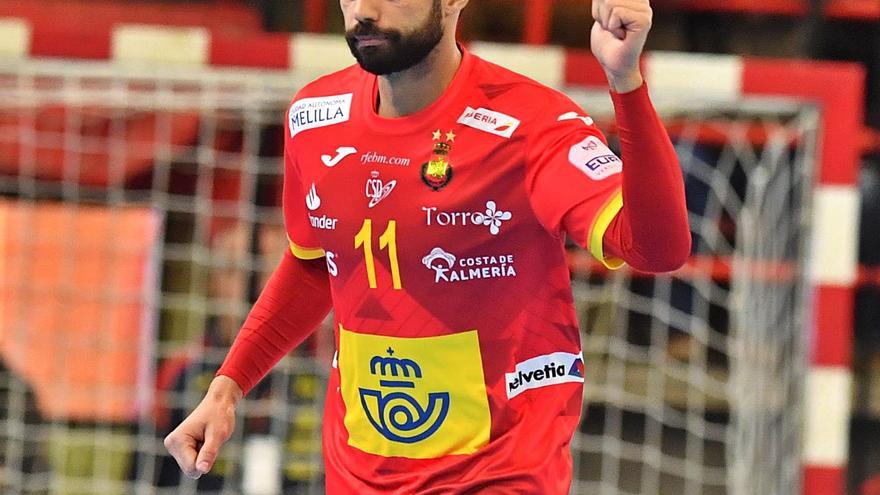 How are you and how do you get to this World Cup in Egypt 2021?
Well, the truth. Physically I feel fine. At the beginning of the season I had some physical and muscular problems, but they are past. I have been able to have continuity, in the club we have gone from less to more, we are doing well, with options to enter Europe. Now comes the call of the selection that for me it is always a prize to be here and to be able to compete. When you are an age like mine, being in another World Cup is a prize.
Are you still living it like the first time?
As for illusion, yes. There are others that don't because you already know how this works, you have the experience of other years, but the illusion is the same. The same for going to compete, for playing games of a very high level. Now because there is the pandemic, but seeing those pavilions full in Europeans and World Cups is the maximum you can aspire to in high-level sport. I live it with great enthusiasm and desire knowing that there are many people who play handball and that they would be willing to be in my place. With my age and seeing that this ends, it is a luxury to be here.
"As European champions we are the rival to beat and we go to the tournament wanting to show that we are a good team"
How has this preparation gone with almost no matches and without too much training?
Quite different. We have always done the previous tournament in Spain where we played a minimum of three games. We had time to put into practice certain things, offensive and defensive, to test. This year we went to Croatia, we played a game with good and bad moments, we lost, but we were there and we competed against a team that also choose to win everything they play. We stay with positive things and start preparing things for the group. We haven't had much time to train, but it has happened to everyone. But hey, we know almost all of us and the group is practically the same, except for one or two players. It is only to refresh and put everything into practice. The team is ready.
When you talk about Africa and Spain in handball, the memory of the first World Cup that the team won in Tunisia in 2005 comes out. If you look at Dani from that time, what do you see?
See it on television. He was quite young, he was 20 years old or so. It was a before and after in Spanish handball. From there came another World Cup where I could be, two European Championships. It was the first gold medal in Spanish handball, a turning point. Let's see if now in Egypt we can be fighting, at least, to enter the semifinals. Now we are the team to beat, they have studied us and the level has grown a lot. It is a different World Cup, with 32 teams. There are more countries, more competitions and a pandemic at stake. It will be atypical, but we are focused on what we have to do and accomplish goals step by step.
Did you imagine then that you would be able to be in a group as great as this?
You always set goals for yourself. My dream was to be able to play for the national team in these championships that I saw on TV with Masip, Garralda, Entrerríos … It is the dream of any player. Luckily and with a lot of sacrifice and work I have entered this group. What never crossed my mind was winning a World Cup and two Europeans. Happy to be here and very grateful to share so many experiences with these players. Being in the national team is a pride, winning things with Spain, with the sacrifice that it has meant for many people, for my family, is a reward.
He spoke of his 37 years, which will be 38 in August. Do you think a lot about what you have done?
Some day you think, especially when you see a player arrive and you have shared a team with his father [Se ríe]. There you realize how time passes. But I am more present, to take advantage of where I am, doing what I like. There will be time to think about all this calmly. Sometimes you do start to remember things with colleagues, but it remains at that. Now I only think in the present and not in the past, in the short-term objective, which is to get a medal and why not a third World Cup with Spain.
"I have one more year left on my contract in France and the safest thing is that when I finish it will be time to move on to another stage"
Has a deadline been set? Do you know how far you are going to go?
Well, for the moment I have this season and the one to come at Saint Raphael on contract. The safest thing is that when the contract ends, it is time to move on to another stage and leave this. Now I try to enjoy the most and my present. They are two seasons and it is what I have marked. Later I will see because there are many things: age, body, recovery time, travel, games … Physically you are noticing it, but for now I am well and focused on this. In a year we will talk about it [Se ríe].
Does the World Cup face differently by having a secure ticket for Tokyo 2021?
This World Cup was not going to be a qualifier and the ticket was already there. That is closed. We come to the World Cup wanting to show that we still have a team for what lies ahead. It is also a good opportunity to raise things in different games and with different teams. It is a test to find solutions to problems that may appear. And since you're going to compete, you have to set goals, so why not win?
To start with, Tunisia, Brazil and Poland.
Many people may think that we are not going to have problems and it is not like that. Brazil has grown a lot in recent years and has demanded us on other occasions. Tunisia is always a dangerous opponent, strong defense. And if all goes well we should win those two games, but they are very tough. Poland has changed a lot, with a generational change, but they always have problems with players in the German, French or Spanish leagues. So to go with the maximum possible points to the second phase.
Is Tokyo the great goal that part of this group has as a final party?
The objective was clear since we did not qualify for the Rio 2016 Olympic Games. We went to the tournaments, but we knew that this was a thorn in us, which hurt a lot. When we got the ticket we could breathe, we could say that we had got it. It is the only 'but' that this generation can have and we patch it up with a gold in a European Champion.
Were you very happy to know that your teammate and captain Raúl Entrerríos was postponing his retirement from 2020 to 2021?
A lot because a friend is more than a partner. Competing alongside him is a pleasure and a privilege because I consider him one of the greatest in Spanish handball. That he continues for another year is a reward for his work.